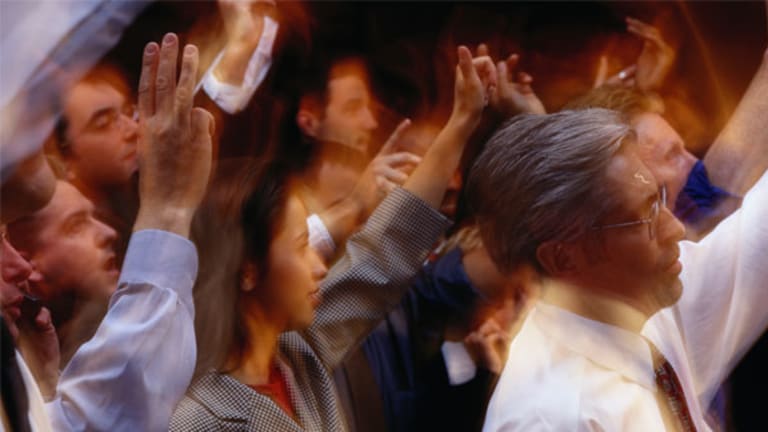 The Elusive Rally Endures
The majority of retail investors and many investment managers have missed it.
This column originally appeared on Real Money Pro at 8:58 a.m. EDT on May 3.
NEW YORK (
) --
"Good information, thoughtful analysis, quick but not impulsive reactions, and knowledge of the historic interaction between companies, sectors, countries, and asset classes under similar circumstances in the past are all important ingredients in getting the legendary 'it' right that we all strive so desperately for." -- Barton Biggs, "It's Never Easy"
It's never easy.
Against all odds and fears of a Spanish debt contagion (and a European Recession), a hesitant U.S. jobs market, signals of a hesitating domestic economic recovery (coming with a warning message of a 10-year U.S. note yielding under 2%) and concerns of a hard landing in China, the elusive rally of 2012 continues.
The market's shallow drops and more decisive rallies coupled with the perception of a more negative news cycle are driving the bearish cabal nuts.
Trust me -- I speak to all of them.
Above all, we have to remember that the history of the world is one of progress, not one of failure.
I want to make several observations -- one general one and several relating to the above concerns.
To begin with, Mr. Market rarely discounts the same event twice, so most of the headwinds mentioned in the first paragraph of this morning's opening missive have likely already been discounted in the marketplace.
Fears of a Spanish debt contagion and a European recession: I have long thought that Europe was heading for a recession -- see my surprises for 2011, more than a year ago -- and that the European debt crisis was maturing or advancing from a potential fatal affliction to a bad condition that had to be continually monitored. Spain had a successful treasury auction last night. Indicating less stress, Spanish yields are down by nearly 10 basis points, and the IBEX is up 2%. From my perch, Spain is the last financial/economic saga. From here, Europe enters a period of extended recession in which the individual sovereign issues are effectively ring-fenced through massive amounts of liquidity and sovereign debt purchases (if necessary).
A hesitant U.S. jobs market: Many of us have highlighted the structural disequilibrium in the U.S. jobs market since 2007, caused by globalization, technological innovation, the absence of mobility (due to a 35% drop in home prices), a mismatch between jobs available and talent/skills. (I expanded upon this theme last year in my Barron's editorial, "The Threat of Screwflation.")
A tepid and hesitant domestic economic recovery: Given the causes, the uniqueness (balance sheet recession), the impact on our financial intermediaries, the magnitude/depth of the last downturn and the absence of pro-growth fiscal policy (owing to the continued political partisanship in Washington, D.C.), why would anyone be surprised that growth is slow by historic standards?
The message sent by the 10-year U.S. note yield: I am currently putting together a talk for Whitney Tilson's Value Investing Congress for Monday, entitled "The End of the Bull Market In Bonds -- From an Equity Investor's Perspective," and my basic thesis is that a large portion of the reason behind the depressed and low bond yields is not based on economic concerns. Rather, it is a function of a flight to safety in a world frightened by the shadows of 2007-2009.
A hard landing in China: There is little evidence that the landing in China is anything other than soft. Last night, China's April nonmanufacturing index came in at 56. This release, coupled with the April manufacturing print of 53, should substantially diminish these fears as China seems on track for real GDP growth of between 7.5% and 8.0%. Moreover, given slowing inflation, there remains room for further easing in China should the pace of economic activity slow. (My contacts in China still see several more cuts in reserve requirements.)
Some say that the U.S. stock market is climbing a wall of worry; I say it's the 2012 boohoo rally.
It's a rally that the majority of retail investors and many investment managers have missed (and that many are still missing) but maybe not for long.
As I
this week, the reallocation out of bonds and into stocks may be more imminent than many expect, and that reallocation could provide the catalyst to new highs in the
S&P 500
this year.
Buy stocks, sell bonds.
Doug Kass is the president of Seabreeze Partners Management Inc. Under no circumstances does this information represent a recommendation to buy, sell or hold any security.