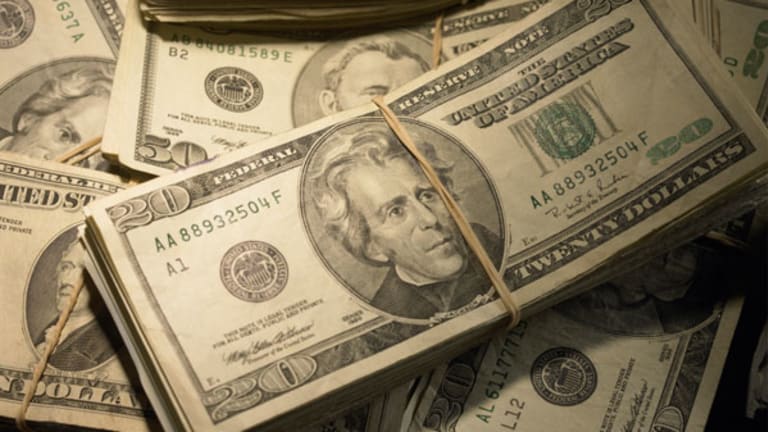 The Day Ahead: Whip Out the Glow Sticks
The market was grooving to Wednesday were these particular aspects of the Fed minutes.
Oh, come on, level with me -- anything goes Thursday. Physically, you are at work catering to The Man and casually checking the trading account, but in mind and spirit, Thursday happy hour is only a few hours away. So do me a solid and get in the mood by listening to
as you continue along below.
The market whipped out its neon glow sticks Wednesday as it partook in a strobe-light-ridden dance party, thanks to the mission-critical
minutes -- the only mission-critical to the bulls from June, who have been watching the rally unmoor itself. What the market was grooving to were a couple of particular aspects of those minutes.
Assurances:
Mr. Market loves assurances every single second, and he is performing on a grand stage. After growing worried about having bought too much stock in six weeks' time, Mr. Market was told the Fed viewed further accommodation as "likely warranted." Forget that "likely" does not mean "definitely." The shear injection of hopium was enough to reinflate the
iShares Silver Trust
(SLV) - Get Free Report
and
SPDR Gold Shares
(GLD) - Get Free Report
.
But, oddly, shares of
Toll Brothers
(TOL) - Get Free Report
couldn't muster enough strength to finish at the highs of the session. That's even despite the spender of low rates until 2015, comments on friendly quantitative easing waiting in the wings and a robust earnings report. As I have said, homebuilders are the way to dance in the rebound from the depths of the U.S. housing market due to their still-suppressed normalized price-to-earnings ratios and eye-popping contract and backlog increases.
Derivative plays in housing -- say in
Stanley Black & Decker
(SWK) - Get Free Report
, which is really a global conglomerate -- do not tickle my fancy at present. But, golly gee, considering the market got what it badly yearned for, the action in key sectors was a real party-pooper. An example here is the financial space, which struggled despite a Fed mention of a pullback in interest rates on deposits -- which should, in turn, spur more profitable lending.
Time
: Not only does Mr. Market enjoy constant assurances of his magical powers, but he hates surprises. This fella wants precision on exactly when an event will go down that stands to impact his psyche. The Fed noted that another heap of accommodation could happen "fairly soon" -- and, in this, the market was able to rest assured that a birthday gift is in the mail. Hmm, but where was that charge in equity prices into the close?
Ultimately, the market is a "have my cake and eat it too" mode. Macroeconomic U.S. data has room to continue notching modest improvements -- and, at the same time, the Fed is coiled like a cobra ready to strike. If it does strike, that incremental improvement in data will supposedly shift to being consistently solid into 2013, or at least aid in offsetting the real and psychological impact of fiscal cliff.
The real deal: Stay in tune with the more bearish tone I have suggested this week. Stocks lack the "oomph" into commentary that would have sent them higher weeks ago. This is akin to a kick in the face of the bulls. Respect the clues and stay alert.
Morning Quickies
Round 1:
These are the words of wisdom I offered on retailer
Guess
(GES) - Get Free Report
:"If I had a gun to my head, I'd underweight Guess, a globally exposed brand that has had a stock gone haywire amid subdued European Union news flow instead of positive company-specific news. The risk is high for a tepid guidance outlook to smack the stock in the face."
Here are the words of wisdom today, as the stock logs a terrible post-earnings day:
Don't buy. The price is still ahead of the fundamentals. There is no pressing need to catch this knife and then close your fist, seeing as
American Eagle
(AEO) - Get Free Report
is a winner to be owned on a pullback, and
TJX
(TJX) - Get Free Report
is always in the cards as a go-to.
Round 2
The only area I cared about in the
Hewlett Packard
(HPQ) - Get Free Report
earnings release concerned the revenue trends in a quarter that ended July 31.
Dell
(DELL) - Get Free Report
had a better top-line quarter, but it's like splitting hairs. One of the most predominant words in the HP earnings release was "down" in reference to revenue and units, and that speaks volumes to the comments and actions I have picked up on regarding capital expenditure plans (see
Abercrombie & Fitch
(ANF) - Get Free Report
, for example).
At the time of publication, Sozzi had no positions in the stocks mentioned, although positions may change at any time.
Brian Sozzi is Chief Equities Analyst for NBG Productions. In this capacity, he is responsible for developing independent financial content and actionable stock recommendations (including ratings and price targets) for an institutional and retail investor base. In addition, Sozzi is the Editor in Chief of the "Decoding Wall St." investor education online platform.