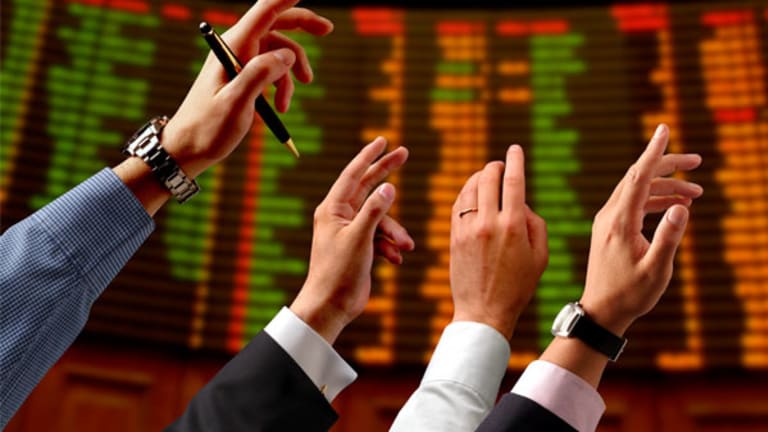 The Day Ahead: What Mother Earth Is Telling Investors
You should probably avoid stocks for now, given these troubling signs.
Underneath the headlines of "financial death by fiscal cliff," and consumers fretting that they can't charge for a bundle of plastic quick enough, is good ol' Mother Earth -- the blue, brown, and white mass comprising particles that make up people and "stuff." (I'm no chemist, so tread easy with the molecular questions here.)
For myself, as an interested investor, tapping into the brainwaves of Mother Earth is very instrumental in achieving success. Global stimulus actions by monetary and fiscal authorities will tend to jam the frequencies of what she is trying to share on the ground. So I humbly suggest, on this second day of my "chill on the sidelines" market call, to have a chat with Mother Earth.
Earnings misses and warnings are still irrelevant to the broader market, but sonny...
Start recognizing an undercurrent of negativity could be building beneath the surface of calm waters. I count at least five companies that have yelled "fire" in a crowded, comfortable room, via earnings misses and warnings:
FedEx
(FDX) - Get FedEx Corporation Report
,
Intel
(INTC) - Get Intel Corporation (INTC) Report
,
Texas Instruments
(TXN) - Get Texas Instruments Incorporated Report
,
Norfolk Southern
(NSC) - Get Norfolk Southern Corporation Report
and
Bed Bath & Beyond
(BBBY) - Get Bed Bath & Beyond Inc. Report
. If you're aware of others -- and I hope you do, as
this ain't no game, man, it's life
-- please do add to the list.
In view of this batch, Mother Earth has offered these talking points reserved for public settings.
There is severe disconnect between a European Union plan that has not even been put into functional action yet, and central demand trends in Southern Europe and in what's perceived as the safer Northern Europe. That disconnect means greater risk to multinational valuations and estimates.
In an economy that is notching downward revisions to disappointing headline employment figures, a supposed "best in show" retailer such as Bed Bath & Beyond will be forced to mail more coupons in order to bring in traffic. Further, there is no guarantee that rising home values will get customers to buy pricier merchandise -- a shift to lower-margin items is in full effect.
When a company such as Norfolk Southern states volumes are declining in "certain markets," it captures the essence of the bear argument -- as if its massive chop to third-quarter earnings expectations weren't disturbing in and of itself. Note that this earnings haircut will be tougher to swallow than was the original FedEx warning weeks ago.
A new theme is potentially sprouting. Look alive.
At first -- that is, before the
Federal Reserve's
announcement of a third round of quantitative easing -- clear attention was being paid to the benefits of central-bank action. Then, on Fed day, that sentiment reached fever-pitch levels. Now we're seeing the beginnings of a modest shift toward determining
why
the Fed and its international counterparts are throwing the book at fixing what the fiscal side should also be helping to address. What nitty-gritty data are these privileged folks seeing, anyway?
Specific to the Fed's actions, the hawks are starting to crow about inflation expectations and knock-on effects. This is unscientific, but their comments -- as if to quietly tell gold investors they are correctly assessing the future -- seem to constitute the loudest opposition thus far in the Bernanke-led Fed. None of this is to freak you out completely. They're just things I am seeing that I feel I must articulate.
I don't want to be feed you a bunch of nonsense fortune-cookie-type nonsense by calmly proclaiming that you should be patient. Instead, here it is from a blunter perspective: Refrain from buying a stock. I will give you a heads-up when to extract your head from the sand -- and I hope I'll be right in the timing.
Now that the gibberish is done, let's have some fun!
Six Things the CEO of JCPenney Taught Me About His Company and Retail
JCPenney financials will continue to be dreadful for the rest of 2012.
JCPenney is no longer a department store. It's a supersized specialty store.
Macy's , you had best take a second from remodeling many stores in the U.S. in a still-tired format. JCPenney is coming with a fresher approach.
Best Buy did not need a former hotel executive in order to reposition its stores for the future of retail. It needed a Ron Johnson-type of individual -- a visionary who's willing to make tough decisions instead of building upon a model that is no longer working.
JCPenney's stock will trade in the red on the raw numbers when they are disseminated and discussed. However, they'll appreciate when the CEO shares fun, encouraging statistics on the turnaround.
JCPenney is ignoring a large, important subset of the population in baby boomers by flowing in more fashion, and that's a problem.
At the time of publication, Sozzi had no positions in the stocks mentioned, although positions may change at any time.
Brian Sozzi is Chief Equities Analyst for NBG Productions. In this capacity, he is responsible for developing independent financial content and actionable stock recommendations (including ratings and price targets) for an institutional and retail investor base. In addition, Sozzi is the Editor in Chief of the "Decoding Wall St." investor education online platform.