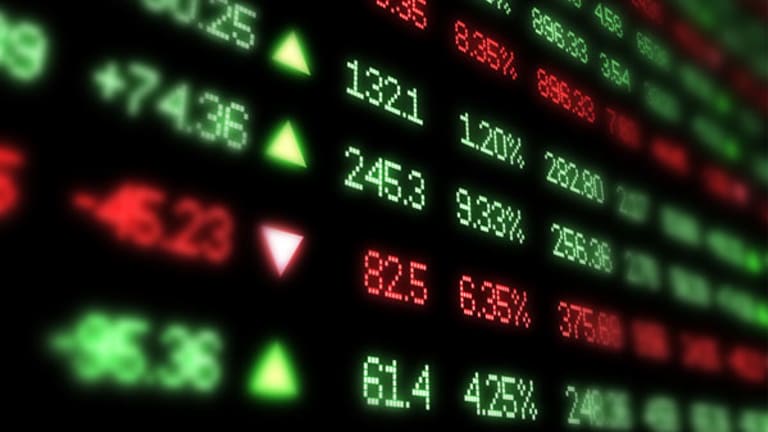 The Day Ahead: Welcome to Your Personal 'Gut Check'
Last week's key market reversal should have set off a number of alarm bells.
From a life-advice perspective, I am in favor of a couple of things. One is giving the underdog, scrappy, no-name person a chance to prove themselves and challenge the larger, more established individual. The Rocky-type figure brings a sense of freshness and energy to the status quo, and you'd be surprised what that could create to benefit others. A great example of this in play is Total Nonstop Action Wrestling's "Gut Check" segment, wherein a person is given a shot at a contract with the company if they impress the fans and judges in a match. Boy, although these "rookies" are still wet behind the ears, they definitely put on an amazing show that could teach the complacent pros a lesson.
Playing off this theme, I say to you that today is "gut check" time -- and you be the judge in figuring out how to vote.
On the one hand, there Wall Street, clinging to the view that the sky is the limit into year-end on the
S&P 500
. Still, that crowd has quietly developed this general catch phrase to cover their rear ends after a week or so of returning volatility: Though optimistic on the long-term, we acknowledge the next move in stocks has a higher probability of being down 5% than up 5%. Let's call the Street the established, household name.
On the other side of the ring is Mr. Market, a formidable force, and one who is jumping around trying to capture the attention of the judge -- i.e., you -- as it cites reasons for greater caution. You, as the judge, may be torn between two factors. You might have missed the rally from the June low but, perhaps, remain cool to the thought that the S&P 500 will trade higher into fiscal cliff at year-end -- and that you should chase cyclical stocks, per the advice of the pros.
Oh, did I mention your attention is also being diverted by price-to-earnings multiples that are supposedly very, very attractive compared to historical averages, as earnings will surprise to the upside? You're also potentially ignoring sluggish revenue from companies such as
Dell
(DELL) - Get Dell Technologies Inc Class C Report
and
Hewlett-Packard
, as they are struggling behemoths --
right
.
Listen. There was a "key reversal" in the S&P 500 last Tuesday -- the market jumped at the open to a new high, and then closed below the prior day's lows -- as was duly noted in
Barron's
, as well as in this column. That should have set off all kinds of inner alarm bells, and it should have confirmed more than a handful of negative recent macroeconomic signals that had gotten lost in the wave of bullishness. Since I believe you overlooked the meaning of that "key reversal," and since the fear there is this indecision on the next course of action, here is your
gut check
.
The Fed:
I am starting to believe we'll see a muted to negative reaction in stocks not only if Bernanke and company reluctantly holding the line on a new round of quantitative easing, but also if the Fed acts at all. For real, $250 billion in additional bond buys will be disappointing, as it will massively let down the bulls and support the view that the Fed is running dry of actions to energize the recovery. Gut check: A lose/lose scenario is taking shape around an event that, weeks earlier, had only been seen as über-positive.
The European Union:
When you buy a stock today, you are essentially pledging faith that EU politicians will act in September in a manner that keeps "euro debt risk flare" at bay, as this was a key driver of the rally. Overall, that is too much faith for my liking, and especially as the ECB gears up to convene Sept. 6 -- a meeting in which the central bank is likely to delay bond purchases, which would then undermine ECB President Mario Draghi's recent rhetoric. A German vote on the EU bailout fund is scheduled to follow that meeting, as well. These people deserve none of your faith -- case closed. It's a lose/lose scenario on the horizon.
The "China Syndrome" is rampant:
I have coined a new finance term, and it's called "China Syndrome." Do you have it? Dr. Soz diagnoses it as a perpetual belief that China is always waiting in the wings with an interest-rate cut and that, should it act with one, this action will immediately reverse many increasingly worrying signs on the ground. Riddle me this: Would an interest-rate cut in the next one to three months reverse a downtrend in unit prices at
Tiffany
(TIF) - Get Tiffany & Co. Report
in China due to a shift in how the Chinese are consuming? Or would it be super helpful toward cleaning up excess inventories of
Nike
(NKE) - Get NIKE, Inc. Class B Report
sneakers and of steel? I'd say "nope" on both accounts.
I, for one, am opting to remain cautious until a new, positive catalyst emerges, or until the market -- through its prices -- convinces me otherwise.
At the time of publication, Sozzi had no positions in the stocks mentioned, although positions may change at any time.
Brian Sozzi is Chief Equities Analyst for NBG Productions. In this capacity, he is responsible for developing independent financial content and actionable stock recommendations (including ratings and price targets) for an institutional and retail investor base. In addition, Sozzi is the Editor in Chief of the "Decoding Wall St." investor education online platform.