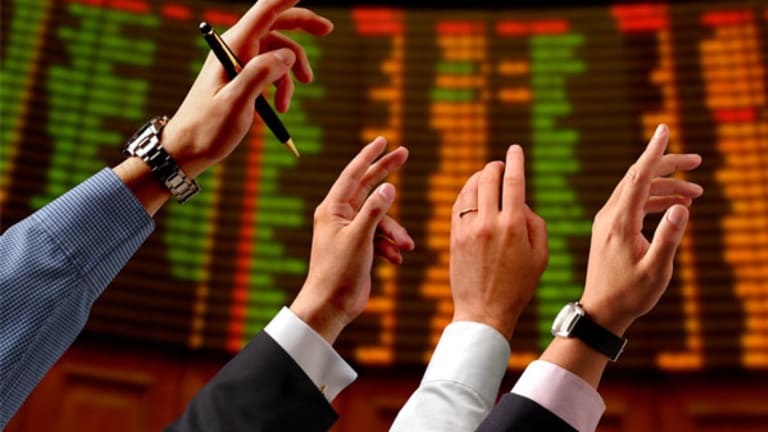 The Day Ahead: This Is Serious
The Fed's efforts seem to have attained diminishing returns.
Inspirational Daily Investing Motto: "Do it right, do it intense, or don't do it at all."
The Fed
This is serious stuff -- no doubt about it. The Fed meeting was supposed to be a grand throwaway event stuffed between the
Yahoo!
(YHOO)
and
Apple
(AAPL) - Get Apple Inc. Report
earnings calls. After the
Fed
event, the news went where "old" news is sent, to the punishment cell at the bottom of a homepage, resigned to be a seemingly boring occurrence in a reeling market. Lost in the sauce, however, may be 20 or so branches that lead to two conclusions: (1) the Fed's efforts have attained diminishing returns, and (2) the global economy continues to be structurally messed up for action upon action has led to a perpetual state of subpar.
Here is the craziness I brought to the office whiteboard on the Fed:
Root
: Continue to expand at a moderate pace (economy).
Branches: Good to have growth in recent months but it may be so miniscule beneath the surface, and so at risk of a falling off the Apple iPhone 5 map, that stocks today are adjusting for that probability.
Root:
Growth in employment has been slow.
Branches: Even as massive liquidity has been pumped into the system, in turn aiding the housing market and year to date stock prices, it has not caused a virtuous circle to adjacent sectors. If companies are curtailing capex and seeking new areas to trim operating fat, shouldn't this downshift slow employment growth to slowing employment growth? Big difference.
Root:
Household spending has advanced a bit more recently.
Branches: Consumers needed the lag impact of stronger first half employment growth, plus higher stock prices, plus rising home values to feel confident to spend a "bit more recently." Pretty sad right there. In this market backdrop that reads as at risk of disappearing should murky fiscal clarity bring economic uprooting post-election.
Root:
Inflation recently picked up somewhat, reflecting higher energy prices.
Branches: Thus far in earnings season, I have not heard that much chatter on inflationary pressures except at Brinker's International (EAT) - Get Brinker International Inc. Report and Buffalo Wild Wings (BWLD) . Core inflation is weak, and I see that in the form of unfavorable sales mix and promotional merchandise. It would be a welcome sign to score a touch of inflation to suggest re-emerging pricing power and then a trigger pull on high quality stocks that are likely oversold.
Moving along, the bullets below support my continued stock celibacy. There are uncorked grenades underneath the deep, treacherous waters of this market. The risk of destroying winning calls by forcing the issue for the sake of doing so is too high. I normally have no problem picking a stock: There is a gut component and a factual component. The gut is confused and cautious, and any good factors being shown by companies are getting ignored by the spreading of fear.
The Devour List
Optimistic me says that dollar store stocks trading below key moving averages, which has been anything but the case in the last two years, is a tell of an acceleration in discretionary spending at places not named Ethan Allen (ETH) - Get Ethan Allen Interiors Inc. Report, Williams-Sonoma (WSM) - Get Williams-Sonoma Inc. (DE) Report, Hermes, and the North Face section at an A-rated Macy's (M) - Get Macy's, Inc. Report. The realist in me says these cheap merchandise destinations are turning into ever cheaper stocks as low income patrons ignore higher margin categories; hence, this is weighing on operating profits. Other factors weighing on profits include store renovations, system upgrades, and new openings.
Gloss over these two words describing the European Union's (EU) sequential demand conditions at your own peril: "deepening" and "accelerating."
Add Brinker's to the list of companies feeling consumer blowback from attempts to raise prices.
Banks are impotent off strong housing numbers (and generally weak post earnings reports). This is also a red flag.
At the time of publication, Sozzi had no positions in the stocks mentioned, although positions may change at any time.
Brian Sozzi is Chief Equities Analyst for NBG Productions. In this capacity, he is responsible for developing independent financial content and actionable stock recommendations (including ratings and price targets) for an institutional and retail investor base. In addition, Sozzi is the Editor in Chief of the "Decoding Wall St." investor education online platform.