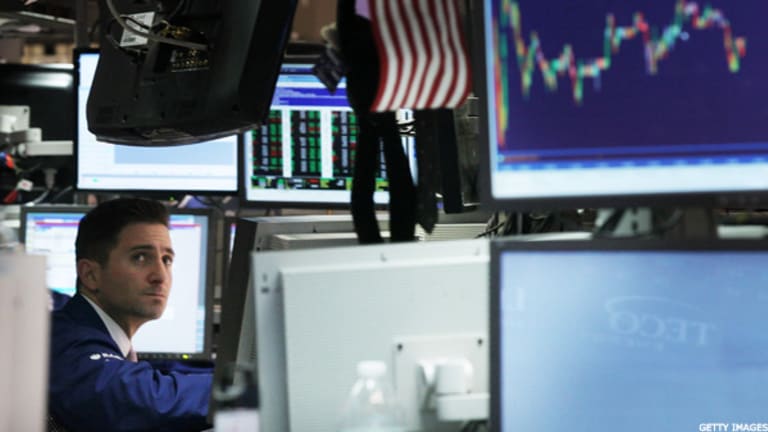 The Day Ahead: The 'Mean, Nasty Email' Stock Indicator
I've come up with a useful new gauge for panicky sentiment among market players.
Years ago, I never thought I'd be sitting here with the experiences in financial services and media that I have had through the years. I actually thought that culinary school was in the cards, or some other profession that demanded intense performance on a daily basis. The majority of the experiences for this positive, happy dude have been wonderful, and I learned the ropes in all facets of the business from true bright minds.
However, when looking back, there have always seemed to be periodic bouts of oddities. For example, there'll be some mean and nasty email from a person sitting in their parents' basement, seeking a double-bottom chart pattern and swearing they are experts on politics after reading a free, five-page local newspaper. After asking around my circle of friends yesterday, and recalling periods of stress in the stock market that caused a general attitude shift among humans, I think an unscientific indicator on stocks I will use from now on is the "Mean-and-Nasty Email Indicator." Perhaps Foursquare or
Google
(GOOG) - Get Alphabet Inc. Class C Report
will develop an algorithm to track psychological changes being conveyed through an email, but for now I am applying good old common sense.
So, you ask, where is the nastiness coming from at this point in time?
Some stock was bought two weeks ago after careful evaluation, with an iota of trust thrown the direction of the bullish professionals. Today, arrows have been able to pierce the iron side of the ship named "rally."
An investor is unable to find new themes, neither in order to profit from the next big thing or to avoid a mini black swan event. (Maybe, on that first item, some went to check out SecondMarket and purchase a few shares in the latest video sharing startup with no revenue but a climbing valuation.)
There is a sense that others have all the information and that, more often than now, the small guy gets the shaft.
Surely there are at least 10 items worthy of addition to the list. When you boil things down, though, the rise in negativity is rooted in the type of fear in the investing process not captured in the CBOE Volatility Index (VIX). It's the fear of picking a heavily researched stock and then watching it lose 10% into the next earnings report due to something coined "euro debt risk flare."
Hey, I understand that fear and hate -- I use them as part of the bedrock under how I articulate what I am seeing in the market and within specific companies and sectors. Understand this: The market is dynamic and themes get washed ashore as quickly as they get swept out to sea. In order for you to win in a manner supported by a firm understanding of investing, there has to be a certain respect for that dynamism, and an attack plan to alter course. Don't drink Hatorade; it clouds your judgment and could hurt the portfolio.
Moving right along -- if you are feeling lucky, buy stock today for a trade. Why, you ask? First, consensus in the market is fully entrenched: Fed chief Ben Bernanke will do and say nothing of importance at the symposium in Jackson Hole, Wyo., Friday, and that obviously indicates a change in sentiment from weeks earlier. Because this consensus is in the fold, the prospect is raised that one word could rekindle the bullish thesis -- easing through language and action shortly, plus moderate growth.
Moreover, I find it interesting that European Central Bank President Mario Draghi removed himself from the Jackson Hole event. This could signal a positive development from Euro Land is forthcoming. Similar to how the market treated views on the Fed, the market has begun to unwind from the prospect that Draghi's bold words a few weeks back will transmit into definitive action. That raises the surprise factor into the long holiday weekend.
Finally, China's data have been downright alarming of late, but comments from officials regarding more action appear to have a greater sense of urgency -- also into the long weekend. Note that I am not advocating going all in. I'm only in favor of trading around core positions with the profits you hopefully booked last week.
Weird Movers
For purposes of simplification, I will group Northrup Grumman (NOC) - Get Northrop Grumman Corporation Report, Lockheed Martin (LMT) - Get Lockheed Martin Corporation Report, Textron (TXT) - Get Textron Inc. Report, Arrow Electronics (ARW) - Get Arrow Electronics, Inc. Report, Honeywell (HON) - Get Honeywell International Inc. Report, and CSX (CSX) - Get CSX Corporation Report as "heavy industrials" that have outperformed since the June bottom, but are now rolling over a touch. Track these for signs of fiscal cliff and of resurfacing euro concerns.
Dollar stores Dollar General (DG) - Get Dollar General Corporation Report, Dollar Tree (DLTR) - Get Dollar Tree, Inc. Report, and Family Dollar (FDO) are broadly lagging general retail names such as department stores Macy's (M) - Get Macy's Inc Report, Nordstrom (JWN) - Get Nordstrom, Inc. Report, and Saks (SKS) . They're also falling behind Wal-Mart (WMT) - Get Walmart Inc. Report and Target (TGT) - Get Target Corporation Report specifically. These are "canary in the coal mine" stocks for how gas and food inflation may impact other consumer income brackets into year-end.
At the time of publication, Sozzi had no positions in the stocks mentioned, although positions may change at any time.
Brian Sozzi is Chief Equities Analyst for NBG Productions. In this capacity, he is responsible for developing independent financial content and actionable stock recommendations (including ratings and price targets) for an institutional and retail investor base. In addition, Sozzi is the Editor in Chief of the "Decoding Wall St." investor education online platform.