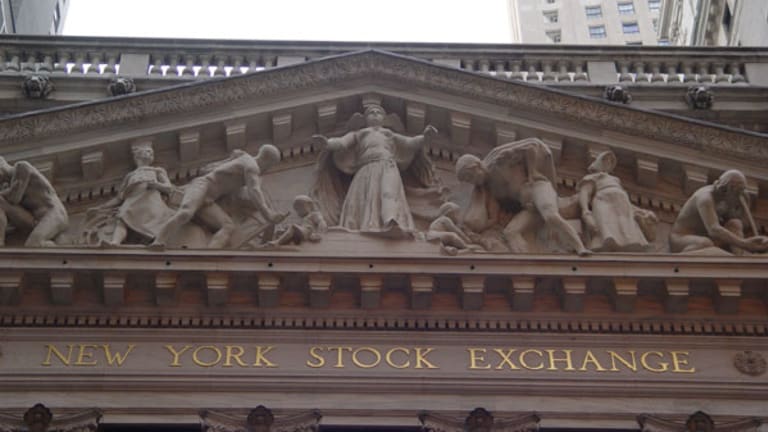 The Day Ahead: The Free-Money Reality Check
Here is why I'm reiterating my negative bias on stocks.
Holy cow, what in the name of Sam Hill happened last week? Not to appear too confused à la Foghorn Leghorn, but last week's market action was a reality -- like taking a hammer to the side of the head. Regardless of the
Federal Reserve's
latest release of free money, the market is demonstrating a willingness to sniff around corporate fundamentals in periods of scarce important macroeconomic or monetary events.
Sure, market-goers griped that outcome uncertainty was being triggered by Spain's dance with the European Central Bank. Also, yes, there was an increase in the noise emanating from the fiscal cliff radio station as folks discussed the topic of dividends being taxed as ordinary income -- which partially explains why companies are enacting special dividends. But, when it was all said and done, the earnings warnings from economically sensitive companies reigned supreme, and served to shed light on the lagging nature of the
Dow
transport index. They also tossed cold water atop the red-hot advance in the Baltic Dry Index.
Here is the rundown as to why, despite the probability of window-dressing into quarter-end, I'm beginning the week reiterating a negative bias on stocks.
Market Sentiment
There are too many bulls for my taste. This is a crowd that's understandably fixated on the perceived beneficial impact of the Fed's third round of quantitative easing, and how that will play into a higher value for the
S&P 500
by year-end. The problem is that, in order to get from point A to point B, I think near-term expectations will have to be reset a touch. In that way, third-quarter earnings season would be rendered an under-promise, over-deliver scenario that would somewhat mitigate concerns on the fiscal cliff; it will be said companies are protecting margins well against an "uncertain backdrop" (trust me -- I've been at this game for a while, and that's what will be said). But even that would only cause me to metamorphose into a tactical bull -- not a hard-chargin' one. Why?
Well, the message ends up being that it's a tall mental task to buy stocks into downward estimate adjustments on fourth-quarter and 2013 earnings. Why would I want to own XYZ stock at today's valuation when there is risk its earnings will underwhelm? After all, its dividend announcements may constitute only modest increases or stay flat, pending tax and regulatory clarity.
Good luck trying to be a hero on
Caterpillar
(CAT) - Get Caterpillar Inc. Report
: Is it really that dirt-cheap after the
FedEx
(FDX) - Get FedEx Corporation Report
and
Norfolk Southern
(NSC) - Get Norfolk Southern Corporation Report
warnings and the downtrodden Shanghai Composite Index? I will watch from afar as you calculate the present value of future cash flows in a spreadsheet. By the way, speaking of Norfolk Southern, I wonder how Buffett's Burlington Northern is doing if that former name is performing weakly -- and that makes me wonder whether
Berkshire Hathaway
could be a negative surprise earnings story.
Macro
I remain on the prowl for favorable patterns in macroeconomic releases, specifically in the areas of new orders and employment. In no way am I looking for perfection -- I'm merely seeking a move out of contraction zones and a decent month-on-month improvement. If this starts to occur with consistency, it would provide greater comfort on October data, given the Fed's involvement in markets. But the more data I digest, it would appear that -- well, let me stop right there. I don't want to freak you out this early in the week.
If I were to venture a guess, I'd say this week is very apt to feel identical to last week -- missing a spark as investors peak across the room and see a bunch of boogeyman approaching.
Monday Quickies
It's sort of silly to think the decline in oil prices gives the Fed scope to stay on the gas pedal longer. The Bernanke Fed is laser-locked on eradicating high unemployment just as inflation expectations have begun to climb. I have two side notes here. First, my view is that investors take for granted the extent to which inflation has been contained in recent memory -- using government data, not the food and oil bills. But the fact is that, regardless of any potential excess capacity in the job market, the Fed's balance-sheet party will eventually carry ramifications that will make owning gold a priority. My second note regards The Wall Street Journal's Weekend column about Harley Davidson's (HOG) - Get Harley-Davidson, Inc. (HOG) Report sharpened manufacturing processes. This is a must-read, as it perfectly demonstrates the concept of "structural unemployment" that results from a recession.
Be aware that, in a market awash with cash and chasers eager to chase, last week the strongest performers were defensive sectors such as telecom and healthcare were. Hmm.
The Urban Outfitters (URBN) - Get Urban Outfitters, Inc. Report analyst day, on Sept. 27, is likely to support the bulls on the stock.
Lost in the positive write-ups on Darden's (DRI) - Get Darden Restaurants, Inc. Report earnings was this: In order to reignite traffic, the company had to lower menu-price increases at its restaurants intra-quarter.
At the time of publication, Sozzi had no positions in the stocks mentioned, although positions may change at any time.
Brian Sozzi is Chief Equities Analyst for NBG Productions. In this capacity, he is responsible for developing independent financial content and actionable stock recommendations (including ratings and price targets) for an institutional and retail investor base. In addition, Sozzi is the Editor in Chief of the "Decoding Wall St." investor education online platform.