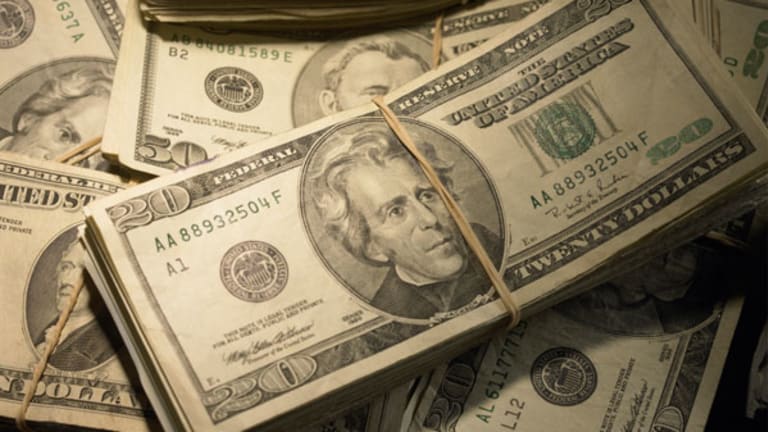 The Day Ahead: Take a Vow of Stock Celibacy
This Editor's Choice piece discusses the day ahead in the markets.
This Editor's Choice piece discusses the day ahead in the markets.
That was some N.Y. Giants game, huh? Eli Manning reminds me of value investing actually working in a world of technology advances; if his stock was bought early on in his career at a low valuation amid fan gripes and poor play, then it would have paid handsome rewards by now to those with foresight. But I digress; a serious week is upon us, one that has me wondering if the market's still hearty year-to-date gains will be met by more sandmen. From my perch, all I have landed since Friday's Mini Massacre Day is "Do I buy the plunge?" or "Hey, kid, should have listened to ya, what's the deal?" What I suggest is joining me to take a vow of stock-buying celibacy. The call to arms has been heard throughout the land. Laugh in the faces of those stating they are looking for bargains, for you have ample and valid information to counter their claims. Take the vow of stock celibacy, and be prepared to dive into action for the bullets will be flying hot and heavy this week.
The Five Principles of Stock Celibacy
You Keep Getting Denied Wins
Along the way, I have offered the advice to pay careful attention to how a leading stock reacts to an earnings report to predict whether markets stand to rebound, correct, or keep on doing what they are doing.
Kansas City Southern
(KSU) - Get Report
toyed with my emotions on Mini Massacre Day, gaining ground despite revenue and earnings shortfalls. That action would normally pique my interest, except it had zero spillover to other leading indicator stocks, especially in tech. In fact, the
Nasdaq
continues to trade below its 50-day moving average ahead of a bunch of key sector reports that will have dreariness attached (if
Google
(GOOG) - Get Report
can't strongly monetize a mobile ad, why should
Facebook
(FB) - Get Report
deliver improvement?)
You See Nothing of Encouragement
Not sure if you are listening to earnings calls or just trading with friends for fun, but the weakness in tech fits snuggly with the hesitance by industrials to invest in their businesses. While there is certainly a component of fiscal-cliff fear involved, a cloud of smoke hangs over the strength of our export partners. Shareholders want returns today, execs are aware of this and their year-end bonus structures, so global clouds have given them a reason to plan with a short-term mindset. Also, think long and hard why suddenly there has been all these new restructuring plans announced before year's end -- execs want their loot, and any many are compensated on EBIT growth.
You Are Unable to Identify a True Bargain
Is
UPS
(UPS) - Get Report
a bargain seeing as
FedEx
(FDX) - Get Report
has consistently spewed top line caution for months? I can't quite decipher that as earnings season is hitting perceived bargains as soon as the numbers cross the wires. What was a bargain days earlier is not, and that undermines investor confidence and piles on the selling/hesitance to buy on pullbacks.
You Realize that Select Analysis Is Useless
One comparison (by bulls) that is cracking me up of late is that growth in Asia is far surpassing the rates in the U.S. and Europe. LOL -- but what about this more important perspective: these well-wishers are ramping up the optimism on Asia growth that is in turn priced into stocks but then the hopes are dashed as companies announce surprisingly negative trends from their Asian operations.
Etch this into your arm
: I must have memorized a company's country specific risks, opportunities, and past four quarter trends.
You Don't See One Part of the Economy Helping the Other
Research indicates that earnings estimates have moved higher from Sept. 28. Higher! I blame this on short-sided views on the impact of housing that the recovery will magically and immediately spread to all aspects of the economy. Thus far, I don't see it happening, and where it has (Kansas City Southern's housing profits picked up a tad), it's so small that it can't counteract hunks of business that remain under pressure and with scant visibility into normalization.
I do not trust any positive sign in the market at this very moment. What are the real feelings of Mr. Market? Is it three days of gains logged early last week? Is it two dreary down days to end the week? It's too weird for my taste, and considering we will be bombarded in the start of the week by reports that could be worse than those issued to date, I prefer to help you not lose your shirt.
At the time of publication, Sozzi had no positions in the stocks mentioned.
Brian Sozzi is Chief Equities Analyst for NBG Productions. In this capacity, he is responsible for developing independent financial content and actionable stock recommendations (including ratings and price targets) for an institutional and retail investor base. In addition, Sozzi is the Editor in Chief of the "Decoding Wall St." investor education online platform.