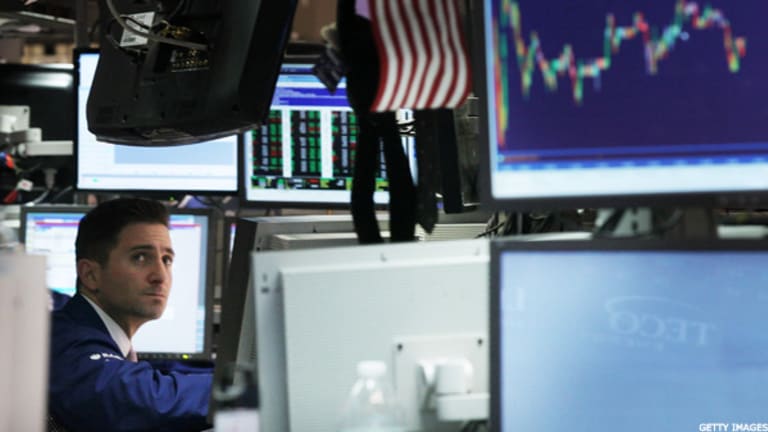 Publish date:
The Day Ahead: Stuck On a Lame Exercise Tape
Instead of embracing the new, the market has become fixated on well-worn themes.
Instead of embracing the new, the market has become fixated on well-worn themes.
"Train or die"
-- Undisclosed personal trainer I now follow on Twitter.
Twitter
is a fascinating place to chill. Each day one awakes to find a comforting bombardment of information from throngs of people who would absolutely recognize you in the street, thanks to that one magical comment of yours that got retweeted months earlier. A company like
Salesforce
(CRM) - Get Report
is helping others to manage their brands on Twitter, unbeknownst to many Twitter faithful. As for myself (
), I use Twitter partially in order to find inspiration to gauge the mood of the equities market. There is nothing more energizing than finding that one interesting quote that lays the foundation for a multitude of investment ideas.
Today, I am reminded of the "train or die" quote from a personal trainer I decided to follow on the site, as it perfectly sums up my feelings on the market. For the past three weeks or so, I have been willing to run with the bulls, as there were decent enough reasons to get long a "sentiment-driven rally." However, throughout the ego-stroking, there was a little person inside undergoing intense training exercises in preparation for the inevitable -- a pullback in the market that lasts longer than an hour or a single session. Every waking minute there I've devoted maniacal attention to note-building so as to not get caught flat-footed on the next decisive move, which is evolving as one rooted in profit-taking.
The market is involved with a lame Richard Simmons-esque 1980s exercise program. That is, it prefers to hang on to belief in well-discussed themes, as opposed to graduating to a P90X-style plan of figuring out why we could be stepping on eggshells for most of September.
Soz Brand Workout: One Gear, All Out
What are the transport stocks saying?
It's one thing to proudly state, after finding a colorful chart, that the underperformance of transport stocks does not confirm the rally off the June lows. It's quite another to understand the message. The way I think about it, the transports do not believe the incrementally improving macro data trend, and I suspect it will unwind in a historically dour month for stocks in September. New-order trends in manufacturing reports, and continued focus by retailers on lean inventory management, lend credence to this view.
Scared to Make a Call
I sure am laying eyes on the
S&P 500
approaching strategists' full-year value objectives, yet I'm making no real bold calls in either direction regarding the next move. If we begin to get modest upward hikes in year-end S&P 500 targets, the market may boil them down as unworthy of incurring the extra risk. In other words, the risk-reward scenario would be unfavorable.
Where Are the Players At?
One thought I am wrestling with is that, in September, when the market's
ballerz
return to action, will they really want to get long a market sent higher by machines and rookies? The core fundamentals -- meaning corporate sales and earnings -- are uninspiring. Further, the risk of being horribly wrong into the back half is too great a threat when it comes to buying stocks today at higher valuations vs. June.
The rally feels as if it's losing some steam, so play it close to the vest. Have you scored a profit on a core position? Great -- book it and wait to see if the market hurdles over key technical resistance points that would aid in sucking in others.
Morning Quickie
The retail space has officially become a brutal place to pick stocks. Best-in-breed names are known, and the valuations reflect the fact that their fundamentals are best in show. A few companies that come to mind in this department are
Gap
(GPS) - Get Report
,
Ulta Salon
(ULTA) - Get Report
,
Target
(TGT) - Get Report
,
Home Depot
(HD) - Get Report
,
TJX
(TJX) - Get Report
and
Michael Kors
(KORS)
. I remain upbeat on Gap, Home Depot and TJX -- I just want them at cheaper prices if possible.
As for the fundamental horror stories, they will stay that way for the foreseeable future. If I had a gun to my head, I'd underweight
Guess
(GES) - Get Report
, a globally exposed brand that has had a stock gone haywire amid subdued European Union news flow instead of positive company-specific news. The risk is high for a tepid guidance outlook to smack the stock in the face.
At the time of publication, Sozzi had no positions in the stocks mentioned, although positions may change at any time.
Brian Sozzi is Chief Equities Analyst for NBG Productions. In this capacity, he is responsible for developing independent financial content and actionable stock recommendations (including ratings and price targets) for an institutional and retail investor base. In addition, Sozzi is the Editor in Chief of the "Decoding Wall St." investor education online platform.