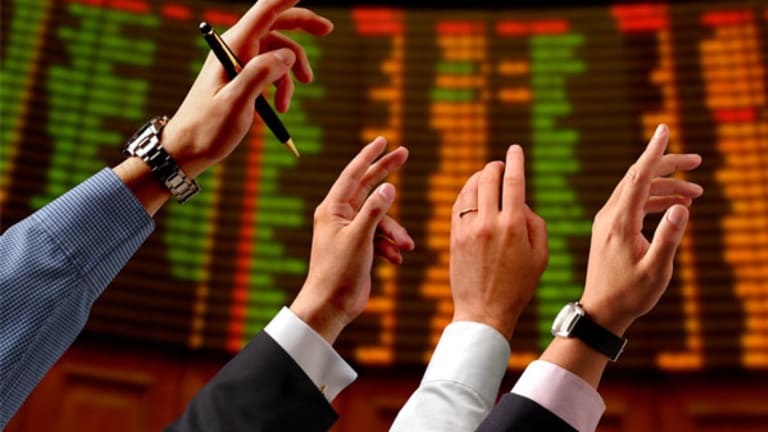 The Day Ahead: So, You Wanna Be a Rock Star Investor
Before you can get there, you have to be able to extract vital clues from the fluff.
Congratulations on surviving the first week of earnings season. I would offer a "
Now relax a bit
," but it wouldn't be genuine. If you are not always "on" in market-stalking, then you could be horribly off regarding a single report from wherever. But, hey, far be it from me to push these traits onto your plate. The question is simple in these fine parts: "How do you become a rock star investor?"
Day in and day out, I get asked questions ranging from the weird ("Thanks for the tweet, want to grab coffee?") to the interesting ("Does
Nike
booting Lance Armstrong impact future earnings and cash flow?"). All of it is basically anchored in the idea of becoming some kind of money-making machine with stock symbols dancing around in the brain. To have a shot in hell of attaining this rock star status, one has to be able to remove nasty filaments from pure water, or extract clues that are critical to fundamentally analyzing companies from the fluff that gets pumped into the black hole we call the Internet.
For the majority of the week, I've been landing emails from friends and family inquiring about my health, so I feel it's appropriate to reach back to the simpler, calmer days and provide a goodie bag of items you really need to know right now. These are stripped-down nuggets of information that get lost in the meat grinder that is the "alpha generation," a term eloquently coined by
co-portfolio manager Stephanie Link in an evening Tweet to myself.
Oh, by the way, please do take special notice of this. Try and decode the buzzy numbers that seem uber-serious to the investing process on the surface -- but which, quite honestly, are only useful for navigating a morning Keurig station, for a meeting or for sounding like a financial wizard on football Sunday among friends who work in the IT department.
Earnings Season Data Overload, Decoded
Revenue and Earnings "Surprise" Scores:
Approximately 43% of companies have beaten on revenue, worse than the second-quarter percentage by 50 basis points. Some 58% of companies have beaten on earnings, which is consistent with the second quarter. These are indeed fun figures to chew on, assuming that your area of expertise is trading alongside humming machines.
Surprise scores gauge sentiment to position for the next earnings report in XYZ sector, and distort the messages coming from
quality
of revenue and profit. Thus far in earnings season, I would fight to the death to support that earnings quality has deteriorated further due to a couple of things. First, more promotions were enacted to move excess goods, new services and new products. Second, we saw expense-saving measures being siphoned from 2013 to counteract surprising downside to revenue and profit from European and Asia operations.
Deep thought:
The fundamental stories of names such as
Danaher
(DHR) - Get Danaher Corporation Report
and
Stanley Black & Decker
(SWK) - Get Stanley Black & Decker Inc. Report
are increasing in frequency. These are companies that must implement new restructuring plans on top of already-bone-cutting measures being carried out from the start of the year. Seeing this makes it understandable why the Philly
Fed
employment component is stuck in the mud, along with new orders. These are elements that were overlooked in the enthusiasm for upside on the headline figure.
China Economy at Bottom; Let's Begin the Party
A "bottoming" in a company's fundamentals or a country's economic situation is tough to predict, obviously. I fully comprehend the way in which the market has decided to interpret China, especially following its latest round of super-believable data. Evidently there's been no hard landing, economic conditions are at bottom and the country is building the runway to growth acceleration in 2013. Cool.
However, beneath the interpretations lie realities that could surprise the bullish sentiment being priced in a company's stock that you may own. Those realities include the following. First, based on the earnings reports I have reviewed, Asia was a disappointment that did nothing to alleviate dreadful end markets in Europe. Second, China's economy may be bottoming in the mind of Mr. Market, but this doesn't necessarily mean a company will immediately drive upside results in the country.
I think many companies have excess inventory in China -- Nike, for example -- that has to be whittled down inside a tepid recovery. Only then can greener pastures be found. Is it crazy to assume that a global multinational will require at least two quarters to show the kind of stabilization in China that's currently forecasted by the market? That, in the meantime, leaves the type of risk that makes proper stock selection vital. For example,
Snap-On
(SNA) - Get Snap-On Incorporated Report
continues to be a favorite of mine, as it is enjoying solid sales in China -- and did so in third quarter -- amid an
expanding
market for its tools.
Investing will beat you into submission if you let it do so. Overall, the mood on the ground is one of range-bound action, with pockets of enthusiasm that seemingly hand off to days in the red. Those, in turn, are strange in the sense that the day before was supposed to be sunny. The topsy-turvy action keeps me disciplined and on the short-term bearish side. The odd things I track, economic reports and earnings reports
don't
scream that the correct course of action is closing the savings account and visiting an online broker with the check.
Off the Cuff
Earnings multiples are some 12% shy of the 2007 peak. If we move beyond fiscal cliff reasonably well, material earnings leverage in companies will be realized with a return of healthier revenue growth (here's a bone-throw to perma-bulls).
At the time of publication, Sozzi had no positions in the stocks mentioned, although positions may change at any time.
Brian Sozzi is Chief Equities Analyst for NBG Productions. In this capacity, he is responsible for developing independent financial content and actionable stock recommendations (including ratings and price targets) for an institutional and retail investor base. In addition, Sozzi is the Editor in Chief of the "Decoding Wall St." investor education online platform.