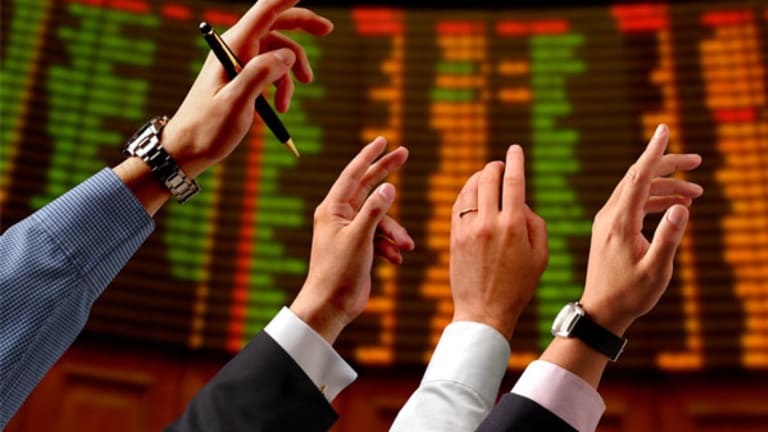 The Day Ahead: Investing Sins Will Cost You Dearly
If you run contrary to the will of the market, you will pay the price.
"Investing sin," defined:
Violating the will of the market, usually due to influence from outside sources
Unbeknownst to anyone else, in those rare free moments, I have been hard at work crafting a miniature investing manual. I like to refer to this as my own set of investing principles, sort of a bible for others to follow on the path to ultimate financial riches via stocks. The bedrock principles are edgy and in-your-face, as you would expect. One component of this investing bible comprises a list of "market sins."
It's important to me to shed light on how I view an investing sin. After all, the market is circling the bowl post-election -- and yet, we are chock full of cheery prognostications.
Starbucks
(SBUX)
inks a deal to buy
Teavana
(TEA)
? Get ready for a wave of valuation-boosting deal activity into year-end.
Cisco
(CSCO)
pulls an earnings rabbit out of its hat again?
Poof
, every horrible aspect out of the tech space in the third quarter is worthy of a sweep under the rug. Remember, poor tech news had been coming from earnings warnings
and
the actual reports.
On Tuesday, I was not kidding when I characterized the market as being in a
-- that is, it's currently undergoing a daily drippy death, whereas I would prefer to have that one large capitulation event that would allow us to begin picking through the rubble. In that article, I had encouraged the masses to do simple math and concoct worse-case scenarios for each stock they're holding. I take my job as a market observer extremely seriously (too seriously, perhaps), and I only disseminate my views after careful a check of the probability trees drawn on my notepad from XYZ event. So it may be wise to come close to the computer screen and listen.
If you have chosen to sin -- to run counter to the will of the market (and from the helpful advice of yours truly) -- the payment for that sin has been excruciating of late. I have very little sympathy for sinners in general, and that extends to investing in most cases. The building blocks of the market haven't just loosened; they are now beginning to crumble, with sessions now logged below the magical 200-day moving average. As a means to halt your sinning propensities, pay careful attention to the reads on the next wave of information that has snuck up on the market, and which has done nothing to alleviate prior concerns about the fiscal cliff or decelerating expansion of corporate profit margins.
Federal Open Market Committee minutes:
What the FOMC communicated was that a bunch of voting VIP policymakers have no confidence that ongoing actions will spur sustainable economic growth or build on the recent jobs-data releases. The market cares less about the prospect of balance-sheet expansion, as it has a greater concern that stocks are giving a cold shoulder to the
Fed's
secret wealth-creation mandate. Read: The central is out of bullets, just when bullets and a prayer are needed.
John and Jane Doe consumer:
Hurricane Sandy or no, consumer spending has entered the fourth quarter on a sour note, and if that's not corrected, it has implications for capital investments and profit growth in the first half of 2013. Also, market players are dumping leading issues such as
Williams-Sonoma
(WSM)
-- names with a housing angle that strike the right earnings-season chords. The notion is that housing is no match for the mighty powers of the fiscal cliff. I'm not saying the fiscal cliff will destroy the housing recovery, but rather that the perception thereof is currently facilitating the action we're seeing in stocks.
Weak economy before the fiscal cliff:
I reiterate that I would love to see a whiff of inflation, so as to indicate a semblance of pricing power. Alas, no dice, as we are forced to look at a producer price index report that screams deflation. Keep in mind that the core PPI reading declined in October for the first time this year -- a "cliff dive," if I do say so myself.
Earnings, earnings, earnings:
Solid, late-in-the-season reports are not leading to positive sympathy-related advances in similar companies. The reports are being pinned down as one-offs inside a slower-growth environment, instead of serving as a "tell" on the entire market.
I remain pure in terms of a market call, and that call is a reiterated bearish opinion.
Sidebar
Texas Instruments'
(TXN)
latest restructuring announcement reinforces my long-held view. When the fiscal cliff finally stuck in the rear view mirror, corporate America will have retained significant earnings power, and this should be reflected in stock prices following another year of productivity initiatives in 2012.
At the time of publication, Sozzi had no positions in the stocks mentioned, although positions may change at any time.
Brian Sozzi is Chief Equities Analyst for NBG Productions. In this capacity, he is responsible for developing independent financial content and actionable stock recommendations (including ratings and price targets) for an institutional and retail investor base. In addition, Sozzi is the Editor in Chief of the "Decoding Wall St." investor education online platform.