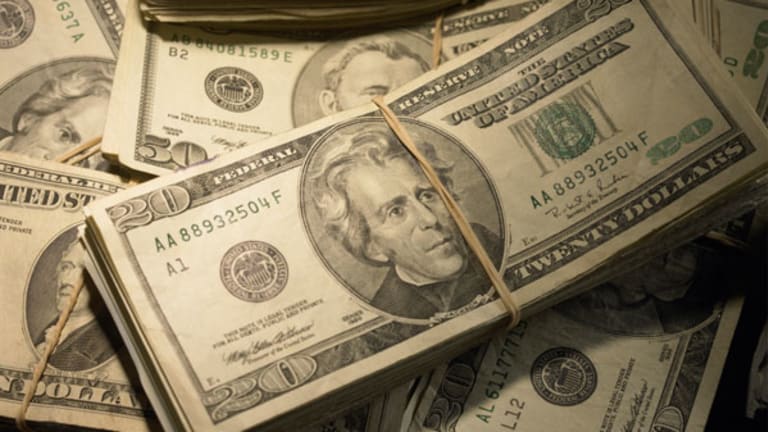 The Day Ahead: Holiday Cheer Comes Early
As revealed via an enlightening chat with a Lord & Taylor Santa, here are some reasons for optimism.
As revealed via an enlightening chat with a Lord & Taylor Santa, here are some reasons for optimism.
On National Black Friday Creep Day (Thanksgiving), I engaged in a number of retail tours -- and these have put me in a jovial mood. Yes, out of 20 people I queried at a local
Target
(TGT) - Get Report
, only three had "heard of" the fiscal cliff -- which had triggered an abundance of doomsday thoughts regarding first-half 2013 consumer spending. But forget that. I will even go so far as to temporarily sweep under the rug these ninja-like shopping tendencies in the wee hours of Black Friday. Perhaps I'll bring my Hurricane Sandy hypothesis front and center -- that is, the storm is a downside risk to spending plans, but only for those on the East Coast..
No, fine folks, it was the chat with Santa Claus in front of a Lord & Taylor that left the largest impression on me Thursday. You see, Santa had some good tidings to share on the stock market even though it is currently staring down the barrel of a gun, and in the end he sounded a touch more positive than I would have expected. Since I advise doing nothing to your portfolio in a holiday-shorted trading session, every non-holiday piece of attention has to be assigned to navigating the remainder of November.
Santa's List of Holiday Cheer
Don't be the investor that glosses over the fact that the China purchasing managers index is back in expansion territory. In fact, this number is serving as further confirmation of the prior encouraging data that commenced in September. Think: "Is the new China recovery trend priced in to valuations to the same sharp extent as the slowdown had been?" Yours other thought should center on whether the China story could alleviate that of the U.S. fiscal cliff to any substantive degree. (It certainly wouldn't hurt.) If you are not pondering a longer-term trigger-pull on a name like Caterpillar (CAT) - Get Report, you might want to start.
Only half of the stocks on the NYSE are trading above their 200-day moving averages. This points to a lack of belief in any of the signs of a short-term bottom that we have witnessed since Nov. 16. Do I get the distrust? Well, yes, as I am skeptical and remain quite disciplined. But, as I indicated in the middle of the week, we're witnessing a desire to chase a rising tape -- aka a "rising stock market." Moreover, given the limited number of stocks participating in the move, ample numbers of sectors have not joined the miniature rally, and they deserve to do so against a backdrop of mitigated fiscal-cliff sentiment.
Shares of sector leaders are base-building. This is important to watch, as an air of near-term normality has returned to replace the prior prevailing trend -- selling big 2012 gainers and asking questions later. Ideally, though, one would like to have leaders in fact lead, so this is an area of concern on which I am focusing.
Lost in the sauce has been the direction of corporate bonds. Since the Sept. 14 climax in the S&P 500, corporate bonds have outperformed. This suggests confidence in corporate balance sheets and, possibly, that the fiscal cliff component is being too heavily priced in to the equity side of the equation. (You know, the income statement and balance sheet are connected.)
Stay cool, calm and collected. I have a feeling the market is trying to seduce interested investors without getting arrested for indecency. It's hard to determine what the next fundamental negative will be -- we will have time to react to negative fiscal-cliff-related headlines from politicians -- while it seems there is a small runway for modestly positive outcomes that influence stocks accordingly. Remember, being "modestly positive" is vastly more appealing than needing to digest accounts of decelerating earnings growth and negative surprises to consensus macroeconomic forecasts.
Quick Thoughts on Black Friday
It's too early to call by any means, but here are three observations.
First,
Wal-Mart
(WMT) - Get Report
nailed it with its staggered promotional strategy -- and it was welcome, as the business had clearly lost steam, and traffic, coming into the holiday quarter.
Second,
Best Buy
(BBY) - Get Report
is in for a challenging turnaround. Not one person freezing their rears off in line were there to buy customer service; they wanted the lowest possible price, or to touch a device that they'd saved in their
Amazon
(AMZN) - Get Report
shopping baskets. I think Best Buy's holiday season, in spite of pricing initiatives, will be challenging to the point that it will again negatively surprise Wall Street.
Third, among the large-box retailers, Target did the best job at integrating key initiatives, from its RedCard Rewards program to in-store smartphone product-scanning.
At the time of publication, Sozzi had no positions in the stocks mentioned, although positions may change at any time.
Brian Sozzi is Chief Equities Analyst for NBG Productions. In this capacity, he is responsible for developing independent financial content and actionable stock recommendations (including ratings and price targets) for an institutional and retail investor base. In addition, Sozzi is the Editor in Chief of the "Decoding Wall St." investor education online platform.