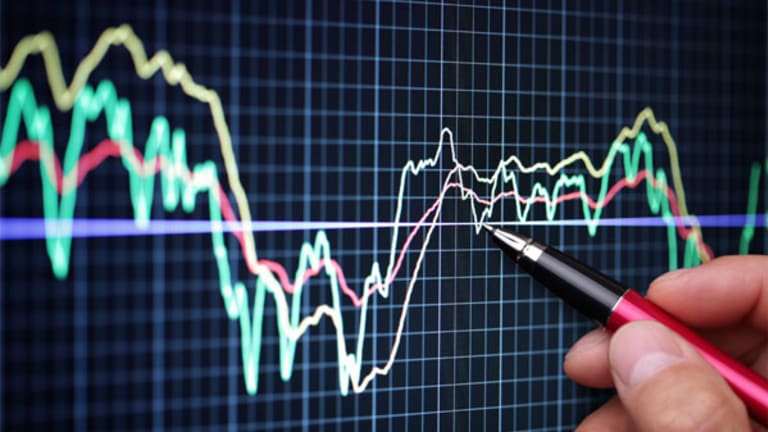 The Day Ahead: Go Scream at a Fellow Investor
Let's be brutally honest here and connect the dots on the bearish case for the market
There is an undeniable trend in reality television: If the star of the show ain't a-yellin', they ain't doing their jobs of entertaining viewers -- and unhappy viewers mean kissing goodbye those precious advertising dollars. (Sorry,
Facebook
(FB)
, there are none for you). But this isn't yelling just for the sake of yelling; it's to enact change in a person that is badly in need of help. Look no further than
Spike's
"Bar Rescue," in which an expert bar developer swoops into save the finances of a troubled hole in the wall, or
Fox's
"Kitchen Nightmares," in which a world-renowned chef fixes restaurants and families. It's touching, I know. These are no longer "Little House on the Prairie" TV-watching days, that's for sure.
After some deep thought, I have concluded these trained professionals are on to something with their verbal shock treatment. Considering this is trading-day eight of my bearishness, and likely day eight of the bulls sending emails indicating that I am nutso, here is the deal on this particular move to the sidelines call. Before we can return for a swim in the pool of optimism, there are specific fundamental events that will have to transpire. Let's be brutally honest: We are flying near blind into important dates next month with tired themes for the bulls, and the bears are still doing dot-connecting rather than sitting back and watching the fruits of their labor.
Volume:
When the heavy hitters return to their desks next week, stocks leveraged to the good fortunes of the U.S. economy had best perk up -- no excuses. If we can get
FedEx
(FDX)
or
UPS
(UPS)
working, that'd be great, but a key cog in the wheel of the bulls is that a strengthening labor market will transmit to reaccelerating gross domestic product growth in the third and fourth quarters. If there's no sign of life in companies bringing in above 50% of their annual revenue domestically, throw a caution flag. That's especially relevant since the Street is overly bullish on cyclicals.
Romney:
Beneath all of the attack ads from both parties, there is a presidential challenger in presumptive Republican nominee Mitt Romney who has meaningfully closed the opinion-poll gap with a sitting president. The pendulum will have to swing further in order to pique the interest of the market to a stronger degree than we have seen thus far. Call me crazy, but if Romney pulls ahead of President Obama, the market may just place on its Reagan glasses. Yes, it's a different time and place, but the optics would be such that the economy could extract itself from a sluggish post-recession recovery quicker than feared -- and avert significant fiscal cliff downside.
August employment report:
It pains me to say, but if you want to see stocks regain their mojo, you have to root for a disappointing August employment report. I believe there is a distinct possibility here, given key aspects of various manufacturing reports and numerous signs of increased caution on hiring by Corporate America. A lame jobs report will reignite the potential for swift
Federal Reserve
action at its next meeting, which would temper the concerns about the
no-action
possibility that has emerged in the past two weeks.
That summarizes my thoughts as they pertain to an attack plan. Oh, before I forget, chill on taking seriously any
Tiffany
(TIF)
buy ratings for at least a year. The share pop has now unduly raised investor hope, and you should not have chased Monday, or ponder doing so Tuesday. Here is why.
Tiffany's Americas segment had its first negative same-store sales resLIt since the fiscal third quarter of 2009. (Yes, that would be during the "Great Recession.")
It's apparent that a resistance to tempering new store opening plans globally is raising the hurdle rate for leverage -- that is, it's driving operating-margin expansion.
Same-store sales at the New York flagship and branch stores declined at a faster rate relative to the first quarter. Although the tourist travel and spending issue is top of mind amongst investors, branch-store sluggishness deserves more attention -- regarding financial industry considerations, for example. Moreover, when opting for a discretionary purchase, an aspirational customer is reaching for a pair of shoes or a Michael Kors (KORS) handbag.
The fiscal 2012 earnings-per-share range dropped for the second time this year due to more caution around operating margin. It makes one wonder about third-quarter trends to date.
If Tiffany is having a volume problem, that is exposing a rising cost base -- price increases are the norm.
Inventories weren't exactly in line to guidance provided on the fiscal first-quarter earnings call, and likely were elevated as demand again surprised negatively.
At the time of publication, Sozzi had no positions in the stocks mentioned, although positions may change at any time.
Brian Sozzi is Chief Equities Analyst for NBG Productions. In this capacity, he is responsible for developing independent financial content and actionable stock recommendations (including ratings and price targets) for an institutional and retail investor base. In addition, Sozzi is the Editor in Chief of the "Decoding Wall St." investor education online platform.