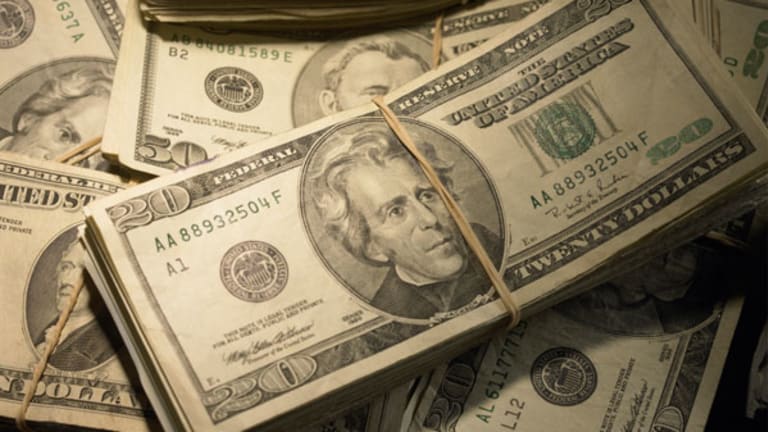 The Day Ahead: Global Liquidity as Straitjacket
I contend that, with all that's bubbling under the surface, the market could still break loose.
According to exactly one minute of online research, the straitjacket was invented in France in 1790 by an upholsterer. Although I have never remotely come close to being strapped into one -- say, on a bed in a padded white room -- I imagine there has to be a moment when a straitjacketed person settles down and ponders life. Certainly the person is likely still volatile, but perhaps they're piecing ideas together -- or so I believe, seeing as there is no medical license hanging on my wall.
With that in mind, kindly imagine being in a half-locked straitjacket that could be easily broken out of via a single outburst -- much as the market is presently trapped in a straitjacket labeled "global liquidity," as I rationalize it. Meanwhile, on the inside, there remains a fair amount of fear and pain that could break loose. In other words, stocks keep giving up gains, but in larger percentage increments.
Outburst Gauge: Third-Quarter Earnings
I don't even know where to begin on
Caterpillar
(CAT) - Get Caterpillar Inc. Report
, so I will just let the thoughts flow. However, common sense suggests the real world is completely detached from the arena of central-bank press releases and electronic transactions among banks.
CEO Douglas Oberhelman mentioned the company is committed to its dividend in a recession. Say what? I haven't heard such a hidden negative signal since the sky was falling in the last recession. Do you find it surprising that I spun the CEO's comments a little? You shouldn't. I've long held view that, when a company states that it's "committed" to something, or offers assurance in another manner: It indicates a risk of the opposite happening. Thank you, financial institution executives in 2009, for teaching me that trick of the trade.
Caterpillar lowered its 2015 earnings-per-share outlook, but what is the deal with 2012, 2013 and 2014? Remember, this is the same company that laced its second-quarter earnings release with the exuberant word "record" and then raised its 2012 profit range by $0.10 per share into the teeth of a global growth slowdown.
The market may not immediately look at it in this fashion -- but, in a roundabout way, Caterpillar said the U.S. fiscal problem will not have a best possible outcome by the end of 2012 or early 2013. It also seemed to communicate that China's behind-the-curve stimulus initiatives won't reignite growth sometime until mid- to late 2013. (The market believes growth will reaccelerates in the fourth quarter.)
Caterpillar has thrown a caution flag onto the fields of many other derivative companies -- for example, as it concerns WD-40 (WDFC) - Get WD-40 Company Report, which is trading near a 52-week high on a stretched valuation. The commentary also lends credence to persistent investment-bank downgrades on the steel sector, such as in AK Steel (AKS) - Get AK Steel Holding Corporation Report and U.S. Steel (X) - Get United States Steel Corporation Report.
I am not a fan of the action in the market, plain and simple. Bad company-specific news is mounting, and global macroeconomic data are stuck in a tight band with a downward bias. Any positive company-specific news was met with profit-taking, such as in
Lennar
(LEN) - Get Lennar Corporation Class A Report
Monday. Those companies offering bad news are not attracting "opportunistic" shareholders, as seen in
FedEx's
(FDX) - Get FedEx Corporation Report
post-earnings bomb. Companies with shaky fundamentals are continuing to play in a sandbox flowing with red sand. I've been negative on the market for more than a week now, and I see no definitive reason to jump off the call.
The Dimly Lit Rumor Bar
On Sunday, I said on Twitter that homebuilders were looking toppy on the charts -- and, from a fundamental perspective, chatter has begun that valuations are pricing in significantly robust housing market dynamics beyond 2014. So valuation chatter has begun, and Lennar has sold off on a 79% increase in backlog and a 440-basis-point improvement in operating margins -- not welcome signs for a hot sector.
Watch the reaction of stocks that land modest, upward price-target adjustments, such as Gap (GPS). When we see leading stocks with only limited upside, that indicates an arrival at full valuation. There are countless numbers of stock that now fall into this category due to the summer rally.
At the time of publication, Sozzi had no positions in the stocks mentioned, although positions may change at any time.
Brian Sozzi is Chief Equities Analyst for NBG Productions. In this capacity, he is responsible for developing independent financial content and actionable stock recommendations (including ratings and price targets) for an institutional and retail investor base. In addition, Sozzi is the Editor in Chief of the "Decoding Wall St." investor education online platform.