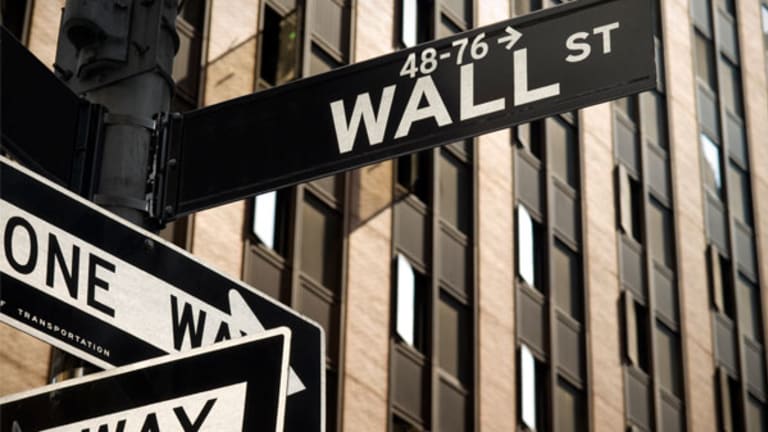 The Day Ahead: Be the Boss and Plan the Shots
Seize on what everyone else is missing, and start with these two glaring red flags.
It's nearly two weeks into my tour of bear-infested woods, and so far I have held up OK. There was a successful, sentiment-infused trading call Tuesday that had me concerned midday, but all's well that ends well. Now we stand in front of the full-fledged circus -- the Fed symposium at Jackson Hole, Wyo. -- that my young pack of finance-sector wolf friends are calling "J-Hole." With it comes an etched-in-stone position that the great Bearded Wonder will bring tears through the ducts of those long the market.
To that, I say: Maybe, maybe not. I still wouldn't close the door on a positive surprise. Who really has any clue save for the piece of paper that holds Bernanke's speech and perhaps, his wife, staffers and former Fed chief Alan Greenspan? (Come on, you know they chat.) We can throw guesses at the wall -- the wall of worry, that is -- and hope and pray they stick. We can yell over people and present valid, well-articulated differing opinions. But until the words roll off the tongue of the market's favorite Santa lookalike -- and gift-giver in his own right -- this market is a reactionary one, and it's difficult to be proactive into it, given the ginormity of this truly, epic, magical moment in time.
What we can do is listen to
and be the "boss and plan the shots." In other words, we should exit our investing comfort zones and find -- and prepare for -- things that many people are thoroughly forgetting in the near term. Take charge, in other words. There are a couple of universes out there flashing red signals, or at least they are to this fella.
Universe No. 1: China
The trading action in emerging-market ETFs, such as in the
iShares FTSE/Xinhua China 25 Index
(FXI) - Get iShares China Large-Cap ETF Report
,
iShares MSCI Taiwan Index
(EWT) - Get iShares MSCI Taiwan ETF Report
and
Barclays Bank Plc iPath ETNs linked to the MSCI India Total Return Index
undefined
are red flags on the outlook for China. Another area of concern is how steel stocks traded -- among them
AK Steel
(AKS) - Get AK Steel Holding Corporation Report
,
U.S. Steel
(X) - Get United States Steel Corporation Report
and
Nucor
(NUE) - Get Nucor Corporation Report
-- before a disappointing earnings report from
Joy Global
(JOY)
, with its negative comments on China demand. Joy Global, of course, is a pure play overseas name.
The final dagger in the heart, you ask? It's the untrustworthy data from China. These figures include a key manufacturing reading that was at its lowest level since November, weak new yuan loan growth and dreary industrial profits. Should you want to set aside a spare second to ponder the third quarter, be sure to keep the following in mind. If a company you own performed increasingly worse in China in the second quarter vs. how it did in the first quarter, the intra-quarter reads in the current period suggest another weak performance that may be a risk to the stock in an ebullient broad market.
I continue to believe that many stocks across sectors still value China as a supreme growth engine rather than a growth engine that is in bad need of a tune-up. That is a problem -- and a risk.
Universe No. 2: U.S. Consumer
On Tuesday, I laid eyes on my first sell-side note that attempted to minimize the impact of food and gas inflation on the consumer. Hey, I understand how it works. We can't have the macroeconomic guy sound overly negative if the strategist team is suggesting investors cowboy up and buy cyclical stocks. I expect more of these types of notes. However, I caution you to drill beneath the sweep-under-rug attempt and recognize that next to no inflation risk has been priced into those companies that are heavily exposed -- i.e., many of the cyclicals everyone loves.
For instance -- first off, restaurant stocks are hanging tough on the notion that the consumer figures to positively surprise on spending instead of pulling in the reins due to menu prices that were enacted to protect, not expand, profit margins. Second, department store stocks
Macy's
,
Nordstrom
(JWN) - Get Nordstrom Inc. Report
, and
Saks
(SKS)
have disconnected from any semblance of inflation reality. Keep in mind that the dynamic could change. Look no further than the "unexpected" softness in the latest consumer confidence and the rise in inflation expectations.
Even if the Fed draws the quantitative-easing card from its deck, the two universes I just outlined are likely to exist in the intermediate term. I don't want to sound comparable to an 85-year-old money man mailing it in, but the attention should be reserved for those companies with the strong probability to raise dividend payouts to compensate for what could be a volatile stock price as risks come home to roost. Now go forth and be the boss.
At the time of publication, Sozzi had no positions in the stocks mentioned, although positions may change at any time.
Brian Sozzi is Chief Equities Analyst for NBG Productions. In this capacity, he is responsible for developing independent financial content and actionable stock recommendations (including ratings and price targets) for an institutional and retail investor base. In addition, Sozzi is the Editor in Chief of the "Decoding Wall St." investor education online platform.