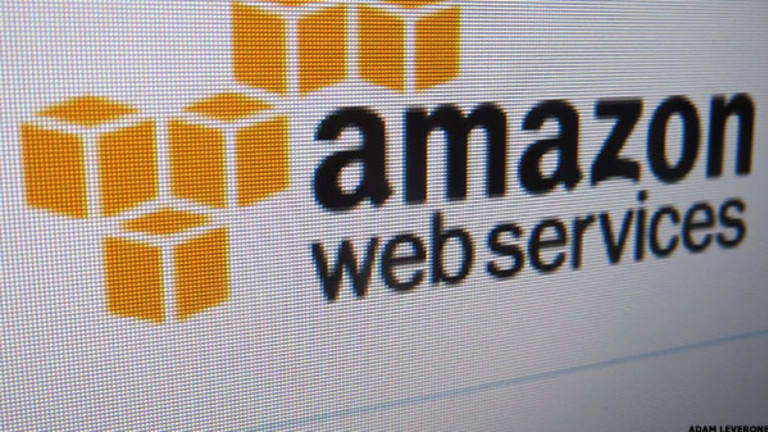 The Cloud Means Nothing But Blue Skies for Amazon, Alphabet
Analysts see double-digit growth through next year in the public cloud services market, in which Amazon and Alphabet have considerable investments.
Meteoric growth usually isn't sustainable when you get to be the size of global conglomerates like Action Alerts PLUS holding Alphabet (GOOGL) - Get Report and Growth Seeker holding Amazon (AMZN) - Get Report . But both companies have invested heavily in cloud services, a market that is expected to rise 16.5% this year to $205 billion, according to Gartner research.
The cloud services industry is split up into three segments: infrastructure as a service (IaaS), platform as a service (PaaS), and software as a service (SaaS). Of those three, IaaS is expected to have the largest growth, 38.4% to $22.4 billion in 2016.
"The market for public cloud services is continuing to demonstrate high rates of growth across all markets and Gartner expects this to continue through 2017," said Sid Nag, research director at Gartner. "This strong growth continues to reflect a shift away from legacy IT services to cloud-based services, due to increased trend of organizations pursuing a digital business strategy."
Alphabet's Google is the latest player to see growth in this hot sector. Google saw its overall revenue increase by 21% year over year to $21.5 billion in the latest quarter. And while Google does not separate its Google Cloud Platform revenue, CFO Ruth Porat credited cloud services and Google Apps with accounting for the majority of the 33% gain the company's "Google other revenues" segment experienced in the quarter.
Meanwhile Amazon, which does separate out its cloud services business segment, reported a 58% increase in its Amazon Web Services segment to $2.89 billion. Amazon Web Service (AWS), grew by 70% in fiscal 2015.
Amazon has benefited immensely from its early entry into cloud computing, as it has successfully garnered the largest market share in the space. Amazon accounts for about 31% of the cloud services industry, well ahead of its nearest competitors. The next three biggest cloud players -- Microsoft (MSFT) - Get Report , IBM (IBM) - Get Report and Alphabet -- combined account for only 22% of the market. The fact that Amazon is primarily a retail company and not a traditional tech company like its competitors makes its dominance of the space even more impressive.
"There are hundreds of lessons that we've learned about building and operating services that need to be secure, reliable, scalable, with predictable performance at the lowest possible cost," Amazon CTO Werner Vogels wrote in a blog post earlier this year, celebrating the service's 10th anniversary. "With over a million active customers per month, who in turn may serve hundreds of millions of their own customers, there is no lack of opportunities to gain more experience and perhaps no better environment for continuous improvement in the way we serve our customers."
Analysts covering the companies, which are both part of the FANG (Facebook, Amazon, Netflix, Google) group of stocks coined by Real Money's Jim Cramer, took notice of the earnings beat on Friday, with 20 different research firms raising their estimates on the companies today.
"Core Google's other segment rose 33% to $2.2 billion, potentially indicating meaningful growth in the cloud," AAP co-mangers Jim Cramer and Jack Mohr wrote in a note Thursday. "We continue to view Google as a leader in the large-cap tech space and believe it has a long road to run."
Meanwhile Growth Seeker co-managers Chris Versace and Lenore Hawkins wrote, "A key part of the company's performance continues to be AWS, which eclipsed North American Retail to become the primary driver of operating profits in the quarter. With AWS becoming a larger share of revenue and profits (9.4% of 2Q 2016 sales, but 41% of operating profit), we suspect Wall Street will increasingly use sum-of-the- parts analysis when valuing Amazon. When doing so, we see AWS accounting for $300- $325 of our $900 price target."
Analysts at Oppenheimer raised their price target on Google to $970 from $958, saying, "Concerns of share loss to FB seem unfounded, and GOOG continues to gain share from traditional media/legacy display. Increasing focus on Google Cloud, as majority of 2Q hires in cloud and apps, and trying to differentiate its offering by infusing machine-learning to help enterprise clients analyze data."
Meanwhile analysts at Pacific Crest lifted their Amazon price target to $847 from $820, saying, "AWS added $1.06 billion of incremental cloud revenue over the prior year on 58% growth to $2.88 billion. Economies of scale within AWS contributed to record operating margin, which expanded to 29.9% from 27.9% last quarter. Our fair-value target for AWS goes to $327 from $320 based on 16x our new 2017 EBITDA estimate."
Indeed, of Amazon's $1.3 billion operating profit, the high-margin cloud services business accounted for $718 million. That total was higher than the retail business' $702 million operating profit.
Cloud services is expected to become a $173 billion market in the decade. The segment has proven to be extremely profitable for some of the biggest companies in the world. The sky is truly the limit for cloud service providers, and the segment's high-margins are sure to play a major role in the growth of these tech giants.
Author(s)
Tony Owusu
Featured Image