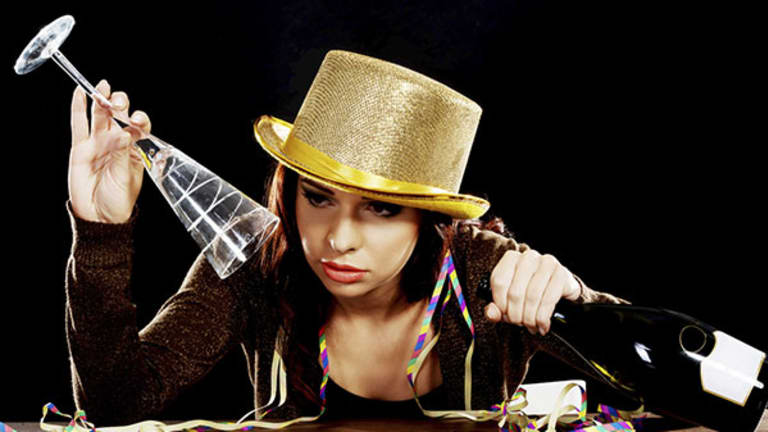 The Bulls Party Hardy, but a Hangover Looms in 2017
Stocks are positioned for a fall, as investors bid farewell to the Fed's punch bowl. Here are the key signals to watch in the week ahead.
After pushing the markets to new highs, the bulls may soon pass out, wake up naked, and find their faces super-glued to the carpet.
How to explain the exuberant post-election rally? Perhaps the Wall Street aphorism "sell on the rumor, buy on the news" comes closest.
Investors were worried about a possible Donald Trump victory, but when it actually happened, traders grew giddy at the prospect of a laissez-faire president and sparked a four-week rally.
To be sure, there's plenty of good news to justify the release of the market's animal spirits. But in the days ahead, we'll be reminded that bad omens abound.
First, the good news. According to data released on Dec. 16 by research firm FactSet, the consensus estimated earnings growth rate for the S&P 500 (SPY) - Get Report is 3.2%. If the S&P 500 meets this projection, it will mark the first time the index has generated year-over-year growth in earnings for two consecutive quarters since the fourth quarter of 2014 and the first quarter of 2015.
For the first and second quarters of 2017, analysts are projecting earnings growth of 11.2% and 10.6%, respectively. For all of 2017, analysts are projecting earnings growth of 11.5%.
If you're looking for safe growth opportunities in today's uncertain climate, the resurgent tech sector is appealing right now, especially consumer icon Apple (AAPL) - Get Report in what's expected to be a prosperous holiday season. Among all S&P 500 sectors, information technology has posted the largest increase in expected earnings growth since the start of the fourth quarter, to 5.8% from 4.3%.
APPLE is a holding in Jim Cramer's Action Alerts PLUS Charitable Trust Portfolio. See how Cramer rates the stock here. Want to be alerted before Cramer buys or sells AAPL? Learn more now.
In the coming week, 13 S&P 500 companies are scheduled to report operating results for the fourth quarter. The key companies to watch include FedEx (FDX) - Get Report , Nike (NKE) - Get Report and General Mills (GIS) - Get Report (Tuesday); Accenture (ACN) - Get Report , Paychex (PAYX) - Get Report and Bed Bath & Beyond (BBBY) - Get Report (Wednesday); ConAgra (CAG) - Get Report and Rite Aid (RAD) - Get Report (Thursday).
For the same reasons that investors studied railroad stocks in the 19th and 20th centuries to understand economic trends, investors today increasingly focus on companies such as FedEx to divine the bigger picture. The delivery giant seems well positioned to gain, as the global economy continues to recover and the seasonal shopping frenzy ramps up.
The consensus analyst estimate is that FedEx on Tuesday will report robust fourth-quarter earnings per share (EPS) of $2.89, compared to $2.58 in the same quarter a year ago. Full-year EPS is expected to come in at $2.71, vs. $2.51 last year. This bodes well for overall economic health and consumer spending.
But every silver lining comes with dark clouds. As it enters its eighth year, the bull market is exceedingly old by historical standards. What's more, stocks remain overvalued. While stocks typically have a trailing price-to-earnings ratio (P/E) of 15, they now hover at a trailing P/E of about 25. The forward 12-month P/E is 17.1, above the 10-year average of 14.4.
What's worse, the cyclically adjusted P/E (CAPE), a valuation metric created by Nobel Laureate economist Robert Shiller, stands at over 27, a level exceeded only in the 1929 market mania, the 2000 dot-com bubble and the 2007 equities and subprime housing bubble.
Last week, the Federal Reserve hiked interest rates, confident the economy is sufficiently resilient. U.S. gross domestic product (GDP) in the third quarter grew at an unexpectedly strong annual rate of 2.9%; unemployment is down to 4.6%; and inflation is gathering steam. Inflation has yet to reach the Fed's target of 2%, but it's inching closer. Excluding food and energy, prices are 1.7% higher than a year ago.
The upshot: it's likely that the Fed will continue to tighten the monetary spigot in 2017, especially if Trump makes good on his plans for massive federal government spending. Tight monetary policy could finally kill off the bull market. When the Fed raised rates in December 2015 (for the first time since 2006), the markets plunged by 8% over the next month.
We'll get further clues about monetary policy on Monday, with Fed Chair Janet Yellen's scheduled speech on the state of the job market. Other noteworthy economic reports on the calendar in the week ahead: Existing Home Sales (Wednesday); Durable Goods Orders, U.S. GDP, Jobless Claims, Bloomberg Consumer Comfort Index (Thursday); New Home Sales (Friday).
Worried about a bear market? We've found a genius trader who makes this bold promise: "If I don't deliver 24 triple-digit winners in the next year...I'll give up $1,950." His top-tier trading service reeled off twenty-four triple-digit winners in less than a year, along with more than thirty double-digit winners thrown in for good measure. And he racks up these profits in up or down markets. Get the details here.
John Persinos is an investment analyst at Investing Daily. At the time of publication, he owned stock in Apple.