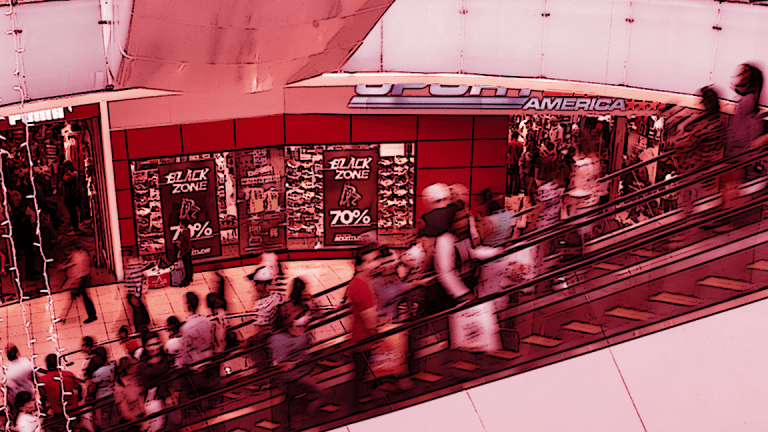 The Bodies Are Strewn Across the Retail Space
The facts are this. There are some opportunities here.
Clobbering Time
The consumer is hot. They said. Unemployment is low, wages are rising, they said. The weekly Redbook report on comparable chain store sales seemed very hot compared to last year, or was that shopping focused simply on off-price? Maybe if, say a central bank were to... oh I don't know... engineer a 25% discount into equity markets and weakness into the housing market that the good citizens felt it. Hmm, you mean that there can be a reverse "Wealth Effect"? Yes, Virginia, there is a reverse wealth effect if well, aggregate wealth is overtly reduced at a time of year considered extra-sensitive to consumer spending.
I started to get a whiff of this throughout the holiday season. The roads around my local mall were crowded, and tough to travel in December, but not nearly as rough as what I remember. Did I trust my own judgement? A little, but not really. I believed the financial media more. Hmm. So, it is that the retailers will be clobbered this morning. The real disappointment came from Macy's (M) - Get Macy's, Inc. Report . How do we know that a negative wealth effect is what took place here? Easy. I'll let Macy's CEO Jeff Gennette tell you himself. He said, "The holiday season began strong, particularly during Black Friday and the following Cyber Week, but weakened in the mid-December period." Gee, I wonder what happened in mid-December? Oh, yeah, most of the financial buzz was around the December 19th FOMC policy meeting, and then Powell pulled the trigger and came off very hawkish in the press conference. Now, prepare thyself for some big and ugly.
The Ugliness Afoot
Kohl's (KSS) - Get Kohl's Corporation Report has long been my favorite retailer. Comp sales barely grew, just 1.2% year over year for the holiday season. That comes after a 2017 season that saw robust growth of 6.9%. I had reduced this long ahead of the season. That was a good move. Until this morning, I was disappointed that I had not yet put those shares back on. Still long, I'll take a hit, but the name runs with a 1% weighting in my portfolio, so not the end of the world. My thoughts, this morning are that this is still a well managed chain that comes complete with an already in place relationship with Amazon (AMZN) - Get Amazon.com Inc. Report . I will not be selling this stake today, nor anytime soon. Don't forget, they pay shareholders $2.44 a year just to be there. At -10% for the day, I become much more likely to add those shares that I had wished that I added only yesterday. I get a 62 handle, I probably bite
Enough about a name I like. Let's go to one I used to like, the already mentioned Macy's. The ugly stick is out and about for these guys. Lowered full year guidance. Full year comp sales are below prior guidance, as are holiday seasonal sales. On top of that, the firm even guided gross margins lower. Is this stock now cheap enough to buy? I sold this stock at a loss in mid-December. What I did not cover were the calls that I had sold against that long. As those calls expire worthless over the next 10 days, this loss that I had already taken, will turn into a net profit. The beauty of risk management. Two different tax seasons, but from a trading perspective... you know what I mean.
There are other bodies strewn across the space. The two above are the two retailers of this ilk where I still have any wood in the fire. (I also have interest in Costco (COST) - Get Costco Wholesale Corporation Report and Home Depot (HD) - Get Home Depot Inc. (The) Report , but in my opinion, they are different.) I watch others with interest though, because that's what I do. I needed to go to the mall on Wednesday night. The only corporate GNC (GNC) - Get GNC Holdings, Inc. Class A Report in my area is in my local mall. On the way to the GNC, I had to pass the Victoria's Secret, which was deserted. I notice these things. (Not the underwear, the crowd size). The store is gigantic in comparison to it's neighbors. The rent must be enormous. I have noticed this store's inability to draw a crowd before. L Brands (LB) - Get L Brands, Inc. Report announced on Thursday morning that comp sales for the holidays would be flat from last year. Expectations had been for 3% increase. Disaster. No other word.
The Outlier
Target (TGT) - Get Target Corporation Report is down with the group. Target missed small, but still looks okay on the surface. Target reported comp sales growth of 5.7%, a sizable improvement over last year's growth from the year prior. The firm says that the growth was driven by traffic in the stores, and that average ticket price was higher, though small. The firm expects to see comp sales growth for the entire quarter of 5%. I think that maybe one can consider a small long in this name on this weakness.
My Thoughts
Obviously, stand alones and strip malls are better off than the mall. That makes Kohl's, Target far better discounted purchase options than Macy's or L Brands, or even Bed Bath & Beyond (BBBY) - Get Bed Bath & Beyond Inc. Report , a name that I consider the worst retailer on earth.
The facts are this. There are some opportunities here. The best retailers are still Amazon, and probably Walmart (WMT) - Get Walmart Inc. Report , a name I trade, but am currently flat. Why, because of their scale and their aggression. These two will be able to survive an era of compressed margins as long as there indeed is a resolution to the trade dispute with China somewhere in the near future.
Oh, the highly populated, mostly affluent blue states are going to whacked at tax time this year, so I'm not touching luxury retail with a 10 foot pole. That is all.
(Kohl's and Amazon are holdings in Jim Cramer's Action Alerts PLUS member club. Want to be alerted before Jim Cramer buys or sells KSS or AMZN? Learn more now.)
(An earlier version of this column appeared at 11:09 a.m. ET on Real Money, our premium site for active traders. Click here to get great columns like this from Stephen "Sarge" Guilfoyle, Jim Cramer and other experts throughout the market day.)
At the time of publication, Stephen Guilfoyle was Long AMZN, KSS, COST, HD equity, Short M calls.