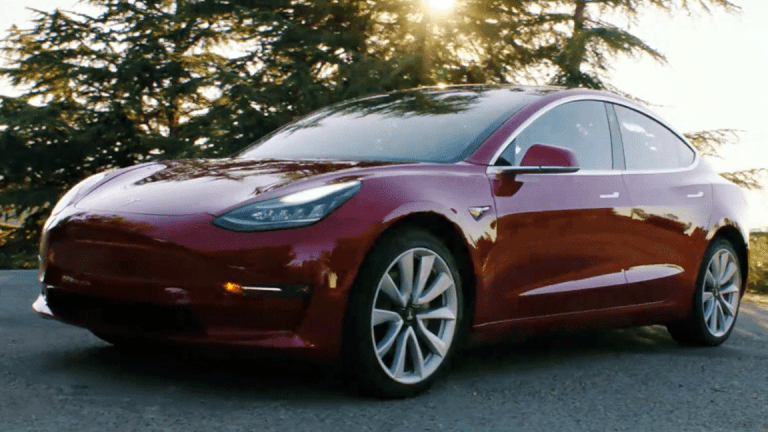 The Best of Kass: Tesla Talk
Tesla's big miss on Model 3 deliveries adds further ammunition to the bear case, according to Doug Kass.
I rarely short a stock with a high short interest -- in absolute terms and relative to the float and average daily volume -- but I have made an exemption with Tesla  (TSLA) - Get Report .
The position, is small, however -- as I have to manage risk of a volatile and heavily shorted stock.
After the close, Tesla announced that total fourth-quarter 2017 deliveries missed by about 2K units, with all of the miss from weak Model 3 deliveries (a total of only 1,550 units compared to the consensus of over 5K units). This is yet another of a series of delivery misses that has haunted the company. To bears, like myself, the company has overestimated the ease of manufacturing a profitable unit.
Based on the production run rate in the last one to two weeks of 2017, first-quarter Model 3 deliveries are now likely to fall to under 19K units compared to previous forecasts of 25K. Full-year deliveries, conservatively, will be reduced by the first-quarter 2018 shortfall.
In the fourth quarter Tesla will drawdown inventory from other models (S, X) so cash flow estimates will not likely suffer. (In the third quarter the company experienced record cash outflows of $1.4 billion). 
I remain skeptical of the company's ability to deliver product on a timely and profitable manner going forward. If I am correct the bulging cash outflows will continue unabated and unit selling prices will have to be raised -- maybe appreciably -- serving to reduce the competitive attractiveness of a Tesla automobile.
I am also skeptical about the company's ability to assemble and deliver a low-priced Model 3 with an associated high gross profit -- and margin -- given higher component costs.
My guess is that fiscal 2018 earnings per share losses will approach $10.00/share, far greater than the $4.00 loss that the consensus holds. I have written a lot about Tesla in the past but given the high short interest and the risky nature of the shares I will keep my comments short. My price objective on Tesla is well under $200/share -- based on a multiples basis and discounted cash flow analyses.

More of What's Trending on TheStreet:
Doug Kass has a small short position in TSLA.