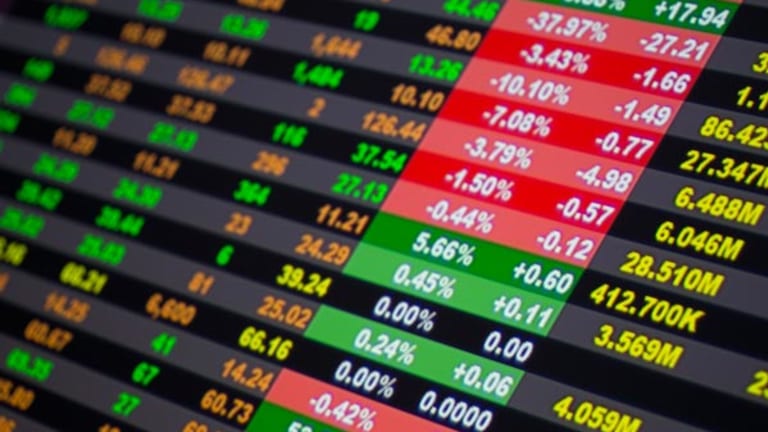 Publish date:
The Best of Kass
Here are some highlights from hedge fund manager Doug Kass' trading diary this past week.
Here are some highlights from hedge fund manager Doug Kass' trading diary this past week.
NEW YORK (TheStreet) -- Doug Kass of Seabreeze Partners is known for his accurate stock market calls and keen insights into the economy, which he shares with RealMoney Pro readers in his daily trading diary.
Among his posts this past week, Kass explained why he is long Sourcefire and Fusion-io, analyzed the week's CPI and industrial production numbers and identified which government bailout recipient will be his biggest bullish investment.
Please
click here for information about subscribing to
RealMoney Pro
.
> > Bull or Bear? Vote in Our Poll
Delving Into Sourcefire and Fusion-io
Originally published on Friday, Oct. 19 at 11:58 a.m. EDT.
Here is a detailed analysis of my long strategy on these two tech names.
Weak order guidance at
Fortinet
(FTNT) - Get Fortinet, Inc. (FTNT) Report
,
Mellanox Technologies
(MLNX) - Get Mellanox Technologies, Ltd. Report
and
Check Point Software Technologies
(CHKP) - Get Check Point Software Technologies Ltd. Report
; EPS whiffs at
Microsoft
(MSFT) - Get Microsoft Corporation (MSFT) Report
,
Google
(GOOG) - Get Alphabet Inc. Class C Report
,
IBM
(IBM) - Get International Business Machines (IBM) Report
and
Intel
(INTC) - Get Intel Corporation (INTC) Report
; and the threat of
Palo Alto Networks'
(PANW) - Get Palo Alto Networks, Inc. Report
market-share inroads in security (overplayed!) have put a pall around a number of new, emerging tech names -- including
Sourcefire
( FIRE) and
Fusion-io
(FIO)
.
Yahoo!
(YHOO)
, Fusion-io and Sourcefire are my only technology longs, and they are small positions given my overall negative view of the sector.
While I am a buyer of both on weakness (I added late yesterday), Sourcefire seems the most interesting given its vulnerability to a takeover and its statement that earnings (to be reported on Oct. 30) will slightly beat consensus expectations. That said, Fusion-io has superior fundamentals.
Given CEO John Burris's departure due to colon cancer, Sourcefire is a bona fide takeover target (with an estimated private market value of close to $60 per share). Numerous companies could be interested, including
EMC
(EMC)
,
Oracle
(ORCL) - Get Oracle Corporation Report
,
Cisco Systems
(CSCO) - Get Cisco Systems, Inc. Report
and IBM. Its market share is solid and growing, and the company has a growing presence in the next-generation firewall market. There is plenty opportunity for the company to expand its profit margins.
As to Fusion-io, I would be buying on weakness based on the following:
Wall Street has been concerned about the sustainability of gross margins, but new products and long-term NAND contracts should offset these questions.
Flash-based storage/servers are just beginning to gain traction.
Several competitors are rudderless -- for instance, OCZ Technology (OCZ) and STEC (STEC) have lost their CEOs.
While Fusion-io is larger than Sourcefire, there is still a chance of a takeover -- Cisco, Oracle and EMC are trying to compete, but if they don't execute, they might be interested buyers down the road.
Obviously, both stocks' performance will be contingent on fourth-quarter guidance.
If either gives an all-clear, the stocks will be off to the races.
At the time of publication, Kass was long FIRE, FIO and YHOO
.
Data Review
Originally published on Tuesday, Oct. 16 at 9:33 a.m. EDT.
Here's a quick analysis of CPI and industrial production numbers.
The September headline CPI was +0.6% (consensus was +0.5%), the same as in August.
The core CPI was +0.1% compared to +0.2% expected, so no problem unless we buy gasoline and food.
The
Fed's
preferable inflation gauge, core personal consumption deflator, is rising (+1.6% vs. target of +2%), and owners' equivalent rent was troublesome at +2.1%, the most in three years.
The TIPS market smells out higher inflation, with the difference between nominal 10-year Treasury yields and the TIPS yield at 2.5% compared to 2.1% during the first 10 months of 2012.
If these numbers continue to rise, the Fed will likely be less friendly than many think.
Finally, industrial production for September was +0.4%, twice as good as expectations, but the August figure was revised down by -0.2%.
Production of motor vehicles and parts fell by -1.5% for the second month in a row.
Production of machinery, electronics, computers and mining all rose.
The year-over-year increase in the capacity utilization rate matches the slowest pace in two and three-quarters years and follows weakening business capital spending, sluggish durable goods orders and the global manufacturing slowdown -- all of which are adversely influenced by fiscal inertia and tax and regulatory uncertainty.
At the time of publication, Kass held no positions in securities mentioned
.
Profit-Taking in AIG
Originally published on Friday, Oct. 19 at 10:24 a.m. EDT.
After AIG's big run, I would expect some profit-taking on the news.
AIG
(AIG) - Get American International Group, Inc. Report
is weaker based on the CEO's statement that the government will likely sell its stake by year-end.
This should be no surprise.
After AIG's big run, I would expect some profit-taking on the news.
But I plan to buy a helluva lot of AIG stock on the secondary offering in November-December period.
Indeed, I plan to make it my largest long.
At the time of publication, Kass was long AIG
.
Doug Kass is the president of Seabreeze Partners Management Inc. Under no circumstances does this information represent a recommendation to buy, sell or hold any security.