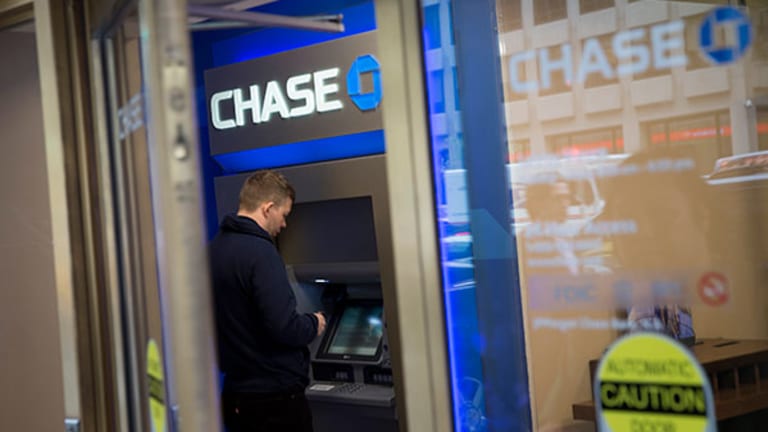 The ATM at 50: Faster, Sleeker and Itching to Talk to Your Smartphone
The first ATM in the U.S. was installed in 1969, in Rockville Centre on Long Island.
It's a machine so famous, or perhaps so ubiquitous, that it's known only by its initials: the ATM.
If it were a politician, that would put the mid-20th century technological innovation in the ranks of popular U.S. presidents like Franklin D. Roosevelt and John F. Kennedy, both of whom achieved the same distinction.
Which tells you just how far the venerable automated teller machine has come in the 50 years of its existence. The first was installed by British banking giant Barclays in 1967, and the first in the U.S. came just two years later, courtesy of Chemical Bank.
Chemical, a precursor of JPMorgan Chase & Co. (JPM) - Get JPMorgan Chase & Co. (JPM) Report  , installed what it it advertised as the "'Yes' Machine" at a branch in Rockville Centre on New York's Long Island in 1969, offering customers what was a luxury at the time: the ability to access cash around the clock in amounts as large as $100.
In the years afterward, as the ATM's capabilities advanced from dispensing dollars to enabling transfers, scanning checks electronically and offering video chats with bankers, their number mushroomed. In the 10 years through 2014, the ATM's reach more than doubled worldwide to roughly 40 per 100,000 people. In the U.S., there were 173 for every 100,000 people by 2009, and users can now withdraw thousands of dollars at a time.
While the machine is no longer the exclusive alternative to waiting in line to do business with a teller -- digital and mobile services now offer some of the same capabilities even more conveniently -- it's "still central to the banking industry" and "likely to retain its importance for banks and consumers alike in the foreseeable future," according to a report by the ATM Industry Association, a trade group.
To gauge its impact so far, consider how bank runs -- a feature of many economic downturns in U.S. history -- are depicted. In the 1946 film "It's a Wonderful Life," filmmakers showed customers worried that their local lender might fail mobbing its lobby until protagonist George Bailey, played by Jimmy Stewart, manages to calm them.
During the 2008 financial crisis, a U.S. senator confronted with the need to pass a $700 billion government bailout bill to prevent real-life panic on a much wider scale told his wife to go to the ATM.
Recalling for the Hendersonville, N.C., Chamber of Commerce what had happened, Sen. Richard Burr, a Republican from the state, said he telephoned his wife on a Friday night to alert her that he wouldn't be home for the weekend -- and more importantly, that she needed to start stockpiling cash.
"I want you to go to the ATM machine, and I want you to draw out everything it will let you take," Burr recalled saying, according to the Hendersonville Times-News. "'And I want you to tomorrow, and I want you to go Sunday.' I was convinced on Friday night that if you put a plastic card in an ATM machine the last thing you were going to get was cash."
Burr's fears didn't materialize. Machines kept dispensing cash.
And they remain popular nearly 10 years later -- with both banks and their customers. Gerard du Toit of consulting firm Bain & Co. has estimated that each teller transaction inside a bank costs $2 to $3, compared with a dime for the same service at an ATM. (Conducting business on a mobile phone is even cheaper).
Visits to a U.S. bank branch, meanwhile, are twice as likely to annoy customers as handling transactions on a mobile device, the firm found. Using an ATM for routine transactions ranks between the two.
One of JPMorgan's latest innovations, giving the user interface on its 16,000 ATMs a similar look and feel to its digital app and website, may push the ATM even further into the positive end of the satisfaction spectrum.
"As our customers' preferences and behaviors have changed, we've invested to meet those behaviors and to meet their expectations," Ryan Crowley, the head of branch systems for the New York-based lender, said in a telephone interview. The new interface gives clients "consistency no matter the channel that they're working with us in," he said. 
In the future, he said, the ATM interface is likely to be replaced by smartphones altogether: Users would be able to arrange the details of a withdrawal from an ATM on their Chase app, then drop by to pick up their cash -- much like Starbucks Corp. customers do with lattes.
"That's a feature that our customers would love to have," Crowley said. "It's a great experience, not only in the ATM, but potentially in the branches, too."
Such a product would, at the least, help ease the minds of club-goers facing the dilemma that Dennis Crowley, founder of the social media app Foursquare, described to Fast Company magazine in 2013.
"My mind-set is of the person who is still unsure whether they have enough money in their ATM to go to another bar," he said. "I lived that way when I was unemployed."
In the meantime, relying solely on the services already available, JPMorgan and other lenders see significant opportunity to steer clients toward online, digital and ATM transactions.
"We had over 400 million transactions being completed through our tellers, 70% of which could have been done through our self-service channels" in 2016, Gordon Smith, the head of consumer banking, told JPMorgan investors at a meeting earlier this year. "In the year ahead, you're going to continue to see us focus on migrating more of these transactions to digital."
The bank's rivals are emphasizing digital growth, too. Citigroup Inc.  (C) - Get Citigroup Inc. Report told investors in July that it had expanded its global ATM network by 60% in the year through June 30. The number of Citi machines in Manhattan jumped by roughly 50% in the first six months of this year, the bank said.
Bank of America Corp.  (BAC) - Get Bank of America Corp Report , meanwhile, expects to complete an upgrade of its 16,000 ATMs that will let clients customize withdrawals using denominations as low as $1 and make video calls to bank staff by the end of 2019. 
"That's 16,000 new ATMs over three or four years," CEO Brian Moynihan told analysts on a July earnings call. That coupled with refurbishing nearly 300 banking centers over the past 12 months, he said, has "led to customer satisfaction levels which reached the highest level in our history."