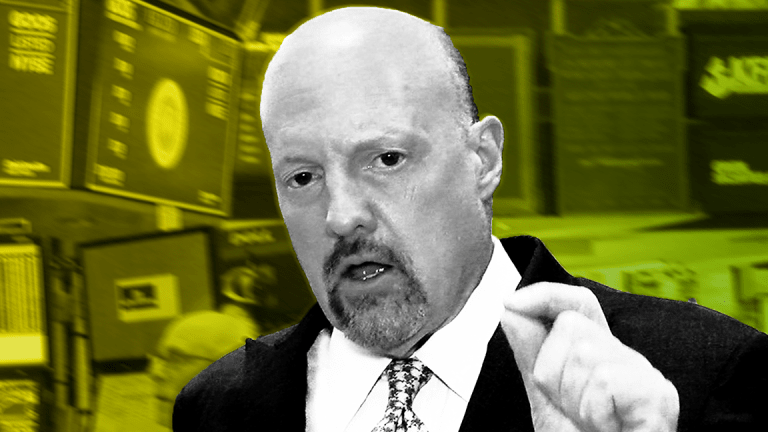 The 5 Big Earnings Reports Jim Cramer Will Be Watching This Week
Numbers from Halliburton, IBM, Johnson & Johnson, Stanley Black & Decker and Travelers could tell us where stocks go from here.
Now we just have to hope that the earnings comply. I think the next week could be crucial to the market's nascent move off the bottom from what we're now calling the "December Credit Seizure," which hurt everyone from JP Morgan Chase (JPM) - Get JPMorgan Chase & Co. (JPM) Report to Morgan Stanley (MS) - Get Morgan Stanley (MS) Report , Citigroup (C) - Get Citigroup Inc. Report and KeyCorp (KEY) - Get KeyCorp (KEY) Report .
But how deep did the seizure run? Did it impact the real economy? I think we'll know on Tuesday when IBM (IBM) - Get International Business Machines (IBM) Report reports, because IBM usually has a pretty good end of the year. I think IBM might be in a position to impact the entire tech market, even as it's viewed as isolated from the data-center-based rally.
Johnson & Johnson (JNJ) - Get Johnson & Johnson (JNJ) Report reports on Tuesday, too, and this important Dow component might tell us more about currency than anything else. We need to see if the market cares whether the strong U.S. dollar brought down earnings.
Also, will JNJ address the talc issue? That wrecked a very good autumn for the company, but it's looking more and more like just a plaintiffs bar motivated to get more clients now that earlier asbestos clients might be dying off.
I can't gauge the mood of the people who own this stock. Are they inured to the talc issue at this point? You have to hope so if you still own the stock, as my Action Alerts PLUS charitable trust does.
We've also had a ton of financials reporting already, but no insurance companies. However, Travelers (TRV) - Get Travelers Companies, Inc. Report will take care of that this week.
The last quarter was disappointing for TRV, and the stock has been in a prolonged downtrend until recently. Travelers is a black box, but it's integral to the Dow.
But this week's most important earnings reports might seem like odd ones -- Halliburton (HAL) - Get Halliburton Company (HAL) Report and Stanley Black & Decker (SWK) - Get Stanley Black & Decker, Inc. Report . They'll be important because both stocks stand for sectors that have been under real pressure.
Halliburton has a lot to live up to after Schlumberger (SLB) - Get Schlumberger NV Report reported a quarter with bountiful cash flow and put to rest the notion that its dividend is problematic. However, Schlumberger's U.S. business was down by double-digit percentages and the rig count on Friday showed a shocking 21-rig decline.
Halliburton is much more levered to the United States than Schlumberger is, particularly for shale drilling. I fear that HAL could knock down SLB after Schlumberger's magnificent three-point rally on Friday.
As for Stanley Black & Decker, its earnings report this week might settle the issue of how the U.S. housing spend is fairing. We got a weak paint number from PPG Industries (PPG) - Get PPG Industries, Inc. Report recently on top of a pre-announcement by Sherwin-Williams (SHW) - Get Sherwin-Williams Company Report and a guidedown from Home Depot (HD) - Get Home Depot, Inc. (HD) Report via a meeting with JPMorgan Chase.
Can things really be that bad? I can't stress how important that question might be, because S&P 500 inflows brought up both Lowes (LOW) - Get Lowe's Companies, Inc. (LOW) Report and Home Depot, which have become tough owns of late. Stanley Black & Decker is now deep in its relaunch of the Craftsman brand, and that could help the company beat analysts' numbers.
The bottom line: Oil and housing need to continue to go higher for the market to continue its recent rally. They're up in the air right now, but they can propel the market's move further if HAL and SWK can show investors anything positive.
Still, I just don't know if that's possible, and I'm ready for disappointments from both. Fortunately, the AAP trust has little exposure to housing and has already been vindicated by Schlumberger, which I think could be a buy on any HAL-related weakness.
But that's not so with SWK. If it's weak, so goes a group that's so integral to the notion that U.S. housing might be coming back now that interest rates have dropped enough to spur mortgage originations and new-home sales.
Buy and Sell the Same Stocks that Jim Cramer Does
Jim Cramer's Action Alerts PLUS charitable trust owns Citigroup, Johnson & Johnson, JPMorgan Chase, Schlumberger and some two-dozen other stocks. Join Jim's Action Alerts PLUS club today and get a complete list of all of the trust's positions, plus e-mail alerts before Jim buys or sells any stocks for the portfolio.
You'll also get access to Jim's monthly private videoconference call for club members, plus real-time market analysis every trading day from Jim and his personal research team. Click here for more details.
Action Alerts PLUS, which Cramer co-manages as a charitable trust, is long C, JNJ, JPM and SLB.