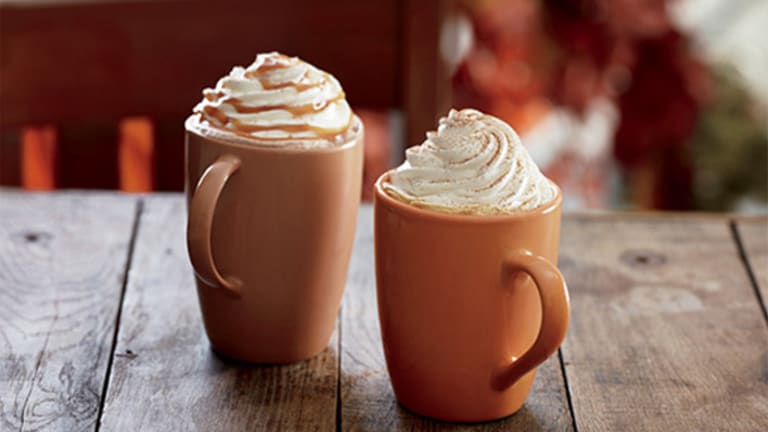 The 10 Craziest Pumpkin Spice Items You Can Buy off Amazon
Total pumpkin spice takeover from Starbucks to Amazon.
Love it or hate it, the Starbucks  (SBUX) Pumpkin Spice Latte is here to stay. Shepherding in fall marketing with all its apple picking and shawl collar sweaters to (riding) boot. 
But, back to the PSL. In honor of the first day of fall and the sad state of popular culture as we know it, here are 10 of the craziest pumpkin spice items you can buy off Amazon (AMZN) so you can truly, fully and commercially immerse yourself in autumn. They can be purchased in other places but Amazon is usually the cheapest and has the benefit of Prime.


Glade Pumpkin Spice Spray $16.78
Don't just instagram the pumpkin patch, bring it into your overtly seasonally decorated home. 
Pumpkin Spice Twinkies $14.99
Combine your love for both autumn and baked goods with expiration dates that last longer than most relationships. 
Pumpkin Spice Flavored Peeps $8.86 
Bird is the word when it comes to your 2 a.m. autumn haul. 

Pumpkin Spice Bomb Stache Wax $12
Stock up for a more interesting no shave November.

Buy it here
Pumpkin Whey Protein Blend $30.39
Bulk up with the power of autumn!

Pumpkin Peanut Butter $24.99 
Wouldn't mind trying this tbh.

Pumpkin Spice Dish Soap $12.95
What a beautiful hostess gift you can regift throughout the years.

Autumn Bath Bomb Variety Pack $16.50
Relax and literally soak up fall.
Pumpkin Spice Lip Balm $8.95
But is it tinted orange?
Printed Party Sign $5 
RED FLAG, RED FLAG.
More of What's Trending on TheStreet:
Editors' pick: Originally published Sept. 6.