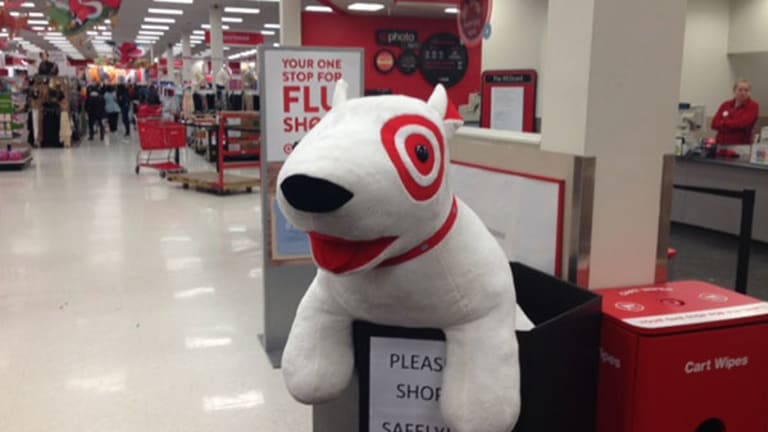 Publish date:
TGT, CRM, FCX, ESV: Jim Cramer's Views
Jim Cramer shares his views on earnings season and the feeding frenzy. Target, Salesforce, Freeport McMoRan and Ensco are among the stocks discussed here.
Jim Cramer shares his views on earnings season and the feeding frenzy. Target, Salesforce, Freeport McMoRan and Ensco are among the stocks discussed here.
NEW YORK (Real Money) -- Jim Cramer shares his views every day on RealMoney.Click here for a real-time look at his insights and musings.
Waving the White Flag of Earnings Season
Posted at 6:50 p.m. EST on Friday, Feb. 26, 2016
Brutal week. But it's the last week that you have the earnings parade. Just six short weeks that turn your life upside down.
Unfortunately, you multiply those six weeks by four and you have a lot of time where this job can be sheer hell.
Now that it's Friday and the week is over, I just want you to know that it is impossible to do this job right if you were not on every single major retailer and restaurant conference call, and almost all the majors reported in the last two weeks.
Just think of it like this. Target (TGT) - Get Report . The company reports. The stock is immediately up 70 cents. Then the next thing you know it is down a dollar. (Target is part of TheStreet's Action Alerts PLUS portfolio.)
A dollar?
Why?
You don't know until you are on the call.
Once you are on the call, you know the dollar decline is wrong and if anything it should be up a dollar. Maybe more. But how would you know if you weren't on the call? The stock ended up rallying five bucks.
This kind of lunacy happened all week. Salesforce (CRM) - Get Report  was hit so hard early off an opco note that basically said CEO Marc Benioff would guide down, knocking the stock back in a way that it seemed like it was going to be the next Tableau Software (DATA) - Get Report . Instead it was the exact opposite. So the craziness wasn't just limited to retail.
But consider Foot Locker (FL) - Get Report . The stock was up two and change off the release. It was down two and change off the call. (Foot Locker is part of TheStreet's Trifecta Stocksportfolio.)
If you tried to actually trade these without listening to the call, you would be wrong every time.
The problem is that these companies all report at the tail end of the season when everyone is so burned out that they can barely think straight and the last thing they want to do is listen to another call. It's almost as if you simply can't believe you have so many companies that you have to focus on right now, right here, and how can businesses not want to spread themselves out a bit? Why does Lowe's (LOW) - Get Report  report the day after Home Depot (HD) - Get Report ? Why the heck does Sears Holdings (SHLD)  report in this mix?
So with this week I say good riddance, earnings period. Now I have to get ready for the second week of April, when it starts up all over again.
At the time of publication, Action Alerts PLUS, which Cramer co-manages as a charitable trust, was long TGT.
Fight the Feeding Frenzy
Posted at 1:25 p.m. EST on Friday, Feb. 26, 2016
Copper's up. Let's go buy a copper stock. Oil's flying, give me an oil. Interest rates are going higher. Bet against a utility.
Yep, we're in a frenzy to buy or sell whatever's working at that moment and it's producing decisions that are so split-second and so nonsensical that sometimes you have to sit back and laugh.
So let's take copper. The red metal's been going down, literally, for five years. There's too much of it. The Chinese are taking less of it. People are substituting aluminum for it, or polyvinyl chloride piping if possible, because they are cheaper.
But for the last month, copper's doing something it hasn't done in ages. It's been going higher. How high? Well, if you chart copper, which you can do by monitoring the JJC, the symbol for the Bloomberg copper index, you can see it's actually bottomed at $22 in the middle of January and is now back to where it was at the end of the year. In fact, Carley Garner, one of my favorite chartists, has pegged copper as a potential breakout metal  and is very bullish on it.
What's happened to possibly cause a bottom in copper? We know the Baltic Freight Index, which measures the cost of shipping big bulk goods like copper, has been trading up ever so slightly off an incredibly low base. We know there have been cutbacks in production because the copper companies have been doing so badly. Hmm, demand up, supply down -- voila, a possible bottom.
If you are in the stock market, you think, OK, give me a copper producer. It just so happens that Freeport McMoRan  (FCX) - Get Report  sells copper. In fact, it just sold a slice of one of its copper mines for $1 billion to try to fix its balance sheet.
Why does it have to fix its balance sheet? Because it has $20 billion in debt from an oil-company buying spree at the top of the market.
Well, looky here, oil's up, too, having rallied to $33 a barrel, up from $26 not that long ago.
Copper's flying's, oil's not dying, let's go buy some Freeport! Now of course, I wish life was that easy. In truth, Freeport's in big trouble and it needs to raise cash any way it can. But why let the facts get in the way of a good story?
Next thing you know, traders are piling into this stock and it's up 7%.
When we see oil rallying like this, as it seems to have for days, what do traders want to do? They want to buy the oil companies that need oil to really fly, like the big oil drilling companies or even the heavily indebted companies that have been such total dogs. So what goes higher? How about Ensco (ESV) , the gigantic offshore oil platform company? Why not? It's cut costs to the point that when it reported last night, it actually made more money than expected. So what if it cut its dividend by 93%? It's a survivor, especially if oil goes higher. Next thing you know, it is up 12%. When traders see that gain, they immediately reach for Transocean (RIG) - Get Report  and Diamond Offshore (DO) - Get Report , even as they are doing far worse. Who cares? Party on! So Transocean and Diamond are up 10% and 5% apiece.
What's wrong with this game? Why shouldn't you play? Because if copper's a head fake, you just bought the worst-of-breed copper maker. If oil's just a short squeeze, you have purchased the companies with the least hope of advancement that could retrace their gains in a nanosecond.
So here's my advice. You want the best way to play a rotation? Then quit your job and day-trade because these moves are ephemeral and are often over by the time you see them. They are almost surefire ways to lose money because you are buying the worst, most leveraged junk and betting someone even dumber than you will take you out. It's a fool's game. Enjoy watching it. But don't participate unless you are willing to be concussed by the next rotation out of your stocks and into those that do best when copper and oil get crushed, because you have no idea what you are buying beyond knowing that everyone else is doing it and that's somehow enough to justify the trade.
At the time of publication, Action Alerts PLUS, which Cramer co-manages as a charitable trust, had no positions in the stocks mentioned.
At the time of publication, Jim Cramer's charitable trust Action Alerts PLUS held no positions in stocks mentioned.