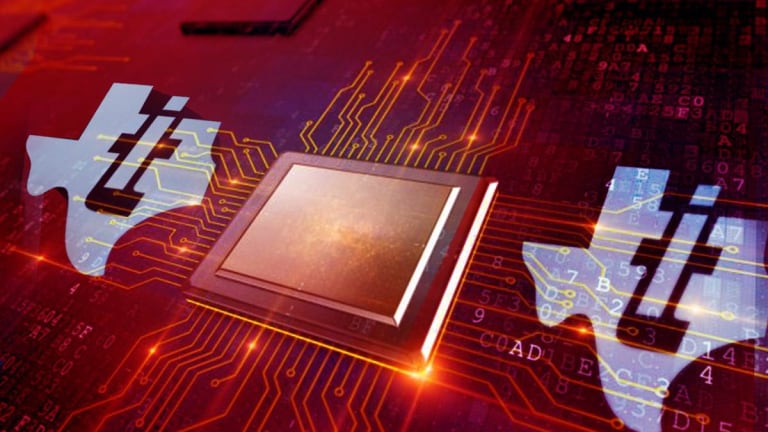 Texas Instruments Ticks Higher In Spite of Light Guidance: 7 Key Takeaways
Among other things, slowing Chinese orders and weak smartphone demand are weighing on the chip giant's top line. But a lot of bad news has been priced in.
For now at least, markets are taking Texas Instruments' (TXN) - Get Texas Instruments Incorporated Report light sales outlook in stride.
After the bell on Wednesday, TI reported Q4 revenue of $3.72 billion (down 1% annually) and GAAP EPS of $1.27. Revenue slightly missed a $3.74 billion consensus, while EPS topped a $1.23 consensus.
TI also guided for Q1 revenue of $3.34 billion to $3.62 billion (down 4% to 12% annually) and EPS of $1.03 to $1.21. Those guidance ranges fall mostly below consensus estimates of $3.6 billion and $1.20.
Nonetheless, with near-term expectations already pretty low for TI and its peers, shares ticked higher post-earnings. On Thursday morning in pre-market trading, shares were up 2% to $97.42. The gains come as FPGA developer Xilinx (XLNX) - Get Xilinx, Inc. Report , chip manufacturing equipment maker Lam Research (LRCX) - Get Lam Research Corporation Report and chip test equipment maker Teradyne (TER) - Get Teradyne, Inc. Report also move higher after delivering earnings reports on Wednesday afternoon.
Here are some notable takeaways from TI's report and call.
1. Weak Chinese Demand Is Weighing on Sales
Though China isn't the only region where TI (and for that matter, other chip developers) are seeing sales pressures, IR chief Dave Pahl noted "demand in China was weaker than [in] other regions," even as Chinese end-markets "behaved directionally [in a manner] consistent with the rest of the world."
Pahl added TI is "seeing signs from our customers and the channel that this [Chinese] weakness is primarily from increased caution due to trade tensions." He also mentioned chip distributors (particularly in Asia) became more conservative about holding inventory towards the end of Q4. The remarks have a bit in common with ones recently made by peer Cypress Semiconductor (CY) - Get Cypress Semiconductor Corporation Report .
2. A Soft Smartphone Market Is Also a Headwind
Pahl says TI's Q4 demand "came in mostly as expected." However, one exception was the personal electronics segment, where weak smartphone demand -- including from Chinese phone OEMs -- was a headwind. In addition to Chinese OEMs, TI's smartphone client list includes (thanks to design wins for power management and battery charging chips) Apple (AAPL) - Get Apple Inc. Report , which is three weeks removed from issuing a sales warning that was blamed on weak iPhone demand.
Apple is a holding in Jim Cramer's Action Alerts PLUS member club. Want to be alerted before Jim Cramer buys or sells AAPL? Learn more now.
3. Telecom Equipment Remains a Strong Spot
Three months after indicating analog chip sales to the telecom equipment market were an area of relative strength, TI says its sales to telecom equipment end-markets grew about 20% annually in Q4 with the help of early 5G infrastructure deployments. The company also reiterated its analog business is benefiting from increased chip content in 5G infrastructure gear (owing to the technical requirements of 5G radios) relative to 4G counterparts.
Separately, Xilinx, whose FPGAs are a common sight within mobile base stations, reported its sales to communications end-markets rose 41% annually in the December quarter. The company added its wireless communications sales "benefitted from 5G deployment in South Korea and preparation for 5G deployment in both China and North America as well as ongoing LTE upgrades."
4. Automotive and Industrial Sales Are Under Pressure, But Saw Annual Growth
TI's industrial chip sales, which accounted for 36% of its 2018 revenue, fell by a high-single digit percentage sequentially in Q4, but were still up by a high-single digit percentage annually. Likewise, auto chip sales, which were 20% of 2018 revenue, fell by a high-single digit percentage sequentially but rose by a low-single digit percentage annually.
Pahl reiterated TI is prioritizing investments in auto and industrial products, out of a belief that they'll be the fastest-growing semiconductor end-markets over the long-term. Peers such as Cypress, NXP Semiconductors (NXPI) - Get NXP Semiconductors NV Report and ON Semiconductor (ON) - Get ON Semiconductor Corporation Report have also been trying to grow their exposure to one or both of those end-markets, as trends such as factory automation, electric car adoption and the development of cars supporting some measure of autonomy help grow the addressable market.
5. Analog Sales Are Holding Up Better Than Processor Sales
Analog chip sales managed to grow 4% annually in Q4 to $2.64 billion. However, embedded processing chip sales, which cover products such as digital signal processors (DSPs) and microcontrollers (MCUs), fell 12% to $791 million.
Pahl indicated analog sales growth is stronger largely because of the analog content gains TI is seeing in 5G infrastructure equipment. "It is not unusual for Analog and Embedded to perform differently in the short-term, but they are more consistent in the long-term," he insisted.
6. Financial Execution Remains Solid
Helping TI beat EPS estimates: Its GAAP operating expenses rose just 1% annually to $814 million. Gross margin fell slightly due to lower revenue and factory utilization levels, but was still at a healthy 64.8%.
For the whole of 2018, TI's free cash flow (FCF) rose 30% to $6.06 billion. It helped that the company, in spite of still relying heavily on its fabs to manufacture chips, spent just $1.13 billion (7.1% of revenue) on capital expenditures.
7. Buybacks Continue
Also boosting TI's EPS: $2.01 billion was spent on stock buybacks during Q4, raising TI's full-year buyback spending to $5.1 billion. The company, which also pays out a quarterly dividend that carries a 3.5% forward yield, reiterated it aims to return 100% of its FCF to shareholders.
This article has been corrected to accurately show Texas Instruments' 2018 free cash flow and capital expenditures.