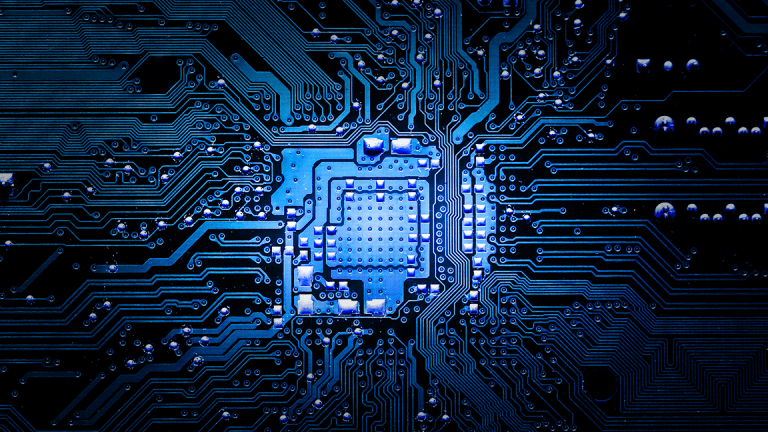 Texas Instruments's First Earnings Report After its CEO Change Is Drama-Free
The analog chip giant provided in-line guidance and downplayed trade and inventory fears.
A week after announcing a surprise CEO change, Texas Instruments (TXN) - Get Texas Instruments Incorporated Report  delivered a pretty low-key earnings report and call.
After the bell on Tuesday, TI reported Q2 revenue of $4.02 billion and GAAP EPS of $1.40. While revenue rose a moderate 9% annually, EPS, boosted by margin expansion, stock buybacks and a lower tax rate, rose 36%.
Those numbers had already been disclosed last week, when TI announced that recently-appointed CEO and former COO Brian Crutcher had resigned due to unspecified code of conduct violations. Revenue was slightly better than a $3.96 billion consensus estimate prior to the disclosure; EPS was better than a $1.31 consensus even after backing out a $0.03 tax benefit that wasn't factored into TI's prior Q2 guidance.
Not previously disclosed: TI forecasts Q3 revenue of $4.11 billion to $4.45 billion and EPS of $1.41 to $1.63. At the midpoints, the guidance is slightly better than consensus estimates of $4.27 billion and $1.49. TI does note that its EPS guidance bakes in a $10 million discrete tax benefit.
Markets don't seem particularly excited or upset about the outlook: TI is down fractionally in after-hours trading as of the time of this article. After having surged in 2017, shares are up 9% in 2018. They rallied strongly during the first three weeks of 2018, then tumbled due to a disappointing Q4 report and a tech selloff. The stock began rebounding following the release of a market-pleasing Q1 report in April.
On the earnings call, both CFO Rafael Lizardi and IR chief Dave Pahl tried to assure investors that TI's CEO change, which has led chairman and former CEO Rich Templeton to resume the job "on an ongoing, indefinite basis," is no reason for alarm. "I've met with Rich several times over the last couple of weeks and I can tell you he is excited to be back," Pahl said, while noting Templeton had been CEO for 14 pretty successful years. "He'll be attending several conferences in the near future and will be meeting with investors over the next few months."
In addition, Pahl and Lizardi each affirmed TI's commitment to returning effectively all of its free cash flow (FCF) to shareholders via dividends and buybacks, and to prioritizing investments in the industrial and automotive chip markets, which it predicts will be the fastest-growing end-markets for the semiconductor industry over the long run.
Both of those end-markets appear to have performed well in Q2 for TI, which says it saw "broad-based" industrial and automotive growth. That helped offset lower communications equipment chip sales, which were pressured by declining 4G infrastructure investments ahead of a 5G ramp that's expected to start in earnest next year, and a mere low-single digit sales increase for TI's Personal Electronics segment (Apple  (AAPL) - Get Apple Inc. Report is one of TI's clients here). The Enterprise Systems segment, benefiting from healthy corporate IT spending and strong cloud capex, grew an unspecified amount.
Apple is a holding in Jim Cramer's Action Alerts PLUS member club. Want to be alerted before Jim Cramer buys or sells AAPL? Learn more now.
Industrial and auto strength helped revenue for TI's giant Analog chip segment rise 12% annually to $2.69 billion, slightly topping a $2.66 billion consensus. It also gave a lift to the company's Embedded Processing segment, which supplies microcontrollers (MCUs), digital signal processors (DSPs) and other embedded logic parts. Embedded Processing revenue rose 9% to $943 million, but missed a $952 million consensus; TI noted the segment's sales to communication equipment clients fell sequentially.
TI's Other segment, which covers calculators, digital light processing (DLP) chips and custom ASICs, saw revenue drop 7% to $384 million due to ASIC-related weakness. However, sales topped a $340.5 million consensus.
Separately, in remarks that might have a positive read-through for peers such as Analog Devices (ADI) - Get Analog Devices Inc. Report , Maxim Integrated (MXIM) - Get Maxim Integrated Products Inc. Report  and Microchip Technology (MCHP) - Get Microchip Technology Incorporated Report , TI sought to calm recent worries about a potential analog and MCU inventory correction. "[Order] lead times remain stable," said Pahl when asked about potential channel inventory issues. "Cancellations remain low. Reschedules remain low. We look at inventory in the channels. That remains steady at about four weeks."
Likewise, though qualifying his remarks by saying that trade tensions between the world's two biggest economies could have an impact "at a macro level," Lizardi downplayed fears that U.S. tariffs on Chinese semiconductor exports would take a large toll. "[O]nly about 1% of our revenue would have those tariffs applied to it and that's before we make any potential adjustments...to even minimize that impact further," he said.
With regards to TI's bottom-line performance, management reiterated that TI still has a lot of headroom to grow profit margins thanks to both its operating leverage -- like other chip manufacturers, TI has substantial fixed costs -- and efforts to improve manufacturing efficiency.
Regarding the latter, Lizardi noted that only about 40% of TI's 2017 analog revenue involved chips made using 300-millimeter wafers. 300mm wafers have 125% more surface area than 200mm wafers that a lot of chip manufacturing still relies on, and can thus yield lower per-chip production costs. The 300mm migration is one of the reasons why FCF equaled 36.6% of TI's revenue over the last 12 months, up from 28.5% in the prior 12 months.
On the whole, TI's latest earnings report was just solid, rather than spectacular. However, at a time when some TI investors have been put on edge by a CEO change, and chip stock investors in general have been on edge about trade and inventory worries, there are worse things than getting an earnings report and call from the world's biggest analog chipmaker that suggests it's business as usual for the company for now.