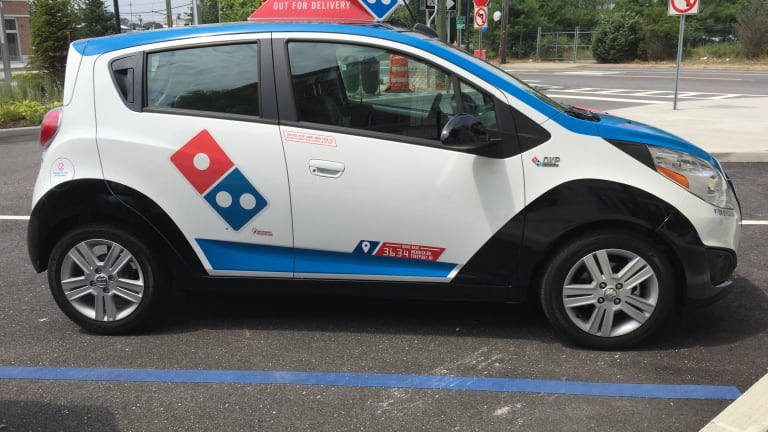 Test Drive Exclusive: Domino's Pizza Has New Futuristic Delivery Car
Domino's new high-tech delivery car finally arrives to New York.
One lucky Domino's Pizza (DPZ) - Get Report franchisee in New York just got delivered a special order.
The state's first ridiculously cute "DXP" delivery concept car. "I will be using it as a promotional tool around town, I am pretty excited," long-time Domino's Pizza franchisee John Hall told TheStreet at the grand opening of his latest location in Wyandanch, N.Y. Hall says he waited about five months to get the DXP, which is decked out in Domino's trademark red, white and blue colors. The car is based on a Chevy Spark platform and is then redesigned and built by an automotive engineering team at Roush in Detroit, a group known for its aftermarket fabrication work on Ford's (F) - Get Report Mustang.
It's pretty easy to see why a business owner such as Hall would be pumped up by a cool-looking oven on four wheels.
The pizza delivery car has long been a source of ridicule for pizza lovers. Nothing like cracking a few jokes on the 17-year-old pizza delivery kid, who cruises around in a beat-up jalopy that looks like it came off a Detroit assembly line in 1985. In June 2014, Domino's Pizza took a step to address the obvious inefficiency of the rickety delivery car by unveiling the DXP, a company code name for "delivery expert." 
Among its many external marketing features, including a brightly lit Domino's logo on the roof, there are actual functional features, such as extra-large cup holders, enough storage to hold 80 pizzas, and a pizza warmer that can be accessed from outside by a push of a button. Last year, 100 DXPs were delivered to various franchisees, and 50 more are planned to hit the road this year.
With its sales and profit continuing to be hot thanks to the nation's love affair with affordable pizza -- especially ordered on mobile devices -- Domino's has the leeway to experiment with reinventing the delivery experience. Domino's first-quarter same-store sales spiked 9.7%, while earnings rose a solid 21% from the prior year.
But Hall isn't just over the moon for his shiny new DXP. Hall says his location will be a test spot for several new salads from Domino's, including ones with pecans and cranberries. According to Domino's online menu, it doesn't currently sell any salads. "It's great for parents -- they can have a salad, and the kids have the pizza." Preach.
TheStreet took a spin around town of New York's first DXP. The big takeaway: a person will likely feel much safer in hurrying to delivery a pizza in a car such as the DXP. It's nimble, sturdy and packed with safety features that are probably not on the beat up rides being driven by many pizza. delivery drivers.
Domino's Pizza box colors get plastered on the side of an adorable two-door Chevy Spark.
For official use only: Hall says he and his supervisor will be the only ones driving the DXP for now.
Twitter deserves to know about the #DXP.
The warming oven keeps pizzas at 120 degrees. 
The warming oven door can be opened by the press of a keyfob button. 
It wouldn't be a Domino's delivery car without the illuminated signs on the roof.
A Domino's logo in hologram form for some nighttime marketing.  
The Roush people even created a Domino's center-cap.
The DXP can hold 80 pizzas. Pizza warmer on the left.
The passenger seat was taken out -- in its place are giant cupholders.
Hall is dancing for joy over his new DXP, which took about five months to get.
You would have taken a selfie, too, inside of the DXP.
Thumbs up for the DXP -- Domino's needs way more of these on the road.