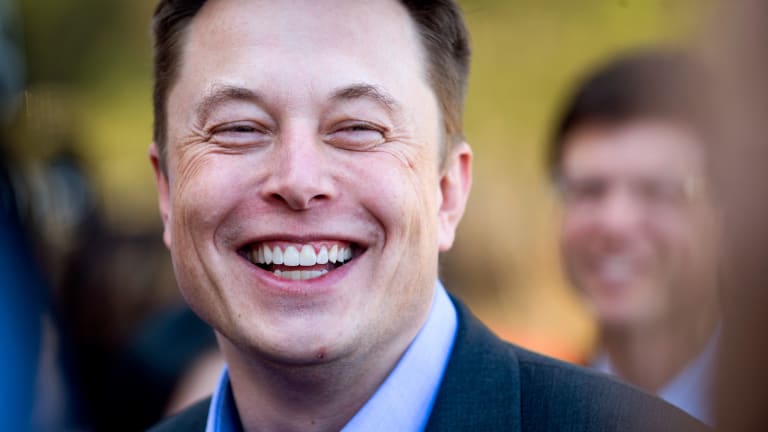 Tesla's Elon Musk Takes Solar Financing to the Brink of Change
A renewed interest in solar has investors eyeing solar bonds, solar stocks and a new asset class Musk helped create.
A renewed interest in solar has investors eyeing solar bonds, solar stocks and a new asset class Musk helped create.
NEW YORK (TheStreet) -- Tesla's (TSLA) - Get Report Elon Musk gets credit for helping to create a new asset class in solar financing, according to one structured finance expert.  "I think we're on the brink of a new asset class coming out," said Benjamin Cohen, CEO of T-REX. 
T-REX focuses on securitization for the renewable energy industry, and is currently working on several new deals with institutional investors who want to invest in solar.
"The solar asset class on the whole, if you can even call it that because it's so small, is particularly interesting to investors because you have these long-term yielding cash flows once the assets are already built, and you don't have the risk of construction and anything that can go wrong there," said Cohen. He added that investment-grade solar debt yields range from 3.5% to 5%. 
The market is small, he said, but there's a renewed interest after SolarCity (SCTY) issued solar bonds -- with Musk as chairman.  Cohen said SolarCity has done three different securitizations, mostly on the residential side. Because Musk is involved, the deals have gotten attention. "He's got cache, he's got star power as a modern mogul, but he's also not stupid," added Cohen. "He knows exactly what he's investing in and he doesn't put money after bad projects."
Buying into solar has been tough for investors,  particularly on the equity side, after solar stocks sold off sharply a few years ago.  But Cohen said the solar bond market was actually helped by the bubble bursting in solar stocks. 
"So you had this huge blow up with companies like Solyndra, and it was on all of the front pages," explained Cohen. "And that was actually good for the industry because it showed a consolidation, a commoditization of things like panel technology, and now the government has been putting tariffs on Chinese solar panels, which is difficult for everyone else in the industry. It's not great for panel manufacturers. But just like any other technology, when it becomes commoditized, it goes to the lowest cost producer, and that's great for everybody else." 
Cohen believes the solar bond industry could experience "potentially meteoric growth."