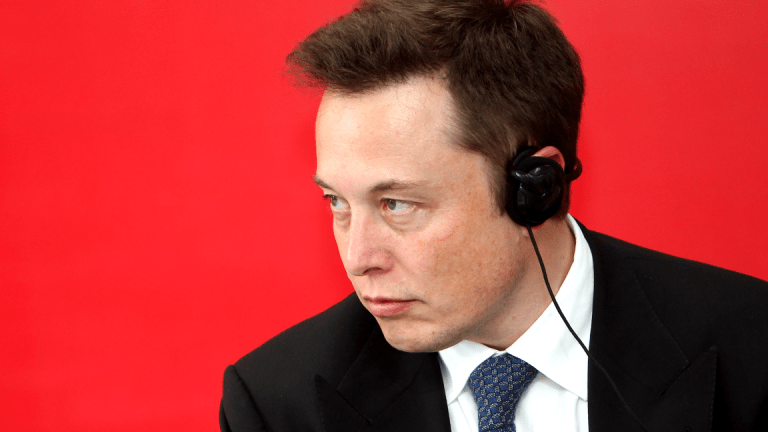 Short Bets Are All About Elon Musk, Not Tesla
The massive short interest in shares of Tesla is betting that there's no way Musk can deliver what he's promising. They're just using shares of Tesla Inc. as the vehicle to do that.
Tesla Inc. (TSLA) - Get Tesla Inc Report is under pressure Thursday, down more than 7% following a wild earnings call after Wednesday's closing bell.
No, Tesla's numbers themselves weren't particularly wild.
In fact, they were totally unsurprising.
Tesla reported an adjusted first quarter loss of $3.35 a share, a beating the average best guess from analysts by 18 cents. The firm's first-quarter update letter also reaffirmed the Model 3 production numbers and plans for profitability in the second half of the year that were already known to Wall Street.
The stakes were high heading into earnings; as the most heavily shorted stock on the market, short sellers were hoping for a bombshell miss and bulls were hoping for a surprise short-squeeze catalyst.
But the earnings call - where Tesla CEO Elon Musk told an analyst from Bernstein that his question on gross margin was boring, and opted to answer questions from YouTube instead - provided the drama Wall Street was praying for.
Anyone watching Tesla's after-hours trading during the call saw a pretty clear example of cause and effect:
It's a good reminder that Tesla's shorts are more about Elon right now than Tesla itself.
In other words, shorts are betting that there's no way Musk can deliver what he's promising. And they're using shares of Tesla Inc. as the vehicle to do that.
Thing is, the short trade is exceptionally crowded right now. According to data from Ihor Dusaniwsky at S3 Partners, $11.94 billion is currently being bet short on Tesla; that's almost one in three shares of Tesla's float.
And being short Tesla looks like it's getting even more crowded after earnings. Per S3's Dusaniwsky, "we are seeing several hundred thousand shares of new short selling already this morning which should keep TSLA short interest comfortably over $11 billion."
As I said recently, shorts could even be right about Tesla missing targets and lose money at this point. The mistake that shorts are making - retail shorts in particular - is that they really hate everything Elon (and, by extension, Tesla) is doing.
That's a red flag for any short bet, not just Tesla. The worst thing you can do as an investor is get emotionally attached to a trade.
But the fact is that there are very few objective participants in Tesla's shares. It's a "love it or hate it stock." And that makes it a dangerous short.
There are plenty of well-reasoned rationales for going short Tesla. But the asymmetric characteristics of short bets, exceptionally high short interest, and stock-borrow financing costs mean this is a riskier stock to short than to buy right now.
Elon Musk doubling down on his pledge to achieve profitability (and avoid the need to raise cash) in the second half means that Tesla could remain in its current price range longer than shorts can stay solvent.
Make no mistake, it's still not a good time to go long Tesla. From a technical standpoint, shares are under pressure in 2018. But it's even riskier to short it.
But grab your popcorn - the battle between buyers and sellers is pretty entertaining from the sidelines.
This article is commentary by an independent contributor. At the time of publication, the author held no positions in the stocks mentioned.