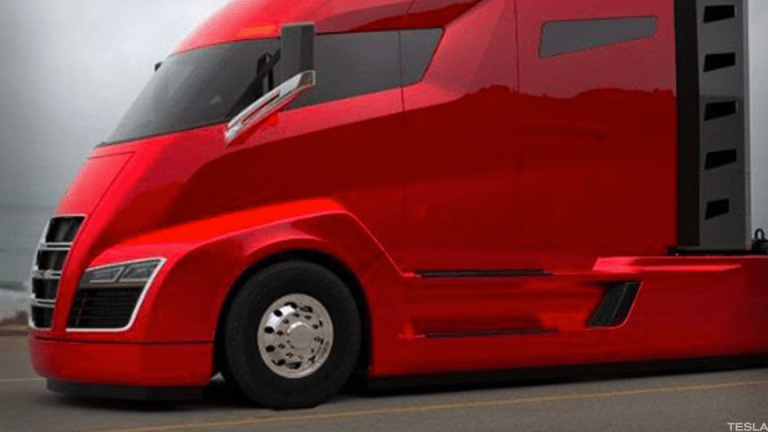 Don't Look for Tesla's $150,000 Truck to Move the Stock's Needle
Tesla needs more than a few PR orders from companies hoping to look "green" for its truck to succeed.
Tesla's (TSLA) - Get Tesla Inc Report move into the trucking market with the Tesla Semi may seem curious to some, but to me it is the most logical end market for battery electric vehicles (BEVs.) As usual, Tesla CEO Elon Musk put on a performance worthy of legendary Muhammad Ali "hype man" Bundini Brown in announcing the semi on November 16th. That, more than execution, is Musk's greatest skill.
The backdrop for the Semi launch is that Model 3 production continues to run well behind schedule. My contacts in the supplier industry are dubious that Tesla will get to 5,000 units per week on Model 3 by March, Musk's most recent (and oft-delayed) projection for mass-production of the mass-market vehicle. Tesla is, in my opinion, making a colossal mistake in slowing production of Model S and Model X production in the fourth quarter in an attempt to focus on manufacturing issues with the Model 3. TSLA burned through $1.6 billion in cash from operations in the third quarter and $4 billion in the first nine months of 2017, and producing fewer of their higher-revenue products will not help that situation.
So, should Tesla really be launching a vehicle into a new segment with zero customer crossover potential at this time? Well, no, but that's not the way Elon rolls. The opportunity to seed BEVs into the existing market for diesel truck powertrains is greater than for passenger vehicles for one simple reason: they are driven more. Much more.
As I mentioned in my RM article on GM's autonomous vehicle (AV) program, the business case for GM's full-bore pursuit of AVs (on GM's in-house BEV platforms) depends heavily on the concept of "rideshare 2.0." A world where cars are utilized more frequently (yours is probably sitting a garage or parking lot while you are reading this) and individual ownership is less important. It's a Millennial's dream, but the truck drivers I have known don't live with their parents, don't wear skinny jeans and have to drive as often as possible to make a living. The truck fleet managers I have dealt with -- and I used to talk these guys often in my days as a sell-side analyst following Volvo, Daimler/Freightliner and Renault/Mack -- simply want to maximize the amount of time their trucks are being used, minimize disruptions and, in every case, every day, every load, minimize fuel costs.
For the car owner, that ethos is not as obvious. VW's new 5-door Polo GTI with the 1.8 liter TSI engine is rated at 47.1 mpg, an exceptional performance for a high-volume model. At those levels, it really makes me question whether the auto market "needs" a Model 3. The energy efficiency produced by modern internal combustion engines has improved dramatically in recent years, and that makes the business case for BEVs that much tougher.
In contrast, according to telematics company Geotab, the average MPG for a Class 8 fleet of varied ages was about 6 miles per gallon in a recent U.S. test. The bar is quite low for heavy truck fuel economy, and therein lies the opportunity for a company that can produce a BEV with sufficient range.
So, the business case for BEVs with at least some AV capability in the heavy truck market does not revolve around a change in purchaser habits; it is just a question of efficiency and basic economics. Is the Tesla Semi truly a disruptive product on those metrics? Based on the skeletal information released so far, it is not.
Unlike other OEMs Tesla does not give much information on new products, but this is what was revealed on the Semi: Base range is 300 miles with an "expected base price" of $150,000 and a higher performing version with a range of 500 miles and a base price of $180,000. Musk noted Tesla's plan to build a network of Megachargers with the ability in "about 30 minutes" to produce enough charge for 400 miles.
I believe the range limitations on Tesla's Semi battery array will limit adoption to companies looking to make an "eco-statement" from a PR perspective. Thus far, Walmart has ordered 15 (with WMT Canada taking ⅔ of the order), Anheuser-Busch has ordered 20 and fleet operator J.B. Hunt has ordered multiple models.
There is opportunity for a company to disrupt the heavy truck market through innovative propulsion technology. Toyota, for instance, is investing heavily in hydrogen fuel cell technology for heavy truck use. Regardless of the technological outcome, I don't think that Tesla has the size or scale or battery technology to disrupt the heavy truck industry. A few window-dressing orders from image-focused companies for a product that is not scheduled for delivery until 2019 just do not move the needle for TSLA.
(This article originally appeared Dec. 8 on Real Money, our premium site for active traders. Click here to get great columns like this from Jim Collins, Jim Cramer and other writers.)
More of What's Trending on TheStreet: