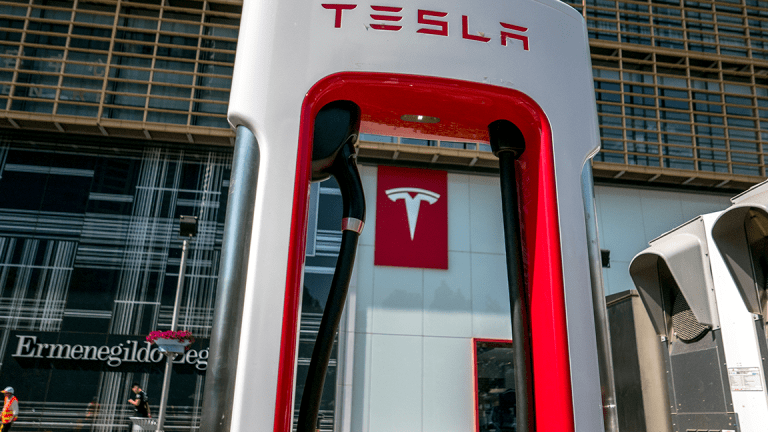 The battle between buyers and sellers remains lively in shares of Tesla Inc. (TSLA) - Get Tesla Inc Report this week.
After initially dropping on the heels of a particularly controversial earnings call last week, shares have been in rebound mode ever since, boosted in part by news that Tesla's stock is starting to get supply constrained for shorts.
But there's another more near-term reason why investors should pay attention to Tesla: After months pointed down and to the right, the stock is finally testing a key technical level.
To figure out how to trade it from here, we're turning to the chart for a technical look.
There are a couple of timeframes that matter for Tesla's chart. Longer-term, shares have spent the better part of the last year in a well-defined shallow downtrend, heading lower on each test of the top of that price channel. Shares successfully tested trendline support at the bottom of that channel at the beginning of May following the earnings call.
In the shorter-term, shares of Tesla are forming an ascending triangle bottom, a price setup that's formed by horizontal resistance at $310, and uptrending support to the downside. Basically, as Tesla's stock bounces in between those two technically meaningful price levels, shares have been getting squeezed closer and closer to a breakout through $310, a price tag that's acted like a short-term ceiling since early April.
While the ascending triangle pattern Tesla is currently showing isn't "textbook" (typically, it's a continuation pattern after an up-move, not a reversal setup after a down-move), the trading implications aren't affected by that. A push through $310 is the signal to look for.
A $310 breakout is the move that needs to happen to clear the way to a re-test of the top of Tesla's price channel, currently up around $350. In other words, there's still a pretty important bar for shares of Tesla to cross before they flash a long-term buy signal. Still, the recent buying pressure is an important signal that buyers are stepping into shares at lower levels.
On the flip-side, risk-management is key, especially in a stock like Tesla. Prior support just above $270 is the intersection of Tesla's short-term and long-term support levels - that makes it an important do-not-cross line for shares. If Tesla violates that line in the sand, it could spell prolonged downside risk.
Ultimately, $310 is the next important level for Tesla to test for investors to get a clearer picture of shares' trajectory in the intermediate term. Tesla is within grabbing distance as of this writing. Odds are, we'll have an answer in the next few sessions.
This article is commentary by an independent contributor. At the time of publication, the author held no positions in the stocks mentioned.