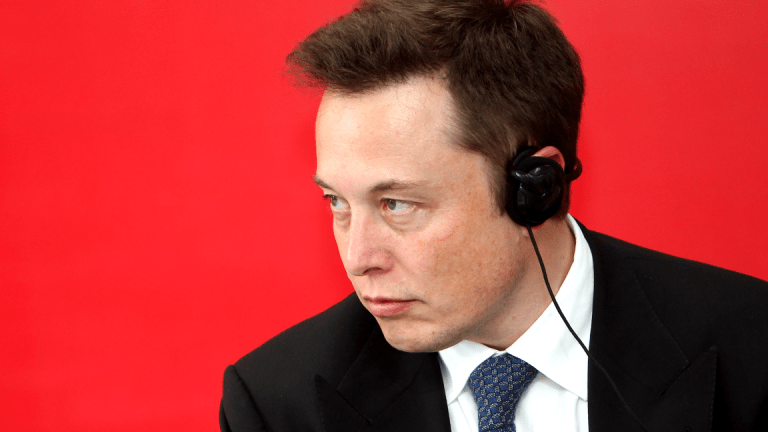 Tesla's Testing a Key Price Floor: Chart
Tesla's price action proves that buyers are still hanging in there -- for now. Here's the line in the sand that shares can't cross.
There's probably no better example of the disconnect between fundamentals and price action than Tesla Inc. (TSLA) - Get Tesla Inc. Report .
Since this electric-car stock entered the public markets back in 2010, bears have been making a strong case for overvaluation in shares of Tesla. And, in many ways, their arguments have been solid and well-reasoned. That's a big contributor to why Tesla is currently the most heavily shorted stock in the entire market right now.
Thing is, they've been dead wrong.
On any rolling 18-to-24-month time horizon since going public, shorting Tesla long-term has been a disastrous bet.
Fact is, for a growth story like Tesla, today's fundamentals only tell a small part of the story that's driving the price action.
For the other part, the best tool in our toolbox is the technicals.
So, to figure out where Tesla might be heading next in the near term, we're turning to the chart for a technical look at the key levels to watch in shares this spring.
At a glance, Tesla has been mostly range-bound for much of the last year.
While shares are currently in a shallow downtrend when you look at the last year and a half or so of price action, the trailing 12 months are mostly sideways.
That's actually not completely surprising.
Tesla was trading at $181 as recently as November 2016, pulling off a market-crushing rally during the 2017 calendar year to make it up to the $300 level. That's a nearly 70% upside, so it's not especially surprising that shares of Tesla have tracked sideways more recently.
The price setup we're seeing on the chart is called a rectangle. It gets its name because it essentially "boxes in" shares of Tesla in between resistance (up at the $380 level), and support (down at $290). Rectangle patterns are very common after large moves; they give buyers and sellers a chance to battle it out and figure out who's ultimately in control of shares.
Notably, the $290 level has acted like a price floor in the long term, with the exception of a brief, volatility-induced drop below that level back in March that was quickly corrected. Simply put, that $290 level is the line in the sand that keeps buyers in play.
Tesla is testing that level in today's trading session, but as long as it holds, we have a signal that buyers are still out there in force.
Longer term, for Tesla to turn fully bullish again, shares need to muster the strength to push through the $350 to $380 range, the price ceilings that represent Tesla's trendline resistance level and the top of the rectangle pattern, respectively.
The good news for Tesla bulls is that there are an abundance of potential catalysts on the horizon between now and the end of 2018 that could trigger buying.
That said, patience is a virtue in this stock right now - and the price action is king.
This article is commentary by an independent contributor. At the time of publication, the author held no positions in the stocks mentioned.