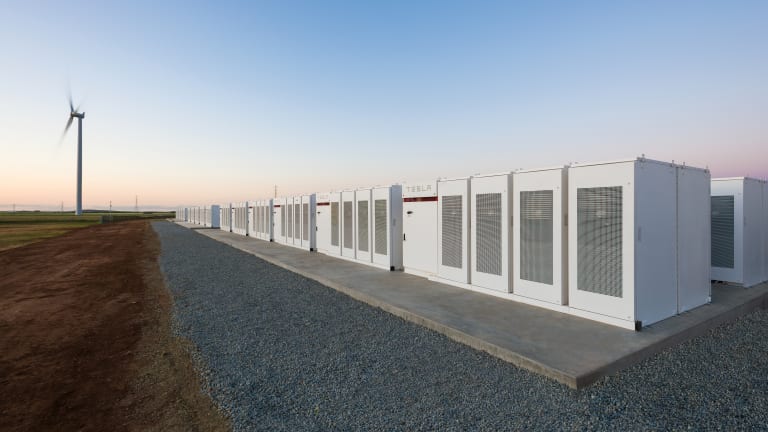 Tesla Energy Made Its Owner $2.5 Million in a Single Quarter
Tesla Energy is showing some impressive numbers in the field.
Tesla Energy is showing some impressive numbers in the field.
It's crunch time for Tesla Inc. (TSLA) - Get Report .
As the second quarter comes to a close, Elon Musk and company are scrambling to hit their run-rate goal of building 5,000 Model 3's a week by the weekend. But Tesla just hit another very notable number that investors should be paying attention to.
RenewEconomy reports that at a presentation by Australia's Energy Market Operator at a Monash University forum last week, the agency revealed that Tesla's massive battery installation at the Hornsdale Power Reserve made its owner an estimated $2.5 million in gross profits during the first quarter of this year.
That big win came from energy arbitrage - pulling power into the battery at lower rates, and then retailing that power at higher prices.
The massive 100MW battery system at Hornsdale is the biggest on the planet, and it's already reducing grid service costs by around 90% for Australian regulators.
One of the biggest challenges of running an electric grid is that electricity demand and supply need to be in equilibrium in real time. One side-effect of that is that utilities need to spin up power generation facilities on an on-demand basis when demand increases. In other words, large power plants are basically paid to sit idle so they can kick on during peak demand.
South Australia decided to deploy a Tesla Powerpack project as a faster, cheaper alternative to having those expensive gas generators ready to kick in.
The project has been so effective, in fact, that Australian regulators are re-evaluating how they approach energy infrastructure. Using Tesla's batteries is more cost effective, faster and more accurate at deploying power than legacy contingency power infrastructure.
Tesla's big battery deployment in South Australia is owned by French energy company Neoen.
With all of the attention on Tesla's car business right now, many investors are missing a completely different story behind this business - one that shows massive growth potential as Tesla plans to deploy another 1 gigawatt-hour of residential, commercial and utility energy storage in the year ahead.
That's enough energy storage to power 1,000 average American households for a full month without interruption.
As Tesla Energy's tech continues to prove itself at scale, the business has the potential to match the size of Tesla's car business without the competition risk.
This article is commentary by an independent contributor. At the time of publication, the author held no positions in the stocks mentioned.