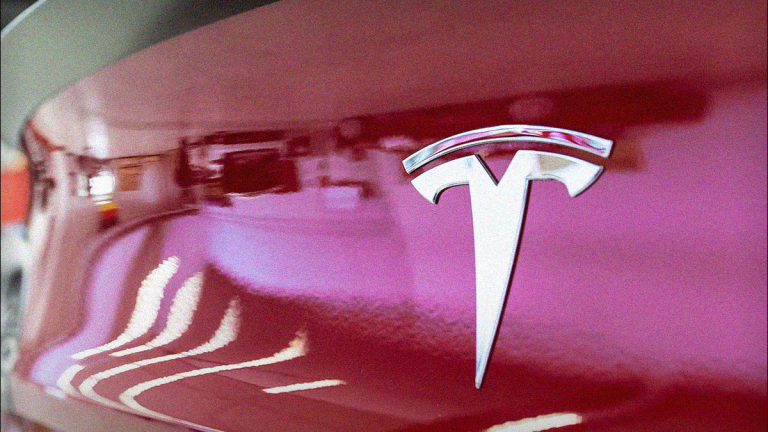 Tesla Is Like a Soviet Factory: Production With No Concern for Actual Demand
Ignore how many units the electric-vehicle maker produces and look at how many it actually sells.
I'm reminded when I look at the latest production figures from electric-car maker Tesla (TSLA) of my visits to Moscow in 1990 and 1991, when the city was still the Soviet Union's capital. In those days, Soviet factories basically stamped out 5 million of these shoes, 3 million of those tables and so forth. The concept of actual consumer demand didn't exist at all. 
Why do I bring this up today? Because it came to light Wednesday after the bell that Tesla is producing too many cars.
Tesla shareholders have long been monitoring how many vehicles the nascent company can manage to produce -- but honestly, nobody should care one iota about that given that the company reported that demand fell 31% in March. (Full disclosure: I'm shorting Tesla shares.)
In my view, Tesla has simply hit a bit of a wall when it comes to demand. Blame:
Lower Government Subsidies
Government tax breaks or other subsidies that make the cars cheaper to buy have fallen in the Netherlands, the United States (in terms of federal income-tax credits) and now in China.
No More 'Pent-Up Demand'
Pent-up demand for Tesla's recently released Model 3 was just that -- three years of orders essentially crammed into one quarter.
Growing Competition
Audi and Jaguar electric vehicles are crushing the Tesla Model S and X in Europe.
As I write this, the so-called "LR" (or "Luxury Ratio") for Audi and Jaguar stands at 4.6x against Tesla in Norway, which is by far the world's best electric-car market. Norway offers the highest de-facto subsidies for electric cars of any country in the world, and electric vehicles or plug-in hybrids make up more than half of all new cars sold there.
However, the 4.6x Luxury Ratio means that Audi and Jaguar electric luxury SUVs are outselling Tesla's Model S and X in Norway by a ratio of 4.6 to 1. That's not even close to parity, and Tesla can expect even more competition in the coming months from Mercedes (DDAIF) , BMW (BMWYY) and Volvo/Polestar, plus Ford (F) in 2020.
TSLA faces lower-end competition as well, most prominently from Kia, Hyundai and Nissan (NSANY) . For $37,500 before subsidies and discounts, their cars are just better than the Tesla Model 3 on many metrics (although admittedly, not all).
At the time of publication, Wahlman was short TSLA, although positions may change at any time.