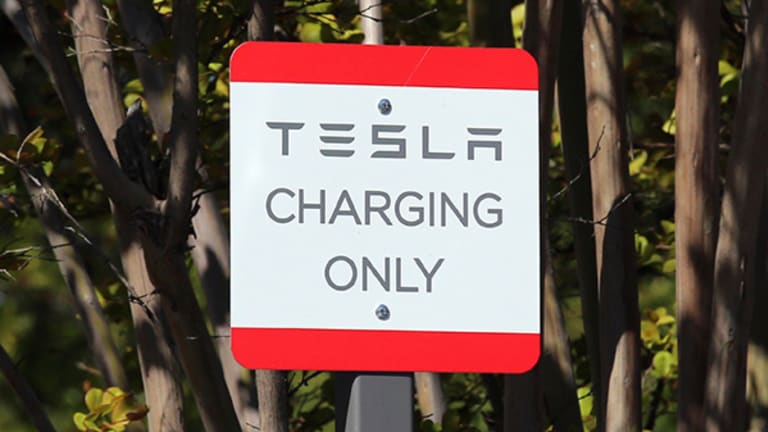 Tesla-SolarCity Tie-Up Could Come Sooner Than You Think -- Tech Roundup
Details of Tesla's potential acquisition of SolarCity could come as soon as this week. Outerwall is being taken private for $895 million.
Details of Tesla's potential acquisition of SolarCity could come as soon as this week. Outerwall is being taken private for $895 million.
Tesla (TSLA) - Get Report CEO Elon Musk created quite a stir recently when it was announced his company would buy SolarCity (SCTY) for almost $3 billion. The controversy ensued for mostly one reason -- Musk is a major shareholder in both companies.
In his recently unveiled Master Plan: Part Deux Musk explained a Tesla-SolarCity tie-up would allow the singular company to offer a one-stop shop for consumers looking for a cleaner alternative.
Under the new company, there would be electric vehicles and solar panels but connecting all the pieces together is the Powerwall, which works somewhat like a solar powered generator. Consumers can use solar to power their homes in the day time and charge their Powerwall unit, and then at night use the Powerwall during "peak hours" -- such as evening, when solar power is non-existent and when most people are typically in their homes. This helps or even sometimes allows customers to go "off the grid" and have an energy-sustainable house.
"Create a smoothly integrated and beautiful solar-roof-with-battery product that just works, empowering the individual as their own utility, and then scale that throughout the world. One ordering experience, one installation, one service contact, one phone app." -- Musk in his Master Plan.
Reportedly, the two companies could hammer out a deal in the next few days.
Shares of Tesla closed at $230.01 Monday, up 3.5%, while shares of SolarCity closed at $27.50, up 4%.
Outerwall (OUTR) shares ripped over 11% higher Monday on news the company, known for its Redbox and Constar kiosks, would be taken private for $895 million by Apollo Global Management (APO) - Get Report , a private-equity firm.
The price of the deal comes out to $52 per share and gives Outerwall an enterprise value of $1.6 billion. The deal is expected to close in the third quarter of this year.
DVD rental sales have struggled over the past few quarters. Still, the stock had actually climbed more than 28% on the year headed into Monday's trading session. After Monday, the stock is now up more than 40% in 2016.
While all those gains may seem nice, the stock has actually struggled mightily, falling more than 42% over the past year, before the deal was announced. The company also came under pressure from activist investor Engaged Capital.
Shares of Outerwall closed at $52.19 Monday, up 11.3%.
Fitbit (FIT) - Get Report has not had an easy road when it comes to a being a publicly traded company. While the stock enjoyed enormous success after its IPO a little more than one year ago, its stock price has since fallen more than 70% over the past 12 months.
Perhaps making it even harder for investors to swallow the tough dose of reality is the company has actually done pretty well, with 2015 sales more than doubled that of 2014 while revenue for the most recent quarter rose more than 50%.
Of course, not helping the company is the recent lawsuit logjam it has run into with a competitor, Jawbone.
A judge ruled three of Fitbit's patents in a recent case were invalid and the trial, scheduled for August, was canceled. The judge had determined the patents didn't "cover ideas eligible for protection," according to Bloomberg.
While Fitbit said it will continue to protect its ideas and products, Jawbone suggested Fitbit brought the case to trial to burden the company with having to defend itself, even against invalid patents.
Although it's not clear how this will impact the company going forward, Fitbit is hoping its stock will be able to get back on track and move higher from current levels. Shares hover near $13, far closer to its 52-low of $11.65 than its 52-week high of $51.90.
Shares of Fitbit closed at $13.02 Monday, up 1.6%.
This article is commentary by an independent contributor. At the time of publication, the author held no positions in the stocks mentioned.