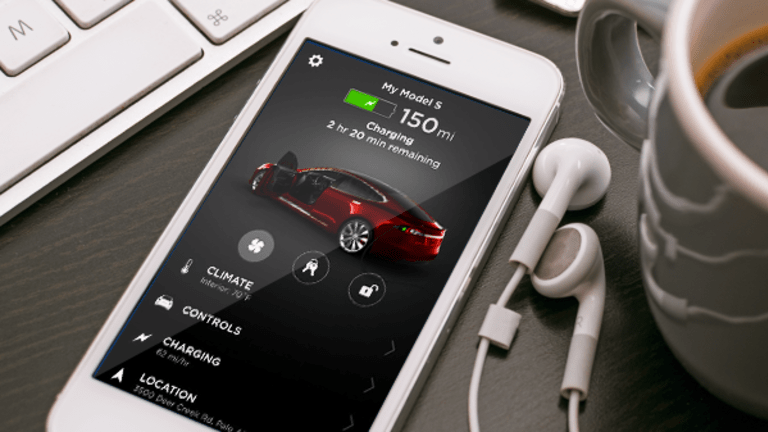 Tesla's Stock Pops as It Reportedly Lands Production Deal in World's Biggest Clean Energy Car Market
Tesla delivers.
It's an electric deal.
Tesla Inc. (TSLA) - Get Report shares are expected to open modestly higher Thursday amid reports that the Elon Musk-led group has reached a deal with officials in China to open a production facility in the world's biggest clean-energy car market.
Bloomberg has reported that Tesla has signed a preliminary deal with the city of Shanghai that would likely allow it to form a joint-venture with a China-based partner and avoid the 25% tariff applied to imported vehicles. The move would also substantially cut shipping and production costs when compared to Tesla's facility in Nevada. 
Tesla shares were 1.5% higher from Wednesday's close in late-afternoon trading at $382.21, just $2 from its record high close of $384.25.
Opening a production facility in China, which is the world's biggest car market, could ignite a reaction from President Trump, who has vowed to slap "substantial" border taxes on companies that move production bases overseas and then import products back to the United States.
"A company that wants to fire all of its people in the United States, and build some factory someplace else, and then thinks that that product is going to just flow across the border into the United States - that's not going to happen," Trump said in January. "They're going to have a tax to pay, a border tax, substantial border tax."
That said, CEO Musk has never been afraid to challenge the President's assertions, Tweeting his unhappiness with Trump's decision to leave the Paris accord on climate change earlier this month and praising China's desire to pursue clean electricity over the next 15 years.
TheStreet's Brian Sozzi, however, notes that in securing a deal, Tesla would capitalize on one of the fastest growing markets for electric cars in the world. Approximately 27% of Chinese consumers are considering buying electric cars, up from just 1% in 2012, while 25% are interested in purchasing plug-in hybrids, according to research from Nielsen.
Tesla sold 10,399 cars in the region last year, marking a 182% increase year-over-year and representing 14% of global deliveries, according to equity research firm JL Warren Capital. The company started selling its Model X electric crossover in June 2016, which served as one catalyst for demand, but the firm also cited Tesla's new marketing and promotion strategies targeting Chinese buyers.
Tesla has yet to launch the Model 3 in China, but JL Warren anticipates that demand for the smaller, more affordable sedan model will be strong.
More of What's Trending on TheStreet: