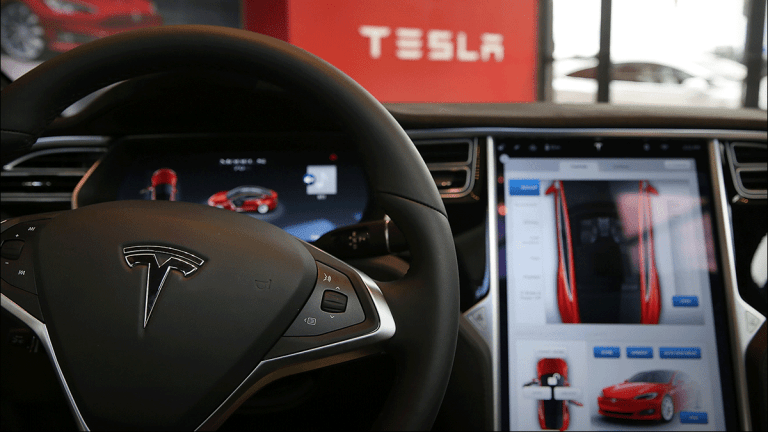 Tesla Jumps After Filing to Raise About $2B: Musk Also to Buy Stock
Tesla on Thursday filed with securities regulators its plans to raise some $2 billion in fresh cash. CEO Elon Musk also filed to buy 42,000 shares for roughly $10 million.
Shares of Tesla  (TSLA)  got a jolt on Thursday after the electric carmaker submitted a series of filings with the Securities and Exchange Commission indicating its intentions to raise as much as $2 billion in cash, and for CEO Elon Musk to buy up to $10 million in Tesla stock.
Tesla said in a filing on Thursday morning that it would raise up to $2 billion, with $650 million coming in the form of new equity and $1.35 billion in convertible notes. The convertible note portion will be priced with an interest rate of 1.5% to 2%, and a conversion premium of 27.5% to 32.5%, according to Barron's.
In simple terms, a convertible note is where investors loan money over the short term and, instead of a return in the form of principal plus interest, receive equity in the company.
Musk also filed with regulators his interest in purchasing up to 41,896 shares for approximately $10 million.
The move comes a week after Tesla CEO Elon Musk suggested another round of capital raising for the indebted company was likely forthcoming.
Analysts have been expecting Tesla to seek additional funds to both roll over maturing debt and raise funds required for its expansion plans, which include building Gigafactories in the U.S. and China and starting production of its next Model Y SUV.
Assuming the capital raise is successful, "... this takes the 'immediate bankruptcy' scenario largely off the table," said TheStreet's Anton Wahlman, a columnist who writes about the auto industry, and is currently short Tesla.
"It gives the company at least two quarters worth of breathing room to actually pay its bills, and plug the working capital deficit," Wahlman said, though he added that Tesla's next challenge "will now be to somehow avoid disappointing its new investors regarding its operational performance in Q2 and beyond."
"Will the company make its guidance of 90,000 to 100,000 cars sold in the June quarter? April sales were very poor, but perhaps the company can make up for it in May and June," Wahlman said.
Shares of Tesla were up a little more than 2% at $239.05 in late-morning trading on the Nasdaq Stock Exchange. Earlier the shares were up nearly 5%.