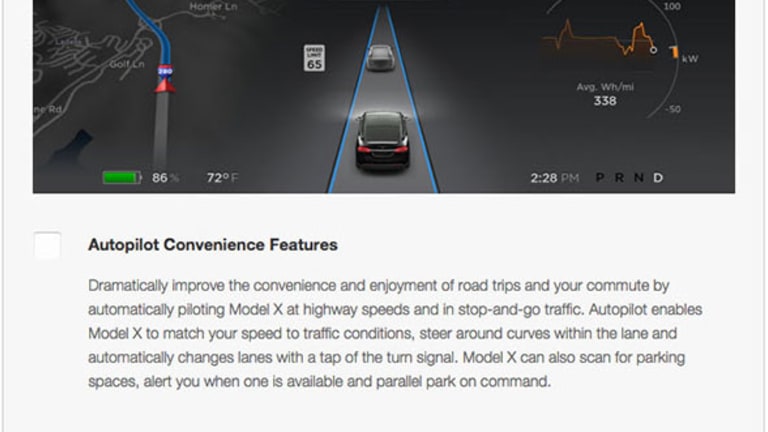 Tesla Could Have a New Problem, German Safety Monitor Says
Calling Elon Musk.
A German company that monitors auto safety for that nation's regulators recently determined that Tesla Inc.'s (TSLA) - Get Report Model 3 with its Autopilot functionality, the company's first generation self-driving car, may be unsafe on public roads, according to the Handelsblatt newspaper's Website.
According to the report, which citeGermany's's FSD, or Fahrzeugsystemdatenm, which has been authorized by the government to improve auto inspections, said the 4,000 Tesla Autopilot-equipped cars in Germany "are not built and equipped in such a way that their normal operation does not harm or more than unavoidably endanger anyone."
FSD's Jurgen Bonninger authored the report and was, the newspaper said, "unwilling to comment on his 40-page report, which he said was not intended for public consumption."
However, Handelsblatt said the country's watchdog Federal Motor Transport Authority, which it says saw the report, has been concerned about the Autopilot feature for some time.
The report quoted the Authority saying, "the Federal Motor Transport Authority continues to maintain that the 'Autopilot' used by Tesla is purely a driver assistance system," the transport ministry said on its behalf. In October, the KBA sent a letter to all 4,237 Tesla owners warning them of this fact and that Autopilot should only "be operated with the driver's constant attention."
Tesla shares fell 4% by Tuesday's close to $362.50.
Read More Trending Articles:
Stocks Extend Losses as Tech Falls, Senate Delay Hits Healthcare
Visit here for the latest business headlines.