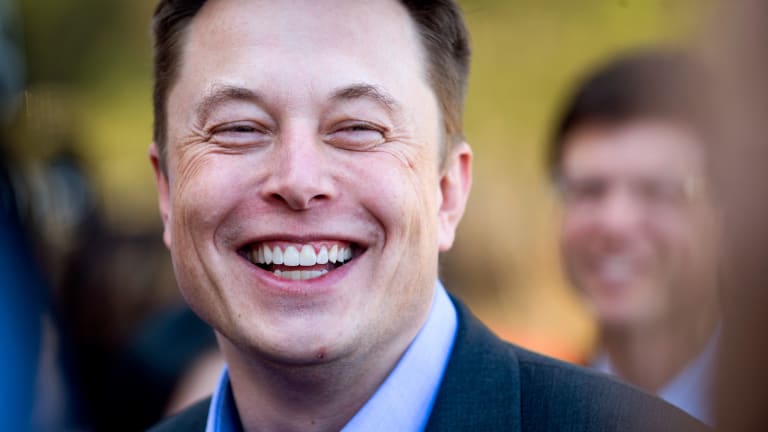 (This article originally appeared at 09:00 ET on Real Money, our premium site for active traders. Click here to get great columns like this from Jim Cramer and other writers even earlier in the trading day.)
With Tesla's (TSLA) - Get Tesla Inc Report stock still hovering around an all-time high despite an arguably unproven business model, all investors need to scrutinize the company like never before.
Here's one new risk to toss onto the barbie: the reality that the big-thinking Elon Musk simply has hatched too many time-sucking bold ideas that could take decades to bear fruit, if they ever do. Musk reportedly has launched another company called Neuralink Corp., which will pursue "neural lac" technology. Without getting lost in the weeds, the technology supposedly would implant small electrodes in your brain that eventually could upload and download thoughts. Pretty creep stuff. Musk has taken an active role setting up Neuralink and may play a meaningful leadership role, according to The Wall Street Journal. 
Add leading this cyborg-creating research outfit to Musk's other not-so-large tasks. In addition to being the CEO of Tesla, which should mean handling day-to-day operations, Musk continues to blast rockets into space via his Space X venture. Somehow Musk will need to integrate newly acquired SolarCity into Tesla, while at the same time figuring out how to handle the company's big debt load. Musk also is trying to advance the hyperloop, build out the Gigafactory (seen below), create electric tractor trailers and oh, by the way, he is a father of five -- which for normal people would be a full-time job in its own right.
While it's great to see a human mind such as Musk's spew out ideas that could change our future, there has to be growing concern about such a visionary stretching himself if one is a Tesla shareholder. Tesla has big goals to deliver upon within the next three years that will determine if it stays in business or is forced to join forces with a Big 3 automaker. It would be nice to get some reassurance on whether Musk remains all-in on ensuring that Tesla's future matches the company's current lofty valuation. 
Read This or You Lose Out
Amazon's stock has been a beast: Shares of tech giant Amazon (AMZN) - Get Amazon.com, Inc. Report are at an all-time high. (Amazon is part of the Growth Seeker portfolio.) But, based on retail's struggles, Amazon's stock could stay hot, TheStreetreports. 
In short, the Ford GT is insane:Ford (F) - Get Ford Motor Company Report has revealed an option for its $400,000 GT supercar (seen below) that will quickly rocket a driver to 216 mph (the car's top speed), TheStreetreports. We will be up close and personal with the GT at 11:00 am on Tuesday, so keep an eye out on @BrianSozzi on Twitter. (Ford is part of the Dividend Stock Advisor portfolio.) 
Look out Delta (DAL) - Get Delta Air Lines, Inc. Reportand United Airlines (UAL) - Get United Airlines Holdings, Inc. Report : A startup called Boom that is developing a small supersonic plane (seen below) has just raised $33 million in Series A funding, reportsBusiness Insider. Boom (obviously a play on sonic boom) alleges a trip from New York City to London would take a mere 3 hours and 15 minutes and cost just $2,500 each way. 
Car technology is going bonkers: In their attempt to make driving safer, automakers continue to outfit new cars with all sorts of tech bells and whistles. One of the latest efforts comes from Ford's Lincoln division, which just unveiled the biggest heads-up display on the market, reportsMotor Authority. Seen in the below video, the windshield display could show outside temperature, fuel level, navigation directions, trip computer stats, current speed and time, and incoming calls.
Employees of TheStreet are restricted from trading individual securities.