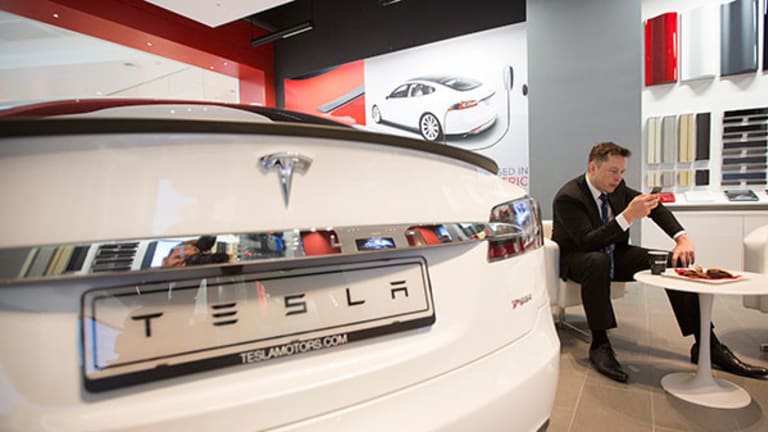 Tesla's Elon Musk Thinks You'll Travel to Work Like This in the Future and It's Nuts
Musk's imagination has no boundaries.
A large reason why Tesla (TSLA) - Get Tesla Inc Report has a market cap of $51.2 billion is because of how investors perceive CEO Elon Musk. Spreadsheet lovers may cringe when they hear that, but it's true. 
Musk continues to be viewed as one part visionary tech executive in the mold of Apple's (AAPL) - Get Apple Inc. Report late Steve Jobs and one part Albert Einstein. Such a human has the ability to create game-changing products today that drive sales, but also think 50 years down the line and position the company to win in whatever future unfolds. Musk, per the usual, only added to his mystique during a TED talk held last Friday in Vancouver. 
While much of the news only now leaking out from the event focuses on Musk's self-driving semi truck to be unveiled in September, a video showing Musk's vision for transportation is more fascinating. As the video below depicts, Musk hopes to build a network of tunnels in congested cities (Musk notoriously hates traffic) in which cars would travel between destinations on high-speed sleds.
A car would drive onto a platform at road level. Then, the platform would lower the car into a tunnel and become an electrically-powered sled. The sled would then automatically merge into a high-speed tunnel where it could reach speeds of 124 mph. Heck, I know my travel time to work would be cut by more than half using these underground rocket sleds. 
Not too sure if any of us will be around to see this type of system, but it's loads of fun to imagine. In the meantime, here comes a Tesla market cap of $100 billion.
Read This Or Lose Out
Chipotle could be about to get socked: Just when Chipotle (CMG) - Get Chipotle Mexican Grill, Inc. Report was starting to see light at the end of a very dark tunnel, it's about to face a new problem. That issue comes compliments of the otherwise harmless avocado, which has soared in price, as TheStreetreports. Given how much avocados Chipotle uses each day for its notorious guac, it could be facing a major profit headwind unless it raises prices for the popular add-on.
If it does, expect all hell to break loose on social media from upset Chipotle fans.
Tennis great Andy Roddick digs Warren Buffett:TheStreettalked with the soon-to-be tennis hall of famer, now 34 years old, about his life after he retired at the young age of 30. Roddick dishes on a fun encounter with Warren Buffett, and what he is currently investing in.
And yes, he is a big dog fan.
Starbucks suspect acquisition track record: For all the top minds inside its executive suite, Starbucks (SBUX) - Get Starbucks Corporation Report  oddly has a mixed track record when it comes to acquisitions. TheStreet's Lindsay Rittenhouse takes a look at the company's biggest purchases and where they are now. The story is especially timely, as Starbucks is currently reviewing its Teavana mall stores, which will probably be closed. 
You have to see this new Dunkin' Donuts drink to believe it: Forget Starbucks unicorn frappuccino, take a gander at the Dunkin Energy Punch. This electric blue drink from Dunkin' Brands (DNKN) - Get Dunkin' Brands Group, Inc. Report is fruit punch spiked with one whole can of Monster's (MNST) - Get Monster Beverage Corporation Report energy drink. Yes, one whole sugary energy drink mixed in with a sugary fruit punch. It's available at select stores in the Northeast and Florida. 
If you are a doctor, please send me your thoughts on this drink. Thanks.
Amazon is making strong inroads into apparel: According to a new survey from Morgan Stanley, nearly 46% of consumers purchased clothes on Amazon (AMZN) - Get Amazon.com, Inc. Report over the last 12 months. This marked the second highest percentage in the survey, trailing only Walmart's (WMT) - Get Walmart Inc. Report 60 percent, TheStreetreports.
A good chunk of Amazon's apparel sales have come from department stores and Target (TGT) - Get Target Corporation Report .
Coca-Cola's new CEO starts:Coca-Cola's (KO) - Get Coca-Cola Company Report COO James Quincey officially took over as CEO on Monday. As TheStreetreports, one thing he must do is diversify the company in order to better compete with rival PepsiCo (PEP) - Get PepsiCo, Inc. Report .
Jim Cramer and the AAP team hold positions in Starbucks,PepsiCo and Apple for their Action Alerts PLUS Charitable Trust Portfolio. Want to be alerted before Cramer buys or sells SBUX, PEP or AAPL? Learn more now.
Top news on TheStreet:
Shark Tank Star Kevin O'Leary on Why Tesla Shares Are Headed for an Epic Crash
Former Federal Reserve Chairman Ben Bernanke Just Crushed Everyone's Hope for a Tax Cut Miracle
Unfortunately for Chipotle, the Price for One of Its Most Beloved Ingredients Is Soaring
This article originally appeared at 07:40 ET on Real Money on May 1, our premium site for active traders. Click here to get great columns like this from Brian Sozzi and other writers even earlier in the trading day.