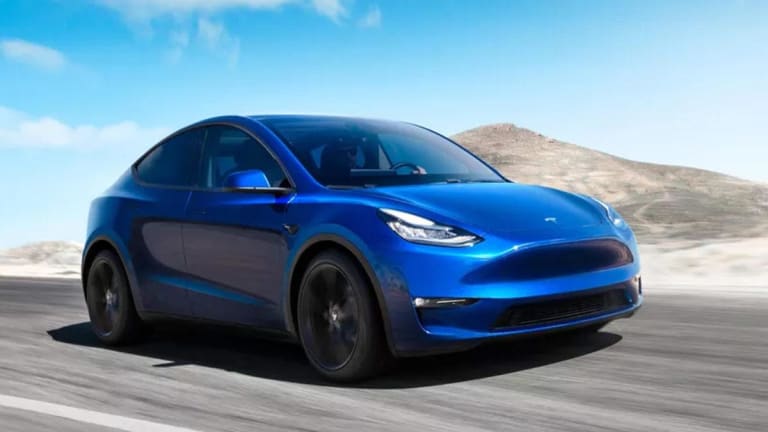 Tesla Rolls Out Model Y Crossover SUV
At a launch event on Thursday, Tesla CEO Elon Musk introduced the Model Y, a crossover SUV that starts at $47,000 and is due for delivery in fall 2020.
Tesla (TSLA) - Get Tesla Inc Report finally took the wraps off its Model Y SUV, rounding out its full lineup of electric vehicles.
CEO Elon Musk introduced the new crossover, a mid-sized SUV that's larger than the entry-level Model 3 -- but smaller than the Model X, Tesla's full-size SUV -- at a Thursday night launch event in Tesla's design studio in Hawthorne, Calif.
The first Model Ys are due for release in fall 2020, and slated to start at $47,000 for the long-range version. A dual-motor all wheel drive version will be available for $51,000, and a sportier performance version will sell for $60,000. The following year, a "standard range" version will arrive and start at $39,000, Musk said.
The versions will vary in range, speed and power: The long-range one will run up to a distance of 300 miles, while the standard-range version will run for 230 miles on a charge. 
The Model Ys will seat 7 passengers, have 65 cubic feet of cargo space. The performance version will be able to go from 0 to 60 miles per hour in 3.5 seconds.
Completing the EV lineup that Musk has dubbed "S3XY," the Model Y has the "functionality of an SUV but will ride like a sports car."
"We expect it will be the safest mid-size SUV in the world by far," Musk said at the event.
He also told the crowd that he expects the Model Y to sell more units than the Model 3 and Model X combined.
On his Twitter account leading up to the launch, Musk also disclosed a few details about the Model Y build, telling followers that it contains about 75% of the same components as the Model 3, including the same battery technology, and is about 10% larger.
Prior to the Model Y rollout, Tesla already had gotten its hands full with several other matters to likely play out in the coming weeks and months. Musk is in a renewed fight with the SEC over an accusation that he violated terms of his securities fraud settlement, and the company faced criticism last month for an abrupt change in its retail strategy. It also recently opened up reservations for Tesla Semi, an electric truck.
Tesla shares fell 2.4% in premarket trading to $282.98.