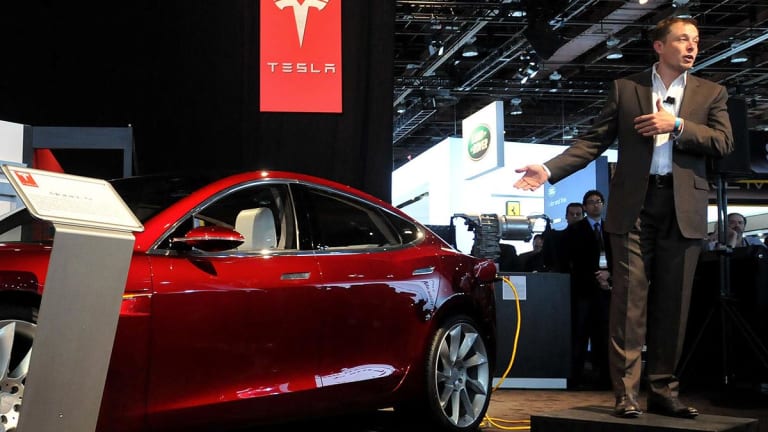 Tesla Reports Earnings on Wednesday: 7 Important Things to Watch
Profit expectations, Model 3 production guidance and comments about the company's chairman search are among the things to watch as Tesla reports.
After a pretty dramatic couple of months, Elon Musk seems eager to let the world know how his company performed last quarter.
On Monday night, Tesla (TSLA) - Get Tesla Inc Report , whose earnings reports usually don't come until at least a month after a quarter has ended, surprisingly announced that its Q3 report will arrive on Wednesday afternoon. An earnings call will start at 6:30 p.m. Eastern.
TheStreet will be live blogging Tesla's earnings after the close on Oct. 24. Please check our home page then for more details.
With the help of a bullish call from Citron Research, Tesla shares rose 12.7% in Tuesday trading following the announcement. The stock has been on a roller-coaster ride since Elon Musk infamously declared in August that he was in talks to take Tesla private at a price of $420 per share, and (contrary to fact) had secured the funding needed for the deal. As part of a settlement for an SEC civil suit related to his comments, Musk agreed to step down as Tesla's chairman for three years; a DOJ criminal probe remains outstanding.
On average, analysts polled by FactSet expect Tesla, which promised to become GAAP profitable and cash-flow positive in Q3, to post revenue of $6.05 billion (up 103% annually, thanks to a major increase in Model 3 deliveries) and GAAP EPS of negative $0.95. The non-GAAP EPS consensus is a more favorable negative $0.03. However, Tesla's commentary on future production, sales and earnings usually have a larger impact on its stock than its reported revenue and EPS figures.
TheStreet will be live-blogging Tesla's Q3 report and its earnings call. Here are some things for investors to keep an eye on as the festivities commence.
1. Profit and Cash-Flow Expectations
As the Q3 consensus implies, many analysts doubt that Tesla, which is now seeing greater economies of scale for Model 3 production, turned profitable last quarter. However, on average, they do expect Tesla to report a modest amount of positive free cash flow (FCF) for both Q3 and Q4, and for non-GAAP EPS to improve to $0.78 in Q4 (the GAAP consensus is at negative $0.08).
Tesla, which has conducted layoffs and pared its capital spending as part of its efforts to turn profitable and avoid a second-half capital raise, should offer fresh commentary on its profit outlook in its shareholder letter. The company has been cautioning that tariffs and currency swings (a stronger dollar) are impacting its bottom line some.
2. Model 3 Production Guidance
As usual, Tesla's quarterly vehicle deliveries and production were disclosed shortly after the end of its quarter. For Q3, the company reported producing 53,239 Model 3 units, up from 28,578 in Q2. However, with Tesla reporting it produced over 5,300 Model units during the final week of Q3, the company fell short of a goal of upping production to 6,000 units per week by late August.
Any changes to Tesla's production targets will be closely watched. In its Q2 shareholder letter, the company insisted it aims to grow Model production to a level of 10,000 units per week "as fast as we can."
3. Model 3 Margin Trends
Tesla guided in August for its Model 3 gross margin (GM), which was just "slightly positive" in Q2, to improve to 15% and 20% in Q4, as the company benefits from greater scale. However, this is a more cautious outlook than Tesla's original forecast for a 25% Model 3 GM once more production "stabilizes" at 5,000 units per week, in spite of the fact that Tesla hasn't yet begun production of its Standard Battery Model 3, which was promised to have a $35,000 starting price.
4. Model S and X Sales Expectations
Tesla reported it delivered 14,470 units of its Model S luxury sedan in Q3, and 13,190 units of its Model X luxury crossover. The numbers were slightly better than analyst expectations.
And though Tesla cautioned that its Chinese Model S and X sales are being hurt by higher import tariffs, the company reiterated guidance for 100,000 combined 2018 Model S and X deliveries. 2019 guidance hasn't been issued yet.
5. Comments on the Chairman Search
Musk hasn't yet announced who Tesla's next chairman will be. However, it was reported a couple weeks ago that director and 21st Century Fox CEO James Murdoch is the frontrunner to get the job. Musk might get a question or two on the call about his company's chairman search.
6. Comments on the Standard Battery Model 3
In June, Musk indicated that production for the Standard Battery version of the Model 3 would start in Q1 2019. And last month, after touring Tesla's Reno Gigafactory, investor Worm Capital forecast the car would begin shipping "in the next eight months."
The company could get a question or two about how it sees production and deliveries progressing for the cheapest version of the Model 3 in 2019. Last week, Tesla announced it would begin selling a "Mid-Range" version of the Model 3 that starts at $45,000, albeit with the car's Premium Upgrades Package bundled.
7. The Energy Unit's Performance
Q2 was a rough quarter for Tesla's Energy Generation & Storage segment, which is seeing strong growth for its battery systems sales but weaker demand for its solar offerings. The segment had a GM of just 11.8%, down from 14.7% a year ago. And while revenue rose 31% to $374 million, it fell short of a $418 million consensus.
For Q3, the consensus is for Tesla's energy segment to post revenue of $377 million (up 19%), and a gross profit of just $20 million.