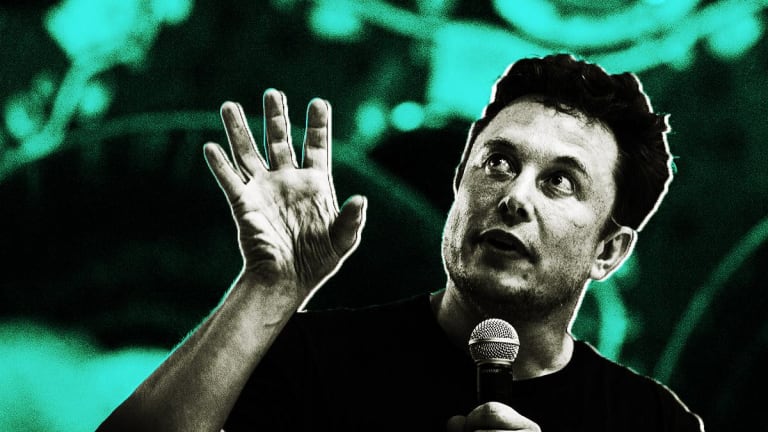 Tesla Rallies as Large Investor Wants More Stock
Tesla's second-largest institutional investor wants more. What does that mean for the stock price?
Shares of Tesla Inc.  (TSLA) - Get Tesla Inc Report are higher in early Monday trading, adding even more alpha to its performance this month. 
Inclusive of Monday morning's move, Tesla stock is up 10% so far this month (and much more from its lows) compared to the S&P 500 and Nasdaq, which are down 8.2% and 10.3%, respectively. Most of this rally comes on the back of Tesla's sooner-than-expected and much better-than-expected third-quarter earnings results.
The company churned out significantly more free cash flow and earnings per share than analysts were expecting, while also topping revenue expectations as sales grew 129% year-over-year. That follows Tesla's strong production report for the quarter that was released earlier this month.
All of this news was digested by one of Tesla's largest shareholders, who says they would be willing to take a larger stake in the company. That's what's helping Tesla rise 3.5% to $343 in midday Monday trading.
Many may not be aware of Baillie Gifford, but it's one of Tesla's largest shareholders. Specifically, the company owns more than 7.7% of the stock, just behind Fidelity's 12.35% stake. Overall, Musk owns just over 20% of the stock, making Baillie Gifford the second-largest institutional holder and the third largest overall.
So, how are they feeling?
Despite the torn analyst community, Baillie is upbeat. Partly because of CEO Elon Musk's vision and ambition, Nick Thomas, a partner at Baillie Gifford says his firm would be willing to up its stake. The latest quarterly figures can't hurt the firm's outlook either. "If he needs more capital we would be willing to back him," Thomas said.
Baillie Gifford's willingness to up its stake in Tesla isn't too surprising, given that just earlier this month the firm took an 11% stake in electric-vehicle maker Nio  (NIO) - Get NIO Inc. Sponsored ADR Class A Report  , which recently made its public debut on the NYSE.
Also not hurting the stock price is a report that Mercedes-Benz parent Daimler (DDAIF)  isn't exactly against working with Tesla at some point down the line. While it's clear the automaker isn't looking for any partnerships or investments with Tesla at this time, it's worth noting that Daimler owned a 4% stake in Tesla before selling it in 2014. 
CEO Dieter Zetsche doesn't regret selling the position, but said that it "does not exclude a cooperate in a future," when speaking at the Paris Auto Show.
This comes as Mercedes, Porsche, Audi, BMW and others are finally rolling out competitive electric vehicles. The only problem is, despite having years to catch up to Tesla and far larger R&D budgets, they fall below what Tesla's comparative vehicles have to offer in many key categories. In some cases, the specs are comparable and in other cases, they fall short. But one would have thought that Mercedes, Porsche and others would have better performance given the time and financial factors.
As Tesla turned a $311 million net profit and generated over $880 million in free-cash flow last quarter, perhaps other companies are seeing Tesla as a less-risky entity. Not only for investment purposes, but when looking for a partner to work with. No one wants to work with a partner that's going belly up, right?
Tesla's Supercharger network may be one attraction, its technology may be another. For Daimler, we don't know if or why the automaker may want to work with Tesla in the future, but those are a few possibilities down the road.
Want to Buy Stocks for a 10% or Greater Discount? You can with certain so-called "closed-end" mutual funds - an often overlooked investment class. Click here to register for a free online video in which TheStreet's retirement expert Robert Powell and an all-star panel run down all you need to know.
This article is commentary by an independent contributor. At the time of publication, the author had no positions in the stocks mentioned.