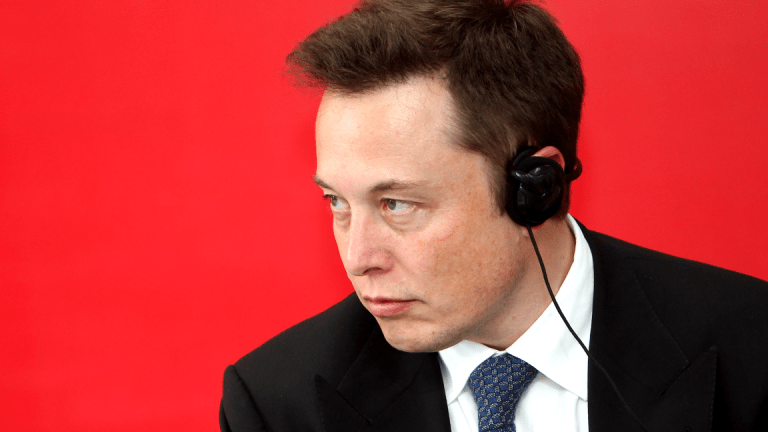 Will Tesla's Model 3 Topple the Company?
Gone are Tuesday's worries over a production halt, now that Tesla says on Wednesday it plans to produce 6,000 Model 3 units - not 5,000 - by the end of the second quarter.
At this rate, it's hard to keep up with Tesla Inc.  (TSLA) - Get Tesla Inc. Report .
Let's do a quick recap.
Production of the Model 3 (on a limited basis) began in July 2017, while management's somewhat recent outlook called for 2,500 Model 3 units to be built per week by the end of first quarter and 5,000 to be built per week by the end of the second quarter.
After an all-out push, first-quarter production came in at 2,020 Model 3 units per week, 19% short of the target. More or less, Tesla still planned for 5,000 units a week by the end of second quarter. Production was then halted earlier this week for four to five days to improve the automation process.
Now, late on April 17, we get another so-called leaked email that Tesla now plans to produce not only 5,000 Model 3 units per week by the end of second quarter, but 6,000 units a week.
Yep, you read it right. The latest info from the automaker is that they will hit a run rate of 6,000 Model 3 sedans in about 10 weeks. That's 20% above the most recent target and roughly triple the output at the end of the first quarter.
Can Tesla do it?
Producing 6,000 Model 3 Sedans
It's no surprise that Tesla stock is rallying on the news, closing higher by 2% at $293.45. Why wouldn't it with this kind of headline, even if Tesla is one of the most shorted stocks in the market right now. But how good is the news, really?
"As part of the drive toward 6k, all Model 3 production at Fremont will move to 24/7 operations," CEO Elon Musk said in the email. As a result, the automaker plans to add another shift to Model 3 for assembly, body and paint.
Just like the production halt this month, Musk also signaled that another pause next month is likely. One can only assume it's to make automation tweaks and output improvements.
To speed up assembly, the company needs more hands on deck. That translates to hiring about 400 people per week for several weeks, according to Musk. That's committing even more money to the process, something that Tesla has to be careful with. For Musk's part, he seems to be more in tune with the financial side of things, saying:
"All capital or other expenditures above a million dollars, or where a set of related expenses may accumulate to a million dollars over the next 12 months, should be considered on hold until explicitly approved by me."
Meeting the Model 3 goals with a two-shift, five-day-a-week operation wasn't cutting it. But by more than doubling its production shifts from 80 hours per week to 168 hours per week, one has to worry that without an improvement in efficiency, what will that do to Model 3 margins? It will erode them if Tesla doesn't figure out a way to either cut its production hours down without reducing output or significantly boost its production output in the future.
While the automaker may hit its targets, at what cost, is the question. 
Plus, is 6,000 even the target? From the headlines, it appears that way for the end of the quarter, but not on a sustainable basis. At least not yet anyway.
In the email, Musk explains that the automaker needs a 6,000 unit production rate to make sure component supply keeps up with demand. Say that Tesla can produce 5,000 units per week, but only has supply for 4,000. In this case, they ask for enough supply for 6,000 a week and if suppliers are short, hopefully they are still building 5,000 Model 3 units per week. In his words:
"By having a Model 3 subsystem burst-build requirement of 6k by the end of June, we will lay the groundwork for achieving a steady 6k/week across the whole Model 3 system a few months later."
The CEO recently argued that Tesla will be cash flow positive and profitable in the third and fourth quarter, eliminating the need for a capital raise this year. Maybe Musk will be right. But considering some of the automaker's expenses, it's hard to imagine one not coming at some point.
That's why the Model 3 is so important.
If Musk is accurate with his 6,000 units-a-week prediction, it will be a big win for Tesla. The opposite is true, too. Should the company miss its own target - something it's done countless times - investors' stress over the balance sheet will surely grow. Even if Tesla hits its goals, the costs could be worrisome. 
This article is commentary by an independent contributor. At the time of publication, the author had no positions in the stocks mentioned.