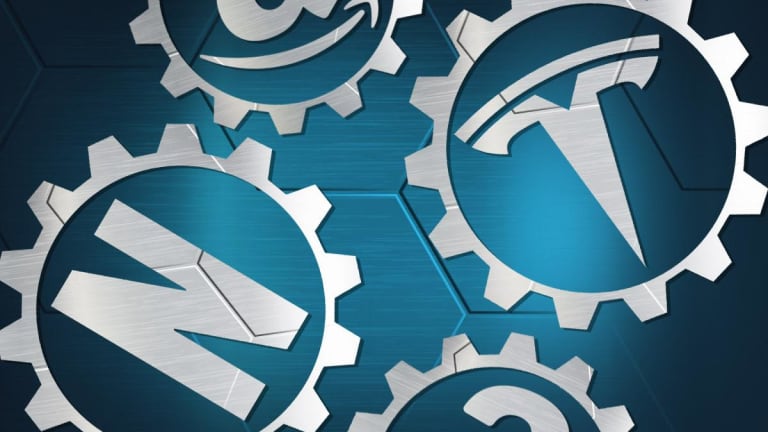 Tesla and Netflix Need to Emulate Amazon to Become True Tech Firms
Amazon has leveraged its massive investments to generate huge amounts of cash in new businesses. Whether Netflix and Tesla can do the same remains to be seen.
Amazon has leveraged its massive investments to generate huge amounts of cash in new businesses. Whether Netflix and Tesla can do the same remains to be seen.
You have some tech imposters in your portfolio that go by the names of Tesla (TSLA) - Get Report and Netflix (NFLX) - Get Report .
With a deep base in innovative technologies, these companies have amassed astonishing empires in their respective fields, it's true.
But they don't smell anything like a classic technology company.
Netflix and Tesla have together burned through $15 billion in cash in the last decade, through the third quarter of this year, in order to create a whole ecosystem of consumer goods that have never existed before.
The leverage of innovation that classically defined a tech company, writing code and proliferating that code, is absent in this duo because they are reinventing whole industries. Rather than make things that make existing products better, they have spent wildly to wrest ownership of whole markets. 
To the owners of these companies, the history of substantial losses, and the combined pile of $12 billion in net debt banked on the future, makes sense: They are carving away the customers of those old-economy names.
Netflix, with a market value of $119 billion, long ago surpassed the small-fry of traditional content creators and distributors such as Twenty-First Century Fox (FOX) - Get Report and CBS (CBS) - Get Report , and is not all that far from Walt Disney (DIS) - Get Report and Comcast (CMCSA) - Get Report (owners of NBC-Universal), both valued at about $168 billion.
Tesla, at $64 billion, is worth about as much as General Motors (GM) - Get Report and Ford (F) - Get Report combined, despite those two vastly outproducing Tesla's volume of cars.
Tesla's cost to equip its automotive plant and its energy supply have gotten less steep this year, but the company still burned through almost a billion dollars in the last nine months, down from $3.5 billion last year.
Even more astounding, Netflix has spent $46 billion adding to its streaming content library of videos over the last decade, over $9 billion of it just in the last nine months.
These pieces of property and equipment, or, mostly, asset rights, in the case of Netflix, are all the things that didn't exist that are required on top of software algorithms and hundreds of patent filings for Netflix and Tesla to deliver on their vision of the future. 
Where they go from here, both should hope, is something like the model of Amazon (AMZN) - Get Report , which similarly invested to build an entire network of goods that never existed.
In Amazon's case, it paid off in dollars and sense after 24 years in business. Despite $50 billion in cash burned in the last decade, Amazon still produced $40 billion in positive cash flow. Its enormous debt pile of $24 billion or so still leaves a positive cash balance of $5 billion. 
Starting with its first big round of capital investments in 2010, Amazon's construction of a vast logistics network moved it beyond merely selling goods to being an enabler of other businesses. So-called "third-party sellers," merchants on Amazon, made up $29 billion of sales in the last nine months, 18% of Amazon's total revenue. That still trails the 50% that is Amazon's own sales of merchandise, but third-party is growing faster and increasing as a percentage of revenue. 
The real money maker, Amazon Web Services, where the company is facilitating a world of code, has enabled Amazon to be an infrastructure unto itself.
If Netflix and Tesla are ever to be tech outfits, they must do the same. If Tesla can someday be an enabler of that energy revolution in other companies, rather than a direct competitor, its technology leverage will increase as will its financial picture. 
The same goes for Netflix: it has pioneered ways to slice and dice a menu of content to increasingly engage users. If it can ever stop spending on stealing hours watched from Disney and Comcast and HBO, it could be an enabler of all those content owners and reap a greater reward.
As for the stocks, a rising rate environment may be less kind to these heavy borrowers. Tesla's shares currently fetch 57 times next year's projected earnings, while Netflix is trading at roughly 68 times, not a steal of a deal given how poor their economic payoff has been.
If they retain their rabid fan base among retail investors, these stocks will weather that rising-rate environment in 2019. Just keep in mind that their true payoff as tech stars hasn't begun and it's an open question whether they'll ever reach that milestone the way Amazon did.
Amazon, Comcast and Disney are holdings in Jim Cramer's Action Alerts PLUS member club. Want to be alerted before Jim Cramer buys or sells AMZN, CMCSA or DIS? Learn more now.
Save 66% with our '12 Days of Holiday Deals' Sale. Join Jim Cramer's Action Alerts PLUS club for investors and get our best deal of the year. Click here for details or to sign up.