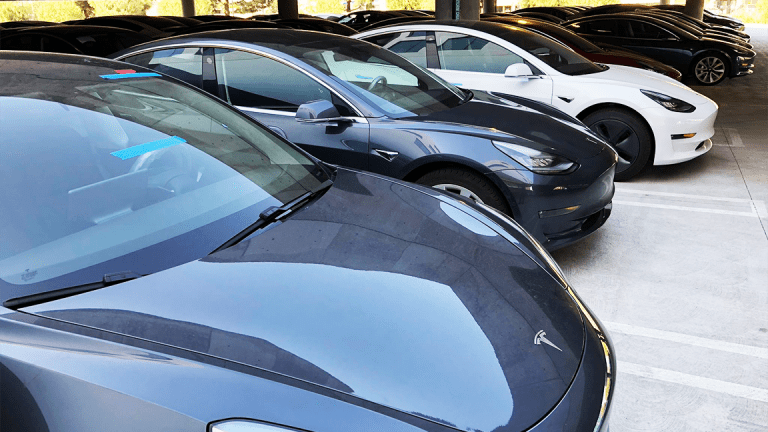 Tesla's Model 3 Teardown Shows It Is Already Profitable - Really Profitable
Here's why this auto manufacturing expert says he's 'eating crow'.
Interesting. 
A teardown report from engineering benchmarking firm Munro & Associates Inc. has revealed an interesting takeaway about Tesla Inc.'s (TSLA) - Get Tesla Inc. Report Model 3: It's profitable.
A lot of eyes are on the economics of Model 3 production right now. After all, Tesla CEO Elon Musk has continually guided that the company will achieve profitability in the third and fourth quarters, and reaching economies of scale in the Model 3 is a key piece of that equation.
To accomplish that, Tesla has ended its policy of "anti selling" the Model 3, instead pushing as many high-margin performance trim models out of its Fremont factory as it can while the full $7,500 federal tax credit remains in effect through the end of the calendar year while it ramps up production enough to make the base $35,000 Model 3 economically viable.
But, according to an Autoline interview with Munro & Associates' Sandy Munro, even the regular rear-wheel drive Model 3 Munro  disassembled and benchmarked could be profitable for Tesla right now. Very profitable.
Munro's final take on the car is starkly different from his initial impression. While fit and finish were poor in the Model 3 Munro's firm purchased, he was impressed with the driving characteristics and technology hardware in the car. Still, the fact that it could be profitable came as a surprise.
"I have to eat crow. I didn't think it was going to happen this way, but the Model 3 is profitable," he says in the interview.
How profitable? Munro estimates 30%.
"No electric car is getting 30%. Nobody."
Those margins presumably get dramatically bigger with Tesla's top-of-market Performance trim model, which sells for $15,000 more than the trim level used for the teardown despite having minimally different physical components.
More On Tesla's Future From TheStreet
Tesla is achieving those margins through deep levels of systems integration. By relying on in-house technology to do more work, Tesla is able to keep the costs of its third-party components low. For example, Munro estimates the cost of Tesla's rear-view mirror at $29.48. Meanwhile, his firm estimates that the rearview mirror from the Chevy Bolt costs $164.83.
The difference comes from the fact that the Bolt puts electronics and a backup camera display in the mirror, while Tesla uses its custom-designed onboard computer and large central display to perform the same functions. There's a similar story throughout the car.
If the engineering firm's estimates are correct, Tesla could provide investors with a very big surprise for Q3.
Meanwhile, you can watch Autoline's full interview video with Munro below:
This article is commentary by an independent contributor. At the time of publication, the author held no positions in the stocks mentioned.