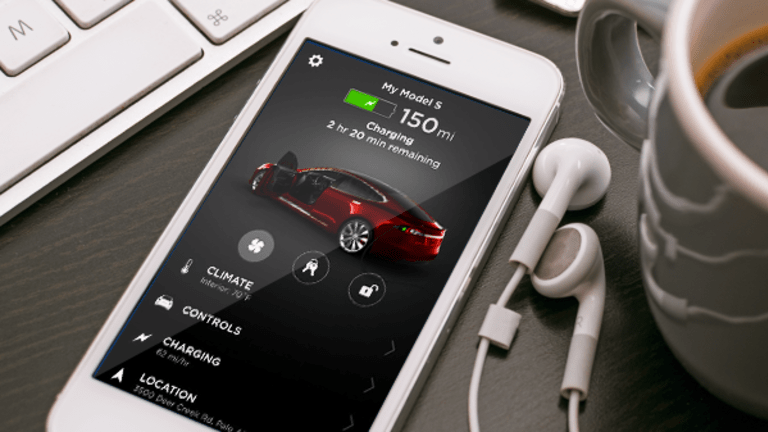 Tesla May Hold the Secret Plans to Saving the Auto Industry
Autonomous ride-sharing may be a threat to carmakers.
Autonomous ride-sharing may be a threat to carmakers.
Tesla Inc.'s (TSLA) - Get Reportmaster plan may hold the key for saving the future of the auto industry, a Moody's Analystics researcher told TheStreet.
With the advance of self-driving vehicles, Tony Hughes, managing director at Moody's Analytics, argued it is not the cars themselves that could lead to the decline in the automotive industry but ride-sharing services like Uber or Lyft. The plan CEO Elon Musk has laid out to create a fleet of self-driving Tesla vehicles for ride-sharing purposes could be the way to save automakers from a demise.
"Our bold prediction is that if ride-sharing companies become truly huge, they will seek to buy vehicle manufacturers and shift research and development efforts firmly in the direction of cost reduction and reliability," Hughes wrote in a research note.
Hughes explained in a world of autonomous vehicles dominated by ride-sharing, vehicles will become a mere means for transportation that will lead to the decline of the automotive sector.
"The nature of the vehicles by my reasoning will be that they become more homogeneous where ride-sharing is everywhere," Hughes told TheStreet on Thursday. "If [vehicles are all for] ride-shares, there's no room for investment, for niche vehicles. You imagine the taxi fleet; taxis are very homogeneous. If ride-sharing becomes 100% of all journeys — no privately owned vehicles — that trend would be very bad for car makers. It means that their product would become commoditized. As a general rule, businesses want to maintain that their product is special. If something becomes a commodity, it means they lose the ability to charge excessive prices...That's less profit."
Hughes said automakers have added driverless technology since the 1930s with automatic transmissions, and that since self-driving cars will still need repairs, serve as status symbols, receive upgrades and depreciate, perhaps even faster than a car that requires a driver, the autopilot technology will not ruin automakers itself.
"That opens up the possibility that they won't harm the industry," Hughes said. "I would argue the bigger threat is the homogeneity."
Without demand for the niche market of luxury vehicles and the loyalty that comes with that, Hughes said a way to survive is automakers combining with ride-sharing companies into a single entity. 
Tesla's master plan outlines a mobile app function that allows car owners to put their vehicles into ride-sharing mode to make money when they are not in them. The plan also mentions Tesla operating a fleet of its own to meet demand in cities where supply for such transportation is insufficient.
"I am aware of Tesla's foray," Hughes said. "That is the blueprint for the future."
Tesla shares were down 0.2% to $360.02 on Friday morning.
Read more of today's top business news here.
Editors' pick: Originally published June 29.