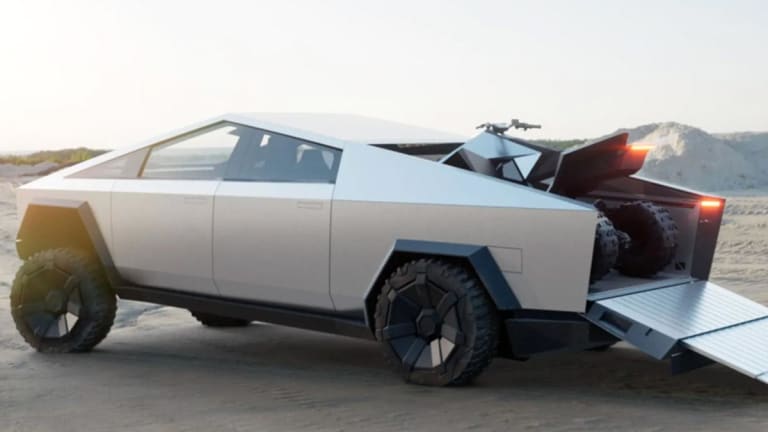 Tesla Makes a Truck Fit for the National Guard, but That's Beside the Point
What will really matter is the new vehicle's profitability -- or lack thereof.
In a most dramatic image realignment, Tesla (TSLA) is now going to convince its flower-power customer base to embrace a new outlook on life: The National Guard truck.
Tesla's "Cybertruck" looks like the kind of vehicle that The National Guard would have used at Kent State University in May 1970.
Imagining these "Cybertrucks" roll down the streets of America will definitely give the impression that martial law has just been imposed, and that you are supposed to shelter in place while the government comes to arrest protesters.
You may remember the 1984 movie "Red Dawn," in which the USSR and forces aligned with it -- Nicaragua and Cuba -- invade what seems like Colorado, and a small band of high-schoolers drive their traditional U.S. pickup truck into the mountains in order to mount a defense. The Tesla Cybertruck certainly looks more like it belongs in the hands of the occupying force than in the hands of Americans fighting for our freedom.
Clearly what America needs right now is a symbol of war on U.S. soil, perhaps mixed with images of civil war and bulletproof trucks. Images of totalitarian occupation will do wonders for mobilizing voters in the 2020 U.S. presidential election, especially since each side accuses the other of the worst possible dictatorial ambitions.
Once you buy into the Tesla image realignment from flower-power greenie to military occupation, there are many practical questions that have to be answered:
How much will it cost to manufacture this truck? $100,000 or more like $200,000? Clearly at the advertised prices -- as low as $39,900 -- this will lose a lot more than any Tesla that came before it. If that's accurate, then it's the biggest flaw of them all.
The 500-mile range for the high-end version obviously is totally unrealistic given the weight and cost of the batteries that would have to be involved.
The usual Tesla questions: Testing, durability and quality? Experienced vehicle manufacturers take many years to sort that out.
(The author has a short position in Tesla).
"Deposits" are $100 apiece. Why wouldn't Elon Musk order, say, 100,000 of them, with a check for $10 million effectively made out to himself? It would certainly sound impressive.
However, if Wall Street sees through the low hurdle for the deposits, then whatever number Tesla shows (could be a million of them) may not be able to fool Wall Street. Remember, it is now over two years ago that Tesla took up to $250,000 in advance for the Roadster 2.0 -- a vehicle that remains years away from production.
So, from $250,000 up front to only $100 -- that's a pretty radical lowering of the bar. People used to be willing to hand over much larger sums of money to Tesla for a product that may be years away. Apparently Tesla doesn't think it can get away with that anymore. What does that tell you?
To see what some of Tesla's biggest fanboys are saying, check out this link.
In the end, however, what will matter to Tesla's stock is not, all other things equal, the styling of the truck. What will matter squarely is its profitability -- or lack thereof. Everyone will be talking about the Tesla truck's design today and for weeks to come. However, the evidence provided in the quarterly financial reports is the only thing that will matter for the stock in the quarters and years to come.
And you may notice, already today, that almost every article you will read will contain an absence of a profitability discussion. It's as if the radical National Guard design was intended to accomplish precisely that.
If Tesla will sell this truck mostly between $40,000 and $70,000, what's the point of this whole exercise if the actual cost to build it will range from $100,000 to $200,000? 
At the time of submitting this article for publication, the author was short TSLA. However, positions can change at any time. The author regularly attends press conferences, new vehicle launches and equivalent, hosted by most major automakers.