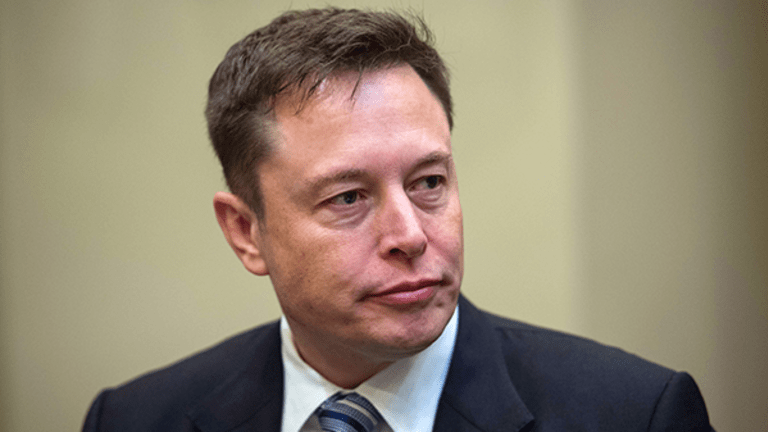 Tesla Is Now the Most Shorted Stock In the U.S. Stock Market -- Elon Musk Is Chill About It Though
Despite Tesla having the highest number of short sellers, CEO Elon Musk said on Twitter: "Could be worse."
With Tesla's (TSLA) - Get Free Report shares hitting record highs on Thursday, it could be worse for CEO Elon Musk.
Tesla is now the largest shorted stock in the U.S. equity market according to new research from financial analytics firm S3 Partners, meaning investors are looking for a plunge at some point. It has $10.4 billion in short interest, according to the report.
Elon Musk took to Twitter on Wednesday, sharing the article titled "More Bets Against Tesla Than Any Other Company."
"Could be worse," Musk said in the caption.
The story actually provides a favorable view of Tesla, noting the Palo Alto, California-based car maker's shares are up 65% year to date and investors betting against the company have lost $5 billion in 2017.
Consumer Edge Research upgraded its price target on Tesla's shares last week to $385, the highest estimate on Wall Street, in anticipation of the Model 3's release on July 1. The company says it will deliver 5,000 vehicles every week by the end of the year and 10,000 next year.
Read More Trending Articles:
WATCH: James Comey Unloads on President Trump In D.C. - Here's Your Top Analysis of Nervous Markets
Citi Says Nvidia Could Explode 100% to $300 a Share -- Here's Why
Stocks Deflate as Wall Street Digests Fallout of Comey Testimony
Amazon Has Secretly Become a Giant Bank
Editor's Pick: Originally published June 8.