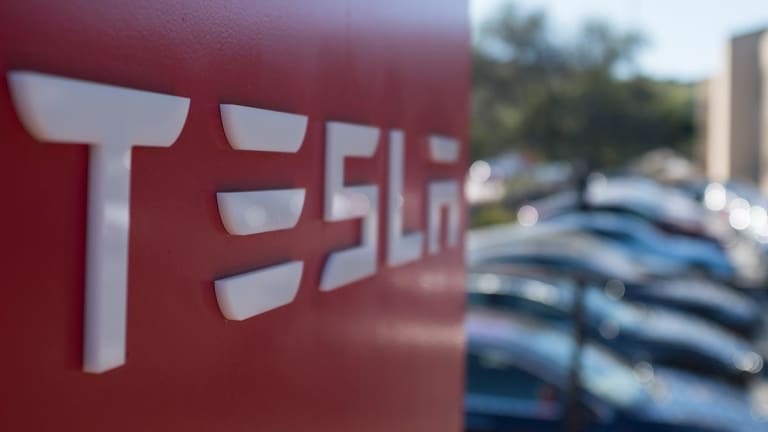 Publish date:
What Happened When I Shorted Tesla Stock on Tuesday
The erratic CEO and awful fundamentals make it impossible to value TSLA -- despite attractive technicals.
The erratic CEO and awful fundamentals make it impossible to value TSLA -- despite attractive technicals.
Tough day.
Around midday on Tuesday, shares of Tesla (TSLA) - Get Tesla Inc Report started to show some real life, after the Financial Times reported that the Saudi sovereign wealth fund had taken a 3% to 5% stake in the name. You might have thought that to be enough news for one firm, for one afternoon. No.
Many folks first assumed that the Twitter (TWTR) - Get Twitter, Inc. Report account of Tesla CEO Elon Musk had been hacked. Myself among them. It had not been. At 12:48 p.m. ET, Musk tweeted, "Am considering taking Tesla private at $420. Funding secured."
Not only had nothing been filed with appropriate authorities, but the price of $420 would be a premium of 19% over where the stock was trading at that time. Musk is the firm's largest shareholder. Musk had purchased shares in the open marketplace within the last two months. The $420 price for a buy-out was seen at first as a joke, given both Musk's reputation for erratic behavior and the marijuana-usage implications of both the time 4:20 p.m. and the date 4/20. Hmm.
No Joke
Musk kept on tweeting. I can tell you this. As a trader who had spent more than three decades on the trading floor of the NYSE, it is not at all unusual for a Chief Executive to call the exchange where a firm is domiciled and tell them that they should consider halting trading in that name because the firm is going to release material news.
Musk's behavior yesterday, highly unprofessional in my opinion, both made and cost a lot of people a lot of money. The chief beneficiary would be Musk himself, as holder of approximately 20% of the firm. Not everyone has equal access to Twitter. As far as we can tell, there was no 8-K filed with the SEC prior to Musk's tweet storm, and a posting on the firm's website came after the fact.
Full Coverage:
I woke up Tuesday flat Tesla. I had no intention of really ever getting involved in the name again. Though I see many reasons for the shares to trade at much lower market prices, I had learned -- so I thought -- to simply not play with that particular fire. Over the course of this firm's existence, I had lost money in two of the three times that I had held a short position. I had also made money both times that I had held a long position.
Although Tesla did beat expectations for second-quarter revenue when it reported on August 1 -- and kind of met production goals (at times) in a most sloppy and inconsistent fashion -- the bull case (just my opinion) is based largely on the size of the short position. As of mid-July, roughly 34.72 million shares of Tesla were held in short positions. That's an astounding 29.6% of the float, gang. In a flash of undisciplined anger, which I consider uncharacteristic for me (I hope), I added to that short interest yesterday. Yes, I take offense when you make a mockery of our financial marketplace. Don't worry about me. The position is small. I may have been angry. I did not suddenly become stupid. Again, I hope.
What Now?
In my opinion... the firm is not worth anything close to $420. Obviously, if it is going to leave the CEO in place, then it is far better served in private where the man's gross lack of anything resembling quality leadership will no longer garner as much attention. For crying out loud, this attention-seeking man even got into a fight with one of the rescue divers in Thailand.
I read a lot of smart people. I read Doug Kass. I read Jim Collins. I read everything I can gather. One item noted by all was the $920 million worth of convertible debt coming due this March. At a share price of $360, the firm can convert the debt into shares. At prices below that, the firm must settle those securities with cash. That would most likely require yet another capital raise.
As far as we can tell, none of the investment banks that immediately come to mind have made statements -- or been mentioned. There is that Saudi stake, but that was supposedly for somewhere between $1.7 billion to $2.9 billion. That could be a source, but the numbers would have to be many, many times larger than that.
Bottom Line
Until I am convinced that going private for Tesla is realistic, and more than simply the impatient ramblings of a child, this for me remains a troubled operation. The firm sat on $2.2 billion worth of cash at quarter's end versus total debt of $11.6 billion. Levered free cash flow for the past year still runs with a negative number, and still ends with a "B."
Flawed Fundamentals
The firm's current and quick ratios make the other domestic auto manufacturers (who will also sell you electric vehicles) seem far better prepared to meet short-to-medium-term obligations in comparison. I may or may not cover my short today, as I am not going to give this name a chance to hurt me badly. That said, I only shorted the name on yesterday's spike, so I may still get to the plate. I am only looking for a base hit.
View Chart »View in New Window »
As you can see, the technicals are all quite favorable at this time. Relative Strength, the daily Moving Average Convergence Divergence, Money Flow, a golden cross, a rising series of highs, and a "sort of" rising series of lows, all point to a name on the rise. If actual news breaks that credibly supports the idea of Tesla going private at $420, then these indicators would have all been accurate.
Sound Technicals
As the firm's memo that was released after the tweet storm -- and after the stock had been halted -- indicates, no final decision on a buyout has been made. Yeah. Thought so. I have no inside information. I have no idea what happens going forward. I feel that it is truly impossible to place a target price on Tesla, given the mix of attractive technicals and awful fundamentals.
All Elon Musk really did yesterday, besides behaving oddly, was to force a short squeeze. If there is no real news here, some big folks are going to be seriously angry. That is really all we know.
Free White Paper: 7 Things All Investors Must Know in 2018. Start the second half off right with our free white paper on seven key things to watch this year. From how much cash to have on hand to the three reasons this bull market might die, our white paper features key takeaways from an all-star panel that TheStreet and Fisher Investments recently hosted in New York. Click here to register for your free online copy.
At the time of publication, Guilfoyle was short TSLA equity.